An American Family
Photographer Pam Spaulding took the concept of the long-term assignment to an extreme — spending more than 30 years photographing the McGarvey family of Anchorage, Ky.
Working for the Louisville Courier-Journal, Spaulding originally planned to photograph the young John and Judy McGarvey for a year after the birth of their first child, thinking the project about new parents would end after the newspaper published the images. But after that first year, Judy McGarvey didn't realize the project was over — so she kept calling, and Spaulding kept going back. The project grew to span the growth of their three children, David, Morgan and Sara, as well the important moments, both joyful and frustrating, of the family over the years.
All photos by Pam Spaulding/National Geographic
At a recent lecture at the National Geographic Society in Washington, Spaulding presented work from her new book, An American Family: Three Decades with the McGarveys. Quiet and soft-spoken, Spaulding was holding back tears as the first slide graced the screen. She wasn't the only one. Audible sniffles filled the room as Spaulding showed the audience images of a young Judy McGarvey learning to mother newborn David, of father John snuggling with a distraught Morgan, and of daughter Sara buying her high school prom dress.
The images of the McGarveys elicited such emotion because by compacting 30 years into an hour presentation, Spaulding underscored the fragility of life, the importance of family, the joy in the small moments, and how quickly it can all pass by.
"I was in no hurry, I didn't care, I didn't expect it to be published," she said when reached later by phone. "I wouldn't have kept going back if it didn't meet some need, personally and professionally. This work gave meaning to my photography, and when you have that, you can always keep going."
After the lecture, the whole McGarvey family, minus David, took the stage to answer questions from National Geographic photographer Sam Abell, who had inspired Spaulding to keep shooting the project even after her original one-year assignment was over. When he asked the family members what it was like to have a photographer shooting them constantly, one theme emerged — because Spaulding had been around since their birth, the kids never thought it was odd that she was always there. She had simply become part of the family.
"On a personal level the McGarveys have meant so much to me," said Spaulding. "Judy is a great mother, and by observing her, I learned how to be a great mother as well. I saw that they did things just for fun, and that was a pretty foreign idea to me because all I grew up knowing how to do was work."
Adding to the emotion of the evening, Spaulding's own daughters Alicia and Lauren surprised their mother by driving from Kentucky for the lecture. It was the first time they had seen the scope of her work, and realized how close their mother was to the McGarveys.
"I was afraid that no one would be interested in a family of people who were normal," she said. "We see so many dysfunctional families, but there are a lot of successful families out there too."
Spaulding's images seem to reflect her personality — the photographs are not flashy or sensational, she doesn't use any tricks. Instead, the moments are subtle and quiet, calm and beautiful, reflecting the classic moments of an American family. We see the kids' birthdays, from their first to their 21st. We see them in school plays, on vacation, and saying goodbye to the family dog. But mostly what we see is life unfolding, quietly, gracefully, one moment at a time.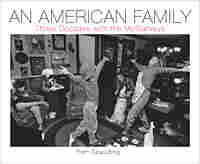 Have an idea? Pitch it!

The Picture Show on Facebook or on Twitter