A Photographer's Polar Obsession
Today on All Things Considered, host Melissa Block speaks with National Geographic photographer Paul Nicklen about his new book, Polar Obsession. Listen here.
How many people can say with nonchalance, "I've had good friends of mine ... eaten by grizzly bears"? Paul Nicklen can, for one. He's a National Geographic photographer who was raised in Canada's Arctic and has spent the past 20 years documenting extreme polar regions.
Photos by Paul Nicklen/National Geographic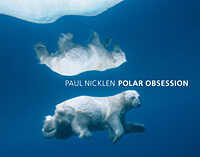 Nicklen had a unique childhood. He grew up in a small and remote Inuit community on Baffin Island with no radio, no TV and no telephone. His idea of fun included lying in blizzards until his body went numb, building sleds and tending pet seals. It was a secluded youth — and to anyone else, a bit extreme. But to Nicklen, it was as idyllic as childhood gets. "I was taking care of dog teams by the time I was 5," he tells NPR's Melissa Block. "It's just a completely different world, and ... I fell in love with it."
So it makes sense that his idea of fun today includes many of the same things: extreme temperatures, exploration and animal friendships. After a brief stint at the University of Victoria to earn a biology degree, Nicklen made a prompt return to Canada's Arctic, where he began a career as a nature photojournalist. "As I got to be older, as a biologist and photojournalist," he says, "I realized that these are the tools I can now use to protect the place that I fell in love with as a kid."
It's not an easy job. "In pursuit of the photographs I've taken over the past 20 years," he writes in the book's introduction, "I've crashed my ultra light airplane, fallen through the sea ice ... and suffered frostbite... I've also become lost in blizzards and been bitten by fur seals and elephant seals, charged by a grizzly bear, sniffed through the thin fabric of a tent by a polar bear."
All in a day's work. To Nicklen, though, it's worth the risk. "How are people supposed to care about the environment when they're living in a cement jungle?" he wonders in the interview. To make them care, he goes to extremes. Nicklen is on a mission to bring these remote habitats to those of us who may never see them, to make us care about the endangered polar ecosystems and the animals that inhabit them. His photos appear in a new book, Polar Obsession, published by National Geographic.
Have an idea? Pitch it!