The Not-So-Sweet Smell Of Nesting Penguins
Freeze Frame: Sights, Sounds And Science From The Bottom Of The World: NPR science producer Jason Orfanon guest blogs as he journeys to the Antarctic Peninsula. Keep up with him on Twitter at @jorfanon. And view the whole series page.
By Jason Orfanon
Just across the harbor from Palmer Station is a quarter-mile-long pile of rocks called Torgersen Island. It's home to thousands of Adelie penguins, and when the wind comes from the west, you can smell them. Or, more accurately, you can smell their guano, aka penguin poop.
The best way to re-create the experience for yourself is to take some old cigarette tobacco, soak it in ammonia, mix in some rotten shrimp, and let it sit out in the sun for a few days. Then, take a whiff. That's the smell of penguin guano.
But, where there's guano, there are penguins. And — I'm going to admit my bias here — penguins are awesome. So, when some researchers invited me to visit Adelie penguin breeding colonies, I jumped at the chance, despite the aroma.
Rising temperatures on the Antarctic Peninsula are hammering the region's Adelie penguins and the sea ice on which they depend. With ice forming later and melting earlier, Adelie colonies are shrinking, or disappearing entirely in some cases. Biologist Bill Fraser, who studied penguins in these parts for more than 35 years, says the Adelie population around Palmer Station is in "catastrophic decline" and could possibly be gone in a decade.
We motored out to Torgersen and soon I was surrounded by Adelies, gathered in noisy groups ranging from 15 to hundreds of individuals. They didn't seem bothered by my presence. Penguins waddled past me on the snow, like a bunch of short, chubby guys late for a black-tie dinner.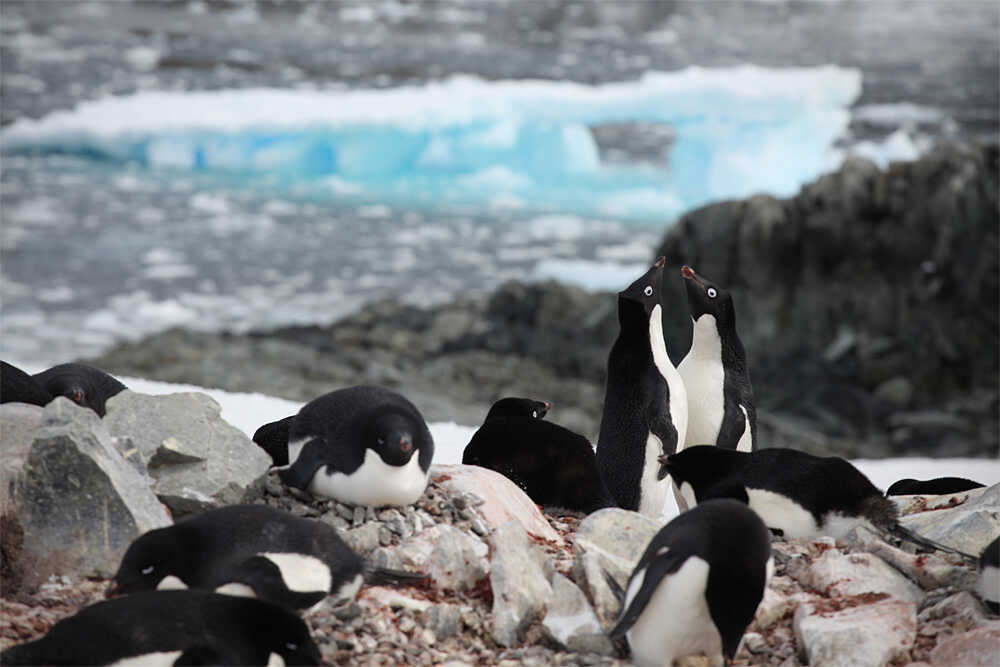 Typically, one Adelie mans the nest, while its mate heads to the water to feed. When it returns a few days later, its partner squawks noisily, as if to say "welcome back." Then, the egg sitter relinquishes its spot on the nest and heads out to get its own meal. They trade off like this for two months or so until the chicks have hatched and are old enough to be left alone.
While I snapped photos, researchers Jen Blum and Kristen Gorman made their rounds, counting penguins and their nests. At the end of the season, they'll know how the Adelie population is doing compared with years past.
So far, the indications here aren't good. Torgersen is pockmarked with abandoned nest sites, and traditionally large colonies are thinning out. Some islands that once swarmed with Adelies are now empty.
As we motored back to station, the smell of Adelie guano took on a new significance. It's a sign of life hanging on in this hardscrabble corner of the world. It may not be pleasant, but what it represents is spectacular.
Like Kristen Gorman says, "It just wouldn't be right without the guano."
Have an idea? Pitch it!

The Picture Show on Facebook or on Twitter