The Youngest And Oldest Paparazzi At Sundance
Why would a talented 14-year-old and an influential 79-year-old insist on calling themselves paparazzi? The word, derived from the sound a mosquito makes, has taken on far worse connotations in recent years. If you had the skill to photograph something else, why would you choose to link yourself to that?
This is a question explored at length in two documentaries that premiered at Sundance — Smash His Camera, directed by Leon Gast; and Teenage Paparrazo, directed by Adrian Grenier of Entourage fame. One focuses on legendary celebrity photographer Ron Galella the other on Austin Visschedyk, a mini-"pap" with a lens nearly as big as his torso. The underlying narratives of both films are the same; My pap is different from all the other sleazy-cheesy paps.
In the case of Galella, he is presented as different primarily because he was first. Back before sneaking up on stars and chasing them across the world was a common Hollywood sport, Galella was perfecting his tactics. In the film, he proudly recalls some of the key elements of his winning strategy: hiding in bushes, forging credentials, and wining and dining the help. He was a man before his time, camping out in a rat-infested warehouse just to get a shot of Elizabeth Taylor in her yacht below.
Beyond just the chase, he's clearly addicted to the possibility of what might happen. Photographer Harry Benson, who once told NPR that he believes the best celebrity photographs are taken in the supermarket, frequently comes to Galella's defense in the doc, summing it up with the statement, "His photos are just so alive."
The result of Galella's dedication and creativity: There are few celebrities from the past 50 years who don't have a file in his archives. In many cases, as you can see in the gallery below, they are trying to block his shot or tell him off. But he has many allies, as well. He was famously Warhol's favorite photographer.
All photos by Ron Galella

Photo by Paul Schmulbach
His approach: hold the camera down low, keep your eye on the star and shoot before they can tell you not to. This didn't go over so well with his primary muse, Jacqueline Kennedy Onassis.
"I don't think she knew it was me, that's why she smiled a little," he admits about the photograph above, which he calls his "Mona Lisa."
Never great with rules, he reacted to a court order to keep his distance from her by posing behind her with a tape measure.
Brad Elterman, who now runs the L.A. paparazzi agency Buzz Foto, took that photo when he was only 17. My request to use it on this blog turned into a much longer conversation about Galella, who Elterman sees as his mentor and likened within a few minutes to both Matisse and Walker Evans. Galella's many detractors would likely vomit at the analogy. (Let's just say, some heads exploded when his work ended up at the MOMA.) It's hard to dispute, however, that the man is seriously passionate about his craft.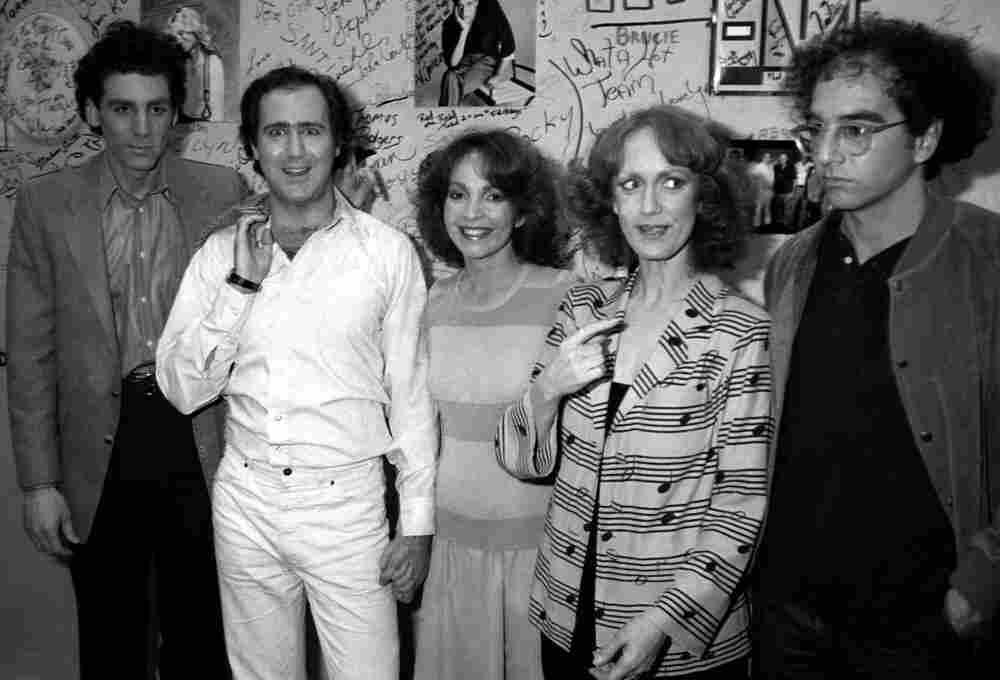 Amid the modern pap frenzy portrayed in the other documentary, Teenage Paparazzo, craft is notably absent — except when it comes to cutting people off in SUVs. In fact, some of the "photographers" appear unaware how to use a camera. A "good shot" has nothing to do with composition, but rather how big the star, the potential scandal and, therefore, the price tag.
And that's where waiflike 14-year-old Austin has his chance to heroically shine. Though we see few of his photos, the home-schooled hipster is portrayed as a great talent. Gossip-rag editors talk about how he plays beautifully with light.
As the boy chases celebrities on his skateboard and in cabs, and pushes through men three times his size, it's fun to hold onto the idea that the boy is some sort of renegade artist.
Even Grenier gets sucked into this notion, stepping in at one point and showing the boy the Pulitzer-Prize winning Kent State photo. He waits expectantly, assuming that the boy is ready for something bigger.
The boy looks bored and makes a disinterested comment. A tip-off comes about a celebrity sighting. And off he goes again, comfortable being just a teen pap, addicted to the adrenaline-filled chase.
You can see more photos from Galella's recent books Man in the Mirror: Michael Jackson, Viva L'Italia, and No Pictures here. You can see Austin's photos here.