Hot Dog Fever: A Topping Contest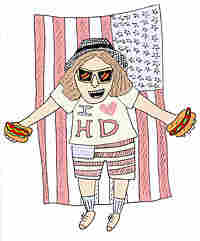 Admit it, America. You have Hot Dog Fever. It's summer, it's time for grilling, and it's unavoidable: dog days are here. They're everywhere, actually — on NPR; on Serious Eats; in art. Heck, I've caught Hot Dog Fever, and I don't even eat meat!
Inspired, or shall we say infected, by Bon Appetit's Global Hot Dog Guide from last year, I teamed up with a few friends to take our dog delirium a step further, with a hot (or veggie) dog topping contest. Because although the dog may be an American classic, there's nothing more American than fusion! Here's a look at what we came up with.
I'm pretty sure those were the only ingredients this unprepared contender had sitting in the back of his car.

cayenne and capers are key
The winning recipe was a Vietnamese bahn mi-inspired dog:
This looks time-intensive, but it's worth it. Put your dog on a grilled bun and top with:


- Thinly sliced red onion
- Fresh cilantro
- Some mayonnaise
- Scallions
- Sliced cucumbers
- Bean sprouts
- Pickled carrots (see below)
- Drizzle of sweet and sour sauce (see below)

For pickled carrots: In a bowl, sprinkle a generous tablespoon of sugar and a tablespoon of salt onto a large, julienned carrot, and knead gently until some liquid has released, about three minutes. Rinse with water, pat dry, and put in a bowl with equal parts rice wine vinegar, white vinegar and water. Sprinkle in some salt and sugar and refrigerate in an airtight container for up to four days.

For sweet and sour sauce, combine the following in a bowl: 2 teaspoons soy sauce, 2 teaspoons fish sauce, 2 teaspoons lime juice, 2 tablespoons Thai sweet chili sauce, 1 teaspoon sesame oil, 1 teaspoon chili oil, 1 teaspoon sugar and 1/2 teaspoon minced Thai chili pepper.
Have you caught Hot Dog Fever? I'm sorry to hear that, except I'm not really sorry, because now you have no choice: the only remedy is to concoct your own dog topping and upload it to our Flickr pool with the recipe in the caption. We'll choose a winner based on creativity and, if feeling extra feverish, an empirical taste test.