The Search For Glacier Gold
Mark Ovaska is a freelance photographer who was seriously bent on getting to the highest human settlement on Earth: La Rinconada, Peru. The shantytown in the Andes Mountains first caught his attention when he read a National Geographic article about gold mining — but there were no photos of La Rinconada, so he decided to just buy a ticket and go there.
He thought it would be easy enough to photograph the inhabitants of the mountain outpost, but his trip was derailed after a careless hotel clerk let someone into his room in Lima. Robbed of his passport, I.D., camera and lenses, Ovaska was left with only $300 in cash, no camera and no way out of Lima.
Despite the setback, Ovaska decided to stay and try to make the trek to La Rinconada. He got a cheap Holga camera shipped to him from the U.S., bought ten rolls of film, and a month later rolled into La Rinconada after a long bus ride.
The main industry in La Rinconada is the gold mining operation. Men toil for 30 days in a row with no pay, simply for the chance to haul out as much rock as they can on the 31st day, with the hope that it will contain traces of gold. The town has no plumbing and little sanitation, and is a gravely dangerous place for the miners.
In addition, there are numerous neurological issues among the miners, as liquid mercury used to extract the gold seeps into the snow and drinking water.
"I really underestimated how miserable it would be," Ovaska said.
Battling altitude sickness, Ovaska shot nine rolls of film in a day-and-a-half. The resulting photos are haunting in their stark desperation. Fuzzy, dark and slightly creepy, they portray La Rinconada as a deeply depressing place. And while the eccentricities of the Holga can definitely have that effect on any photo subject, Ovaska says that feeling matched his own experience.
He saw a miner badly hurt by falling down the mountain. A man was murdered overnight. He saw women left to search for gold in the scraps of rocks left behind by the men.
But part of good photojournalism is capturing not only moments in a place but also the feeling of the place. And while Ovaska admits that his pictures became a reflection of his personal experience in La Rinconada, he also thinks they accurately portray the lawlessness of the town.
Still, Ovaska would like to go back to La Rinconada to more intimately explore the people who live there. He wants to find a way into their personal lives, and tell a more hopeful story of the people who live to search for gold.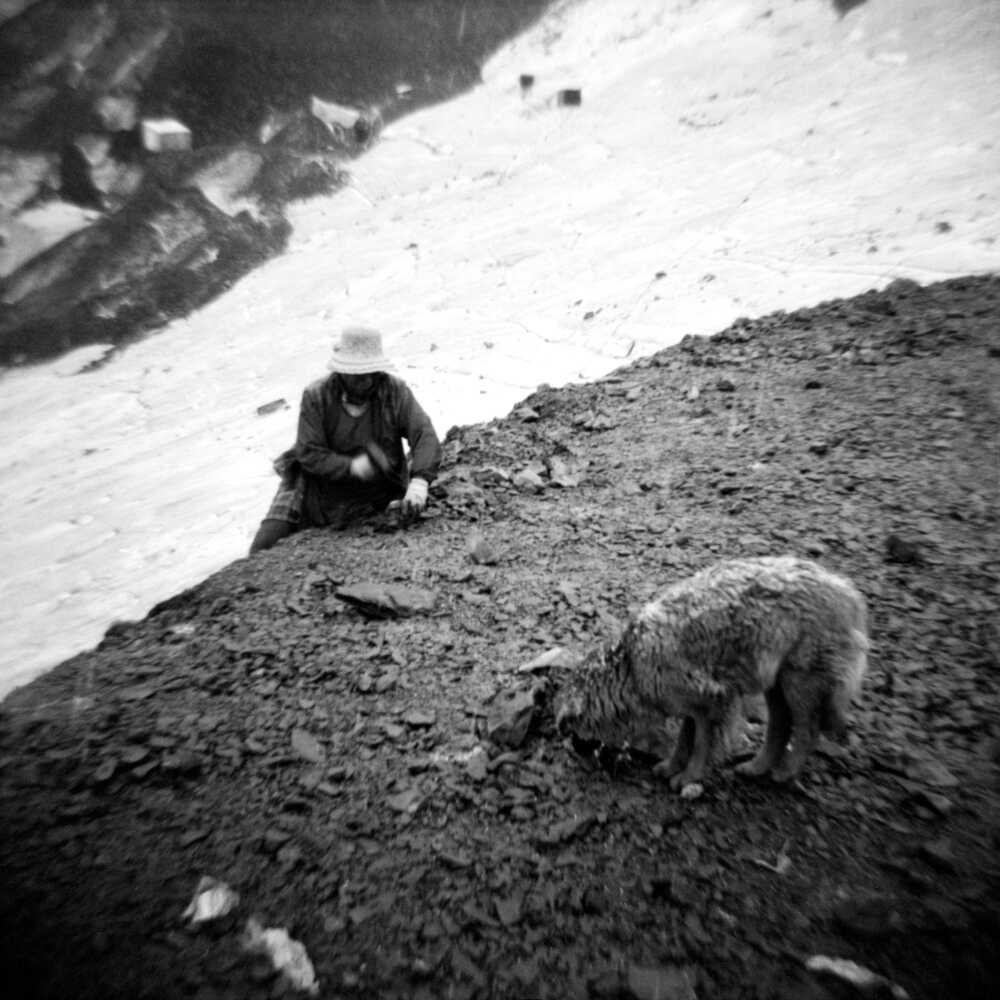 See more photos from Ovaska's story Glacier Gold.