Photo Mystery Solved, Then Doubted, Then Deciphered, Thanks To Readers
This is a follow-up to last week's story, in which we attempted to identify a Civil War soldier. Our quest resulted in a misidentification, a historical wild goose chase, and a lively, collaborative conversation online. Here's the latest update:
Remember when I declared a history mystery solved? Turns out I was wrong. Thanks to many Civil War buffs who commented on the story, we recognized a critical error.
It's not T.A. It's A.T.
The photo of the mystery soldier is a tintype, a direct positive of the scene, which produces laterally reversed images. The process produces mirror images of what they actually are — like belts, hats and, of course, initials. (The Library of Congress has a good explanation of this.)
This seems like an obvious mistake to have made, and many of you expressed disbelief that none of the experts in the piece caught it.
So first, a clarification: All of the people interviewed for the story are experts. Tom Liljenquist has been collecting these photos for 16 years. Vonnie Zullo has been an expert researcher at the National Archives and Library of Congress for more than 20 years; her brother, Sam Small, is a proprietor of a military artifact store in Gettysburg, the Horse Soldier. Both grew up in Gettysburg and have been immersed in Civil War history their whole lives.
The orientation of the photograph was not discussed with Mike McAfee, and he probably took our word for it that the initials were what we thought they were.
We thought about, and even talked about, the fact that the tintype was reversed, but since the letters were carved into the base of the gun vertically, we assumed that the reversal would not change the order of the letters.
Plus, both T and A are symmetrical letters. Had one of the letters been a B or an R, for example, we would have noticed the initials went in a different direction right away. But no one ever actually tested it. We made this mistake early in the research process, and we never really went back and thought about it.
So are you sure it's not T.A.?
Immediately after the piece aired and went online, commenters were divided. It took me a while to be fully convinced that it was definitely A.T. Commenter and blogger John Cummings wrote a great blog post on the piece that showed why it was A.T.
So allow me to walk you through the pretty confusing reasons why it cannot possibly be T.A.
How do we know for sure that the photographer didn't make a copy of the tintype, thereby making this photo the "correct" orientation?
Cummings gave me an explanation to help me understand the mirror imaging, which I will now demonstrate.
In this photo, I'm standing as if I'm the mystery soldier and his photo is my "mirror image." My hand is holding my Sharpie gun and my hand is on my hip.
Then I turn around. Notice my Sharpie gun is in the wrong hand. This would mean that the lock plate is on the left side of the stock, making it a left-handed gun. These guns were not made. The lock mechanism was always on the right side. As one commenter wrote, "The lock plate does not lie."
Therefore we can say that the tintype is for sure a reversed image.
But what about his equipment? It seems to be on the correct side.
Good point! This was common practice in photographs from this era. The photographer knew well that the images would come out reversed, so they would direct the subject to reverse all accouterments. So the bayonet scabbard and the percussion cap box are actually on the wrong side — to make it seem like they're on the correct side. Confusing, I know.
But how do we know it's T.A. or A.T.? It's possible it's not even his gun!
Another good point. Photographers would often photograph Civil War soldiers using props from their studio, which is why sometimes we see soldiers with five different weapons. However, we all agreed that it was likely his gun for the following reasons:
First, the picture is clearly taken in the field. If you look at the ground, you can see the grass and some gravel. A photographer probably wouldn't have carried equipment to the field just so people could pose with it. Also, the mystery soldier's bayonet scabbard is empty and his bayonet is affixed to the gun. The gun also has a sling, which meant he was probably using it.
So who is it, for crying out loud?!
Vonnie Zullo has spent the past few days in the archives researching all of the possible A.T.'s from the 14th Brooklyn by using pension files and compiled military service records. She writes the following:
"Eight soldiers with the initials A.T. were found to have served in the 14th (Brooklyn) N.Y. Infantry (84th N.Y. Inf.). Based on the length of the model 1855 rifle musket (55.5 inches), the soldier in the tintype was estimated to be about 5'4" – 5'4 1/2" tall. Based on this research, six of the soldiers can be eliminated as possibilities because they are either too old (40 and 44 years) or too tall." I'm attaching the rest of her notes here.
That left two. Zullo again:
"Alonzo F. Thompson at 5'5" and Albert C. Tibbals at 5'3". Based on measurements taken at the Horse Soldier with an actual Model 1855 rifle musket and a person who stood 5'4 1/2" with shoes on, it was decided the soldier was most likely not taller than 5'4" - 5'5"."
It turns out another one of the commenters, Tony Mollo, actually owned a picture of Albert C. Tibbals.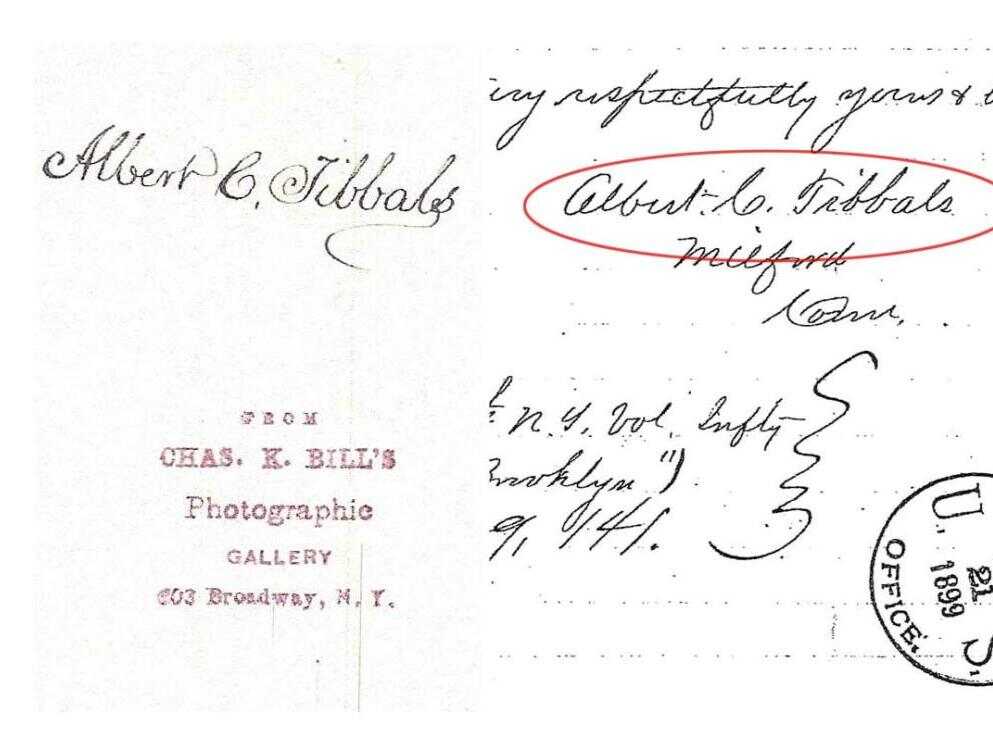 Images courtesy of Tony Mollo
We asked him how he was sure it was Tibbals, and he proffered a document with Tibbals' signature on it. And there's also a name written on the back of the photo itself.
As you can see, the signatures don't match. Liljenquist does not seem too concerned by this fact, since the photographer, or someone at the studio, would often write the name of the subject on the back of the image.
But we present it to you here for your judgment. The fact is that the soldier in the image above is obviously not the mystery soldier in the original photograph. In other words, we think he's probably not our A.T.
So, our best guess for who the mystery soldier is: Alonzo S. Thompson. And if you've read this far, we are very sorry we can't reward you with a happy ending like that of Thomas A. Ardies. Thompson, we've gathered, was discharged for disease and died of chronic diarrhea in 1863 on Long Island.
Epilogue
Needless to say, we can't be totally positive about anything; this is our best guess based on the evidence we do have.
Thank you all for chiming in and helping us realize this error. My original goal was to identify the mystery soldier in the photo, and I couldn't have done it without you. A special thanks to John Cummings and Tony Mollo. Additionally, many of you reached out to me and offered your help and expertise, and I was touched and heartened by everyone's enthusiasm for this mystery.