Power of the Sash: How a beauty pageant became a platform for change in South Africa
The entrance to the 2022 Miss Calendar Girl beauty pageant would be easy to miss — tucked away at the back of the Retreat Hotel in Cape Town, South Africa — were it not for the music being so loud you can hear it on the main road.
Keagan Martin is on door-duty, ready to welcome guests and collect their 70 rand ($3.50) entrance fee. Inside, Chedino Martin — the pageant's organizer and Keagan's wife — hurriedly checks the score sheets laid out in a neat row on the judges' table. Behind her, a set designer tries to attach a giant, ornate sash to a stage backdrop.
In an improvised changing room, 12 contestants — one for each month of the year — are putting the final touches on their first outfits for the evening. Tonight's theme: denim and diamonds.
We first reported on Chedino in an earlier story in The Picture Show, in which we shared her journey of being abandoned by her mother when she was just a few months old to winning the first ever Miss Trans Africa beauty pageant earlier this year.
Although the current number of LGBTQ pageants in South Africa is impossible to know — many events are small and local — there has been an increase in nationwide competitions; Miss Drag South Africa, Miss Sovereign Western Cape and Miss Trans South Africa.
And, for the first time, transgender individuals are becoming involved in the established and prominent world of cisgender beauty pageants. In 2021, 24-year-old Lehlogonolo Machaba became the first transgender woman to take part in a Miss South Africa pageant.
In her years as a pageant contestant, Chedino — a transgender woman and LGBTQ advocate — has taken part in well over 80 events. She always felt welcome. Things changed, however, after she began taking hormones in preparation for her gender-affirming surgeries. People were fine when Chedino was socializing, but "as soon as they knew I was competing against them, they would turn their backs," she explains.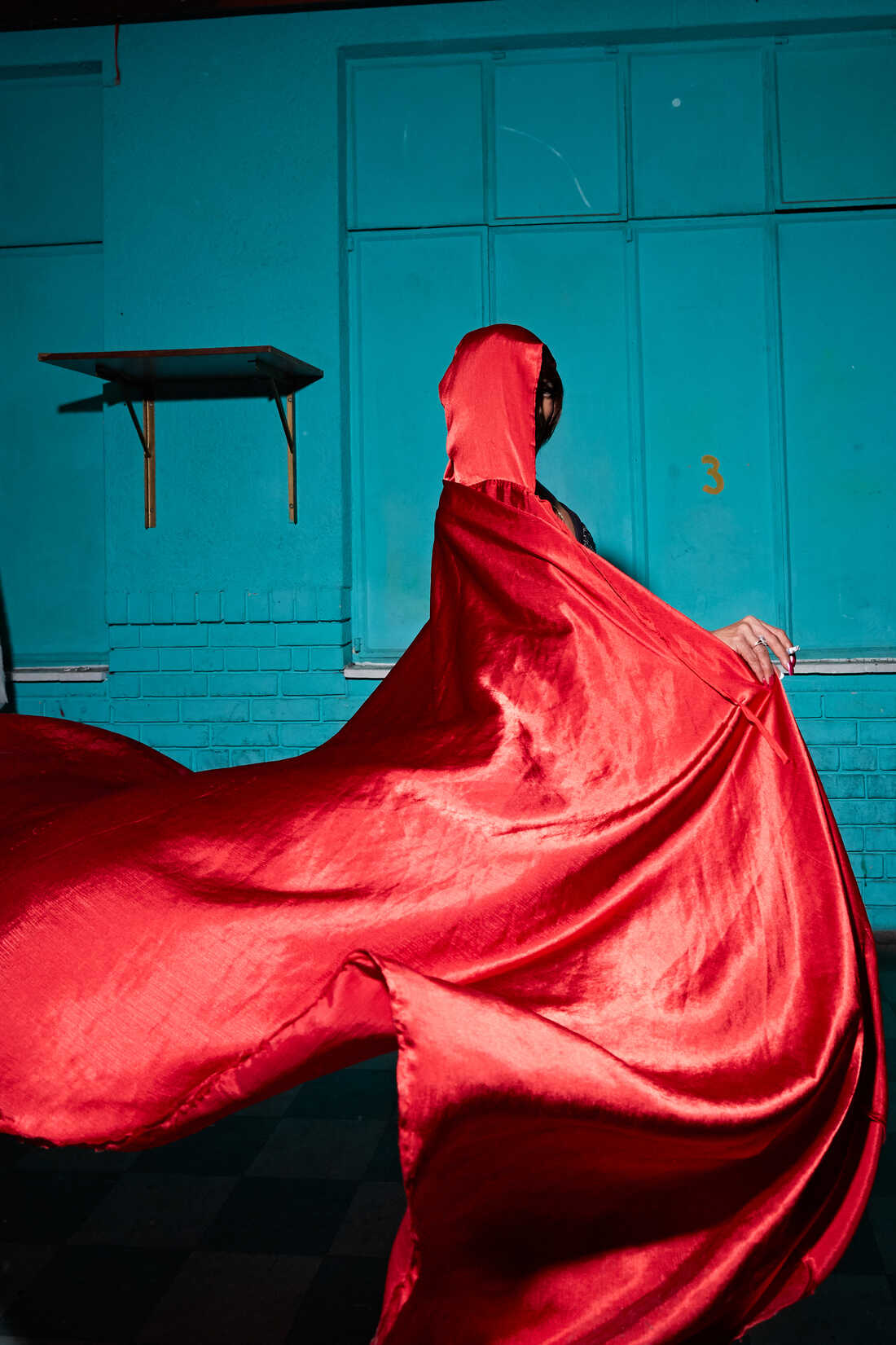 In response, Chedino and Keagan started Miss Calendar Girl — a pageant meant to celebrate transgender women, gay men and drag queens competing against each other, regardless of whether they had fully transitioned.
It was important for Chedino that Miss Calendar Girl be open to contestants from different parts of the LGBTQ community — she didn't want a repeat of her own experience as a pageant contestant.
This resonated with Jada Pinkett, who has been competing in pageants since she was 15 years old. "Miss Calendar Girl is a platform where you can showcase your diversity, whether you are gay or queer or trans," she explains. "You can just be yourself and encourage positivity and change."
Chedino knew exactly how she wanted to structure her pageant: 12 contestants, each representing a month of the year, would compete for the main title as well as Best Dress, Miss Photogenic and Miss Personality. There'd be three categories: swimwear, evening wear and a special outfit that would reflect that year's theme. A contestant would be awarded points for their theme and category outfits and their walk, overall appearance and intelligence.
Chedino and Keagan funded the pageants themselves, which was no mean feat, given that costs associated with putting a pageant on could reach as much as $1,000.
The first Miss Calendar Girl pageant was held in 2015 at the Retreat Hotel. A second followed in 2016, this time at Club Cameo in Heideveld, Chedino's own neighborhood.
After a two-year break — Chedino had her gender-affirming surgeries in 2017, and the couple got married in 2018 — a third pageant was held at the Retreat Hotel in 2019. Following another two-year break necessitated by the COVID-19 pandemic, Miss Calendar Girl returned for a fourth time in 2022.
The contestants come from across South Africa, although they all now live either in Cape Town or the surrounding area. Some are seasoned competitors who've been regulars at many of Cape Town's LGBTQ pageants for years.
Angel Lalamore, a female impersonator who was Miss May in 2019's pageant, has known Chedino since they danced together on the ballroom and Latin circuit in the early 2000s.
Jada has been friends with Chedino for more than 20 years and they often competed in the same events — Jada was Miss May in 2016's pageant and won third place. "Even though I was older by then, I still gave the other girls a run for their money," Jada laughs.
For others, like Xola Tatubana — a transgender woman who was Miss July and first runner-up in both the 2019 and 2022 pageants — Miss Calendar Girl was her first pageant experience.
Miss November, Jemma Mazwai, was inspired to take part in the 2022 competition after seeing Chedino in action prior to the pandemic, when Jemma says she was looking for a way to "get on stage and express my uniqueness."
Some contestants, like Jada and Angel, had already found communities in which they were accepted. Others, however, were not so lucky.
Xola had grown up in a loving and accepting family — Xola's father bought her her first pair of heels. But the Northern Cape Province, where Xola spent her childhood, was not as welcoming.
"I loved beauty pageants, but there wasn't a place where I could compete," Xola remembers. "That's why Miss Calendar Girl was a dream come true."
In 2019, Chedino, together with photographer Julia Gunther, added a new category to the competition: Miss Photogenic. Gunther has been working on a long-term photo project with Chedino since 2012 and was keen to include the Miss Calendar Girl contestants in a meaningful way.
Chedino asked them to showcase one or two of their pageant outfits for the camera and, together with Gunther, decided who would be named Miss Photogenic.
In an homage to the 1994 road comedy The Adventures of Priscilla, Queen of the Desert, Chedino, Gunther and the contestants spent a day at the Kersefontein Guest Farm, a salt pan two hours outside of Cape Town.
Xola had never worked with a photographer before. "I'd always imagined myself in front of a camera, but I had never had the opportunity. It was amazing, getting to pose and learning how to use your eyes and mouth."
In 2022, inspired by the iconic seaside embrace between Deborah Kerr and Burt Lancaster in the 1953 classic From Here to Eternity, Chedino and Gunther took the group to Windmill Beach, in Simon's Town, for a beach-themed shoot.
BB Vahlour, a 22-year-old drag queen and Miss February in the 2022 Miss Calendar Girl pageant, chose a billowing orange dress and a sparkling silver bodysuit with an elaborate headpiece for her Miss Photogenic photoshoot.
Back at the Retreat Hotel, Chedino watched closely as Xola, Jemma and the other contestants walked across the stage in their different outfits. As this was her own pageant, Chedino wasn't allowed to sit at the judges' table.
Thanks to her years as a contestant, however, she knew exactly what would get the judges excited. "It's your whole appearance — your posture, your smile and the dresses, of course," Chedino explains.
Chedino was also confident that her friend Jada, one of the five judges that night, would know what to look for. "Inner beauty and personality, how you portray yourself and how you interact with the crowd and with the judges," Jada explains.
There were few rules regarding the outfits. The contestants were free to buy or make their own as long as each fit into one of the three pageant categories.
For her themed garment, Xola went to Faigun, a designer from Paarl, who spent eight months working on her dress — the many mirrors had to be ordered from Singapore and were attached by hand. But Xola has no regrets about how much she spent. "It was worth it. I wanted to be a fairy princess for one night."
Angel Lalamour made all her own outfits. "I love fashion. Everything came from my closet. I did not spend a cent," she explains proudly. In the end, however, all that mattered was how each dress looked and fit.
After all 12 contestants had walked the stage — known as the ramp — it was time to choose the finalists. Chedino was given the names of the lucky six, and, as she performed to Gladys Knight's iconic "End of the Road Medley," picked them out and invited them to the middle of the stage.
The finalists faced one last test: a Q&A with the judges. Chedino made sure this section of the pageant was not the stereotypical "world peace" exchange but a stimulating conversation. "Miss Calendar Girl should lead by example," she says. "To do that, they need to know what is happening in their community, in South Africa and in the world."
Like Xola, Serena La Flame, Miss April in the 2022 competition, was competing in a pageant for the first time. The judges asked her "if people misinterpret the word beauty." It took Serena a moment to answer. "I told them it is your heart that is beautiful to me."
In the end, after much discussion — the judges kept coming up with different score tallies for the finalists — Jemma, Miss November, was crowned Miss Calendar Girl 2022.
Jada says the winner has to harness the "power of the sash": "It is something to treasure and respect." And, she says, wearing the Miss Calendar Girl sash comes with responsibility: "You have to go out and support those less fortunate. You must serve your community."
Chedino doesn't know if she and Keagan will have the time or money to organize a 2023 pageant. Not only does Chedino have a full schedule of engagements as Miss Trans Africa ahead of her, she's also planning on applying to compete in a global trans pageant in London. Although she has a sponsor for the $900 application fee, Chedino will need to find the money to pay for her plane ticket, visa and all of the dresses she'll wear during the competition — close to $2,500. But Chedino is staying positive. "I'm a woman of many talents and I don't shy away from a challenge," she laughs.
For most of the contestants, competing in pageants like Miss Calendar Girl is about celebrating being seen and heard in a country that used to ignore them.
"We always had to fight to be seen. Now, we don't have to be quiet. They can hear our voices," says Angel Lalamore.
Catie Dull photo edited and Zach Thompson copy edited this story.
Nick Schonfeld divides his time between writing children's books and working on stories about affordable health care, gender equality, education and distributive justice.
See more of Julia Gunther's work on her website or follow her on Instagram: @juliagunther_photography.