A 'Staggering' 76-Page Complaint Against Blagojevich
Even taking into consideration the history of corruption in Illinois politics, this one is mind-boggling.
Gov. Rod Blagojevich, a 51-year-old Democrat serving his second term, was arrested this morning on a plethora of corruption charges, including one that accuses him of conspiring to sell the Senate seat recently vacated by President-elect Barack Obama to the highest bidder.
Blagojevich has long been the subject of a federal corruption investigation, as reports have swirled about alleged kickbacks for companies attempting to do business with the state. Tony Rezko, a former Blagojevich and Obama campaign fundraiser, is awaiting sentencing after having been convicted of fraud charges. The governor's chief fundraiser, Christopher Kelly, stands trial next year on charges of obstructing the IRS.
Blagojevich's chief of staff, John Harris, was also arrested this morning.
The charges laid out in the 76-page FBI affidavit are, in the words of U.S. Attorney Patrick Fitzgerald, "staggering": "The citizens of Illinois deserve public officials who act solely in the public's interest, without putting a price tag on government appointments, contracts and decisions." Fitzgerald's office released a statement laying out the charges, alleging that Blagojevich and Harris are "engaging in ongoing criminal activity":
conspiring to obtain personal financial benefits for Blagojevich by leveraging his sole authority to appoint a United States Senator;
threatening to withhold substantial state assistance to the Tribune Company in connection with the sale of Wrigley Field to induce the firing of Chicago Tribune editorial board members sharply critical of Blagojevich;
and to obtain campaign contributions in exchange for official actions both historically and now in a push before a new state ethics law takes effect January 1, 2009.
Court-authorized wiretaps show that, in exchange for the Senate appointment, Blagojevich discussed ways in which he and his wife, Patti, would be financially enriched, including outright "up front" payments, placing his wife on paid corporate boards, promises of campaign funds, and a potential Cabinet post or ambassadorship. The governor and his family were "financially" hurting, the wiretaps revealed. Said the gov: "I want to make money."
Yikes.
Not lost on anyone is that Blagojevich's predecessor as governor, George Ryan (R), is currently in prison, having steered state contracts to his allies while he was secretary of state and governor. Robert Grant, the special agent-in-charge of the FBI in Chicago, alluded to that. "Many, including myself," said Grant, "thought that the recent conviction of a former governor would usher in a new era of honesty and reform in Illinois politics. Clearly, the charges announced today reveal that the office of the governor has become nothing more than a vehicle for self-enrichment, unrestricted by party affiliation and taking Illinois politics to a new low."
OTHER ILLINOIS GOVERNORS: Ryan was convicted of corruption in 2006. His ethics woes forced him out of the 2002 campaign and led to Blagojevich's rise to the governorship the first Democrat of Illinois to accomplish that since 1972, when Dan Walker was elected. Walker later went to prison himself on bank fraud and perjury charges. Another governor, Otto Kerner (D 1961-68), was convicted of bribery and tax evasion charges in 1973.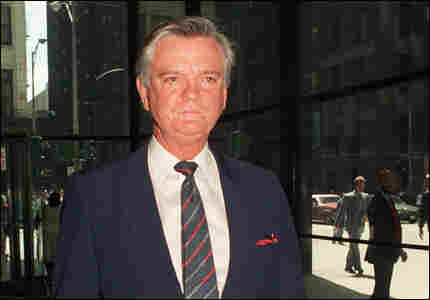 THE OBAMA SENATE SEAT: The obvious question is, what's next. Obama resigned from the Senate last month, and Blagojevich has said he will name a successor by the end of the year. It's pretty darn near impossible to imagine Blago having a say in who succeeds Obama.
But first, let's look at the potential candidates. As we wrote in the July 23 Political Junkie column,
A lot of variables face Blagojevich, whose popularity has fallen and whose relationship with many of his fellow Democrats is strained. The state has a history of having its senators coming from downstate or Chicago, but not both from the same geographic region. With Sen. Dick Durbin hailing from downstate, the betting is that an Obama successor would be a Chicagoan. Odds also favor the choice being either a member of the House or an African-American, and if the governor picked Danny Davis or Jesse Jackson Jr., all three criteria would be reached. Jackson seems far more ambitious than Davis, appears to have more advanced political smarts, and would probably be better prepared to run statewide in 2010. His admonishment/lecture of his famous dad, following the reverend's surgical suggestion regarding Obama that was caught on tape, probably helped his cause.
Other House members thought to be under consideration are Luis Gutierrez of Chicago, who is close to Blagojevich and who would be the state's first Latino senator, and Jan Schakowsky of Evanston, who like Jackson is an Obama national campaign co-chair. She might, however, be tarred by the ethics troubles of her husband, Bob Creamer, who went to prison for check kiting.
If Obama had a say, it might very well be Emil Jones Jr., the powerful state Senate president who is also from Chicago, African-American, and a Blago ally. Obama has given Jones much of the credit for his 2004 election to the U.S. Senate while he was still in the state Legislature. But sending Jones to Washington may be too great a loss for the governor, who needs him in Springfield. Plus, Jones will be 73 in October, so if he were appointed he might only be a caretaker, staying on until the 2010 election.
Other Blagojevich allies on the list: Tammy Duckworth, the state director of veterans affairs and Iraq war veteran who lost a 2006 bid to succeed retiring Rep. Henry Hyde (R) in Congress; and state Rep. Jay Hoffman, who carries the governor's water in the state Legislature.
Names also mentioned include three statewide elected officials, Attorney General Lisa Madigan, Lt. Gov. Pat Quinn and Comptroller Dan Hynes, but they are even more unlikely to be selected.
Of course, if any of these potential candidates come up in the Blagojevich investigation, you can kiss their chances goodbye as well.
If Blagojevich is removed from office and, remember, he has not been convicted of anything his successor will be a fellow Democrat, Lt. Gov. Pat Quinn. Officeholders under indictment have been known to hang on as long as they can. But with a Senate seat in the balance, Illinois Democrats may force Blagojevich's hand.