Former Sen. Jim Pearson Dies; Kansas Republican Was 88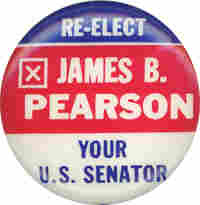 James Pearson, a moderate-to-liberal Republican senator who represented Kansas for nearly 17 years, died on Jan. 13.
Pearson was the Kansas Republican state chairman in 1962 when Sen. Andrew Schoeppel (R) died in office. Gov. John Anderson (R), on whose campaign Pearson worked, appointed Pearson to fill the vacancy.
He won three Senate elections: 56 percent in a special election over Paul Aylward in 1962, 52 percent against Rep. J. Floyd Breeding in 1966, and 71 percent against Arch Tetzlaff in 1972. He retired in 1978 and was succeeded by Nancy Landon Kassebaum (R).
Pearson was instrumental in changing Senate rules that reduced the number of votes required to end a filibuster from 67 to 60. He also broke with President Nixon on the Vietnam War, urging a faster end to the conflict.
Note: Our comprehensive list of those politicians who died in 2008 was not as comprehensive as we thought. John Hiestand of Hillsboro, Ohio, had three we missed:
Glenn Andrews, an Alabama Republican who was elected to the House in 1964 on Barry Goldwater's coattails when he unseated Rep. Kenneth Roberts (D). He was defeated two years later by Bill Nichols (D), who was elected in part on gubernatorial candidate Lurleen Wallace's (D) coattails. Andrews, 99, died on Sept. 25.
Lyle Williams, an Ohio Republican who served three terms in the House from 1979-84. Williams narrowly defeated Rep. Charles Carney (D) in 1978 and won re-election twice. In 1984, he was defeated by Democrat James Traficant. Williams, 66, died on Nov. 7.
Paul Todd, a Michigan Democrat who served one term in the House in the 1960s. In 1962, Todd challenged Rep. August Johansen (R) and lost overwhelmingly. But in a 1964 rematch, Todd had the benefit of President Lyndon Johnson's coattails, and he ousted Johansen by 53-47 percent. Two years later he himself was defeated, by Republican Garry Brown. Todd, 87, died on Nov. 18.
And Tracy Fine of the United States Former Members of Congress adds three more:
John Mackie, who like Paul Todd (above) was a one-term Michigan Democratic congressman first elected in 1964. In 1966, Mackie was unseated by Republican Donald Riegle. Mackie, 88, died on March 5.
Dan Kuykendall, a Tennessee Republican from Memphis who served in the House from 1966, when he ousted Rep. George Grider (D), until his defeat in 1974 by just 574 votes to Democrat Harold Ford Sr. Two years before he was first elected to the House, he was the GOP Senate nominee against Democratic incumbent Albert Gore Sr., receiving 46 percent of the vote. Kuykendall, 83, died on June 12.
Tim Lee Hall, an Illinois Democrat who served one term in the House. In 1972, he unsuccessfully challenged Rep. Les Arends, the GOP minority whip. Two years later, when Arends retired and with Watergate as the backdrop, Hall won an upset victory. But in 1976, in his first bid for re-election, he was defeated by Republican Tom Corcoran. In '78, Hall tried again, and lost to Corcoran in a landslide. Hall, 83, died on Nov. 12.