Once, Tom Braden Was The Political Story Of The Week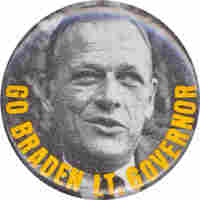 Tom Braden died last week.
According to all the obituaries, the 92-year-old Braden was once the co-host of CNN's Crossfire. He was a CIA official in the 1950s. He owned a newspaper in California. And his 1975 memoir about being the father of eight children was turned into the ABC comedy-drama Eight is Enough.
But he also once ran for office: lieutenant governor of California, to be precise. In 1966. And for a while there, his race was seen as a surrogate battle between the forces led by President Lyndon Johnson and Vice President Hubert Humphrey and forces led by New York Sen. Robert Kennedy.
1966 was a huge political year in California. Gov. Pat Brown was seeking a third term. He was four years beyond his thrashing of a coming-back Richard Nixon, which made him one of the more popular Democrats in the nation. But he was also the governor of a state that had experienced both race riots (Watts) and academic unrest (Berkeley).
And he was about to be taken on by an actor named Ronald Reagan, who became the darling of conservatives everywhere with his nationwide broadcast supporting GOP presidential candidate Barry Goldwater in 1964.
But, for purposes of this tale, let's stick with the Democrats here.
Brown's lieutenant governor was a guy by the name of Glenn Anderson. Lloyd Hand, who was LBJ's chief of protocol, resigned and decided to take on Anderson in the June primary. Kennedy supporters, who obviously didn't care much for the president, said Hand's candidacy was a vehicle for Johnson and Humphrey to take control of the California Democratic Party.
Tom Braden, the president of the state Board of Education, who was close to the Kennedys, was of that view. So he too decided to run for LG. And, of course, Kennedy opponents said that Braden's candidacy was a vehicle for RFK to take control of the California Democratic Party.
Brown, meanwhile, stuck with Anderson.
The primary got nasty, and personal. But when all was said and done, Anderson won convincingly, getting 50 percent of the vote. Braden finished second with 30 percent, and Hand got 20 percent.
So, judging from the results, it was hard to make the case that LBJ, HHH or RFK had won control over anything.
And that paled in comparison with the disaster that was facing California Democrats. Reagan would oust Brown by more than 1 million votes. He would also sweep in Robert Finch, Nixon's 1960 campaign manager, for lieutenant governor, as Anderson was going down (Anderson would later serve in Congress). State Controller Alan Cranston would get clobbered as well.
Still, for one brief, shining moment, Tom Braden was part of what was most assuredly one of the most widely watched Democratic primaries anywhere that year.