In Idaho: Choice Of GOP Leaders (And Palin) Loses Party Primary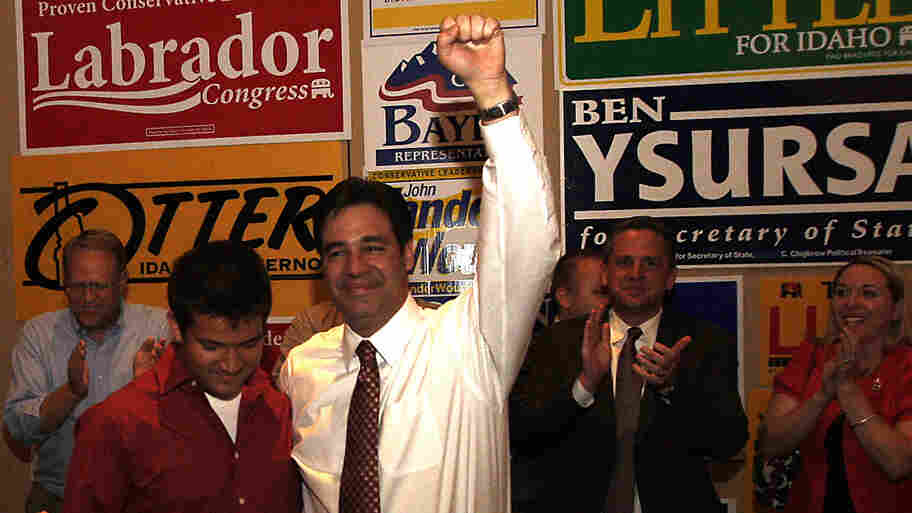 The Republican primary in Idaho's 1st Congressional District yesterday ended with state Rep. Raul Labrador, who wasn't the choice of GOP leaders but did have the support of local Tea Party enthusiasts, the winner over one-time frontrunner Vaughn Ward. Labrador outpaced Ward by about 10 percentage points.
As Ken reported on Monday, the race took some unusual twists. Ward didn't get the support of local Tea Partiers, but did win the endorsement of national Tea Party star Sarah Palin, the 2008 GOP vice presidential nominee. Ward was also among the National Republican Congressional Committee's top "Young Guns" recruits for this year's campaign.
Labrador tells the Idaho Statesman that he overcame a huge money disadvantage because he was consistently conservative in his message. "I didn't just say it. I've always acted the same way," he said.
But as Ben Frumin writes at the liberal Talking Points Memo DC, Ward may not have been among the best candidates in recent memory. Among the problems his campaign ran into: Stories about material it lifted from other GOP candidates' literature; and a semi-slapdown from Sen. Mike Crapo, R-Idaho, who told Ward to stop implying that the senator had endorsed him over Labrador.
Ken will weigh in later with more about what the news from Idaho does and does not mean.