Traficant Makes Ohio Ballot After All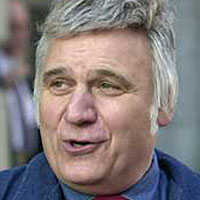 He's baaaack.  And this time it looks like it will stick.
James Traficant, the former nine-term Democratic member of Congress from Ohio's 17th District -- who was expelled in July 2002 following his conviction on racketeering, bribery and tax evasion charges and then went to prison for seven years -- will be able to seek his old seat after all.  As an independent.
Traficant was initially ruled ineligible to make the ballot because he fell 107 signatures short of qualifying.  (See earlier Junkie post from July 6, "Trafican't (And Apparently Won't").  But the Youngstown Vindicator is reporting that the Mahoning County Board of Elections has ruled that there were errors in the first calculation, and that in fact Traficant now has 11 more valid signatures than he needs to make the ballot.
The formal decision will be made Wednesday by the Trumbull County Board of Elections, but it is apparently a done deal.
Democrat Tim Ryan, who succeeded Traficant in 2002, and Republican Jim Graham, a pharmacist, are already on the ballot.