The New Christie Minstrels : Political Junkie President Obama is seen as more vulnerable than ever, but some Republicans are still not satisfied with their choices for 2012. N.J. Gov. Chris Christie is the subject of the latest draft effort, but his mixed record won't please everyone in the party.
The New Christie Minstrels
The New Christie Minstrels
The New Christie Minstrels
President Obama's numbers are shaky, as is the nation's economy, but it's the Republicans, not the Democrats, who seem to be most uneasy as we approach 2012. Ralph Nader's suggestion notwithstanding, Obama remains unlikely to face a significant challenger in next year's primaries. Republican voters, meanwhile, have at least eight choices for the nomination, and yet that may not be enough.
The latest would-be candidate to save the party? New Jersey Gov. Chris Christie.
For more than a year now, Christie has been unequivocal about not pursuing the White House. I'm not ready for it, he said over and over. Last November he memorably told reporters, "Short of suicide, I don't really know what I'd have to do to convince you people that I'm not running." But the speculation never went away; in fact, as other potential saviors dropped out of favor, the interest in Christie only intensified. And since last Tuesday, when Christie gave a powerful speech at the Reagan library in California that tore apart Obama — and which was met by a plea from a woman in the audience that he had to run — the clamor has been non-stop. When he told her, "I take it in and I'm listening to every word of it and feeling it," that somehow became the "hint" everyone was waiting for, that he was reconsidering. There was an especially surreal moment on Wednesday, when all three cable networks were running breathless stories about Christie's future.
There are, as everyone knows, so many reasons why a Christie candidacy is unlikely to happen. First of all, with the presidential calendar looking to kick off its caucuses and primaries the first week of January, Christie would have less than three months to raise the money and build the organization needed to competitive. Some state filing deadlines come as soon as this month. (Those pushing for him to run are said to include people who were instrumental in Rudy Giuliani's 2008 White House bid, and we remember how well that went.) He would have to answer to past positions seen as heresy to conservatives, everything from global warming to gun control. True, these positions may make sense when you're running in New Jersey. (Similarly, think of Romney's positions when he ran for the Senate against Ted Kennedy in 1994 or the governorship of Massachusetts in 2002.) It's a completely different ballgame and audience when the goal is winning the Republican presidential nomination. If Rick Perry has been under attack for some less-than-perfect conservative opinions, imagine what Christie would go through.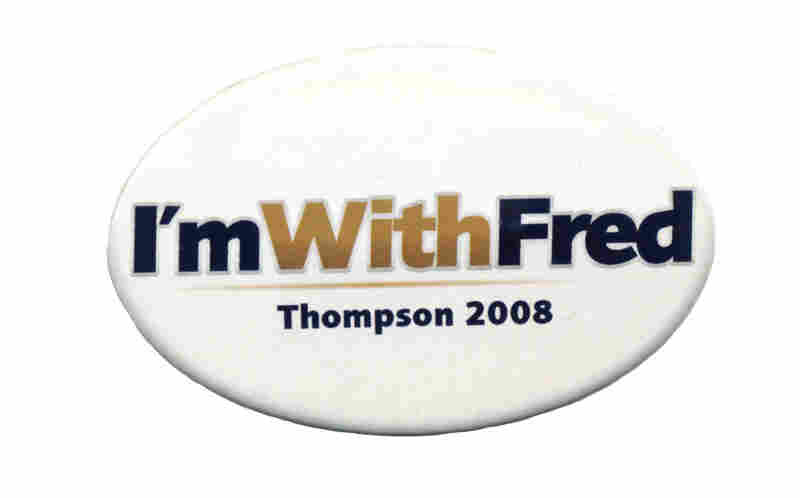 And many argue that the moment Christie announces would probably be the high point of his candidacy. That was what happened with Fred Thompson in 2008, whose "can't miss" presidential dreams fizzled almost immediately after declaring.
And yet, it's conservatives who have been the loudest in calling for Christie to step forward. Perhaps it all stems from their unease at having Romney lead the party against Obama next year. Thus, the desire for alternatives. Michele Bachmann was the conservatives' candidate du jour after she won the Iowa straw poll, but her momentum barely lasted a semaine. Then came Perry, who joined the race late and immediately became the new frontrunner, but whose status is now in question after a series of weak and uneven debate performances. And don't forget that brief, if illogical, burst of love directed at Donald Trump for a short time.
It's pretty easy to see Christie's appeal. While Democrats see him as rude and boorish, Republicans love his style. He is a tough talking governor who has stuck it to the unions in a blue state, cut the budget and refused to raise taxes. He opposes abortion and same-sex marriage. He, perhaps more than any other, fits the Howard Beale I'm-as-mad-as-hell-and-I'm-not-going-to-take-this-anymore role, a sentiment widely heard in the GOP since the rise of the Tea Party.
It's the nature of the beast to want what you can't have, and that's been a constant in presidential campaigns for a long time. If only Mario Cuomo would run, Democrats said in 1992. Four years later it was Republicans who dreamed of Colin Powell getting in the race. That's what's going on now with Christie. Obama's re-elect numbers have convinced many in the GOP that he can be taken next year. They want to make sure they have the best candidate to do it and, for now, Christie is the one they're focusing on. Paul Mulshine, a columnist with the Newark Star-Ledger, says, "I for one will not be shocked if he suddenly decides he can no longer put his personal needs above the call of the country to become its savior. ... My read on the guy is he can't resist."
I'm not so sure. I still say he doesn't run. But the amount of pressure he is must under right now has to be overwhelming.
Weight Weight Don't Tell Me. Friday's Washington Post had two separate columns, by Eugene Robinson and Al Kamen, both focusing on Christie's weight and both accompanied by hardly flattering photos of the governor with Obama. Kamen gives us a hefty history lesson:
If Christie were to jump into the race for the GOP nomination, he would stand out — not just for his policy positions but also for his girth. He has never revealed his weight, though he has described himself as "fat." If elected, he would certainly be the largest president since William Howard Taft, elected a century ago, who was said to have scaled in at upwards of 330 pounds.

One has to reach back to the likes of Grover Cleveland (first elected in 1884) and William McKinley (1896) for other similarly oversize commanders-in-chief.
Late Late Don't Tell Me. In ABC News' The Note, Michael Falcone and Amy Walter remind us that Ted Kennedy announced his 1980 presidential candidacy in Nov. 1979, "giving himself 75 days to officially campaign before the Iowa caucuses," and that Bill Clinton declared on Oct. 4, 1991, some 129 days before Iowa. But Clinton already had an exploratory committee in place since August. And the pace of campaigns back then doesn't even begin to compare to the current day's intensity. Of course, with favorite son Tom Harkin also in the race, Iowa had lost most of its clout for the Democrats that cycle.)
Movin' Up. Florida's Presidential Preference Primary Date Selection Committee announced on Friday (9/30) that the state will hold their primary on Jan. 31, 2012, ahead of the scheduled dates for the four early states: Iowa, New Hampshire, Nevada and South Carolina. The move is in violation of RNC rules and could result in the state losing half its delegates for the convention, which interestingly will be held in Tampa. The move is evocative of what Florida and Michigan did in 2008. Their decision to move up their primary dates was met with controversy and confusion on the Democratic side, with many (but not all) candidates ignoring the states because of the threatened sanctions. Some argue that by violating the rules and diminishing their clout, the decisions by Michigan and Florida may have cost Hillary Clinton the nomination. In any event, the new decision by the Sunshine State all but assures that Iowa and the other earlybirds will move up their dates as well. In 2008, because of all the maneuvering, Iowa's caucuses took place on Thursday, Jan. 3, and N.H. followed with its primary five days later.
Now to the mailbag:
Q: I just want to say that I really enjoy the Political Junkie segment every week [on Talk of the Nation]. Not only do I get a kick over the banter between you and Neal [Conan], as well as the bad jokes, but I always learn something new about politics. For example, I never knew that Herman Cain ran for senator back in 2004. I'm a Herman Cain fan but this is the first I ever heard about that. Wednesday afternoon is the one time of the week when I make sure the radio is on. — Pam Edwards, Boston, Mass.
A: Thanks Pam, for your kind words. The show is my favorite part of the week as well.
Cain actually had been making some political noises before his Senate run in Georgia in 2004. He considered running for president in 1999, even filing with the FEC. But that bid went nowhere and, deciding that George W. Bush was not the right choice, endorsed Steve Forbes.
In his 2004 Senate bid, he ran as the most conservative candidate in the race and an uncompromising supporter of life, attacking the GOP frontrunner, then-Rep. Johnny Isakson, as soft on abortion. A charismatic speaker even then, his goal was to force Isakson into a runoff. But that never happened; Isakson won the primary with 53% over Cain (26%) and then-Rep. Mac Collins (21%). Isakson cruised to victory in the fall and was easily re-elected last year.
For the record, Cain was the answer to my trivia question on last week's show: which future presidential candidate was defeated in 2004? But I forgot one other:
Q: You missed another answer! Alan Keyes was also defeated in 2004 — he lost to Barack Obama in the Illinois Senate race — and sought the GOP presidential nomination in 2008. — Doug Posner, El Cerrito, Calif.
A: Oops, you are correct. I remembered that Keyes ran for president in 1996 and 2000 (as well as Senate bids from Maryland in 1988 and 1992, in which he got clobbered both times). But I forgot about his 2008 attempt, which he entered the race late and made no noticeable showing anywhere. He stood out at one pre-Iowa debate for attacking the moderator for failing to call upon him to answer questions. His 2.7% fourth-place showing in North Carolina was his best performance in the primaries.
I guess we owe you a t-shirt as well.
Q: Who wins the West Virginia governor's race? — Rob Frazier, Washington, D.C.
A: My gut tells me Earl Ray Tomblin, the Democratic acting governor, will defeat GOP businessman Bill Maloney in tomorrow's (Oct. 4) special election. However, of the four gubernatorial races this year, this should be the closest.
The election is necessitated by the departure of Joe Manchin (D), who last year won the Senate seat long held by the late Robert Byrd. Tombin, as president of the state Senate, succeeded to the governorship. Republicans don't win Senate races here — their last such victory came in 1956 — but they have won their share of governor races, and the GOP presidential candidate carried the state the last three times. Barack Obama is quite unpopular here, and Republicans are trying to link Tomblin with the president. They are also raising questions about Tomblin's family businesses and insist there are ethics issues.
Salena Zito, a columnist with the Pittsburgh Tribune-Review, quotes analysts who say the election "might not be about just the candidates. It could be colored by anti-incumbency filtering down from an increasing dislike of Washington's economic and domestic policies."
But Maloney has been put on the defensive recently himself when a Florida man was arrested for what has been reported as an attempt to extort Tomblin over a dog racing matter, a man who may, or may not, have connections to Maloney's chief of staff. Maloney denies any involvement but the story has captured the state's media in recent days.
NPR's Brian Naylor's piece on the race aired on Weekend Edition Sunday. You can listen to it here.
Candidates 2012. Don Bivens, the Democratic state party chair in Arizona, declares his candidacy for the Senate seat being vacated by Jon Kyl (R). The announcement is the latest indication that Rep. Gabby Giffords, critically wounded in a January shooting in Tucson, will not be a candidate. (Not that we thought that was a possibility; see, "How About If We Don't Rush Gabby Giffords Into 2012 Senate Race?," Political Junkie, Feb. 17, 2011.) The likely GOP nominee is Rep. Jeff Flake ... Charlie Graddick, the former Alabama attorney general who lost a controversial Democratic primary for governor back in 1986, is running to become his state's chief justice of the Supreme Court.
Political Updates. I will post periodic political updates during the week on Twitter. You can follow me at @kenrudin.
Political Junkie segment on Talk of the Nation. Each Wednesday at 2 p.m. ET, the Political Junkie segment appears on Talk of the Nation (NPR's call-in program), hosted by Neal Conan with me adding color commentary, where you can, sometimes, hear interesting conversation, useless trivia questions, and sparkling jokes. Last week's segment focused on the presidential primary calendar, and how candidates must allocate resources to remain in the hunt for the nomination. Special guest: Chip Saltsman, who was the campaign manager for Mike Huckabee in 2008. You can hear the segment here:
This week: The show will come to you from Columbus, Ohio.
And Don't Forget ScuttleButton. ScuttleButton, America's favorite waste-of-time button puzzle, can be found in this spot every Wednesday. A randomly-selected winner will be announced each week during the Political Junkie segment on NPR's Talk of the Nation. It's not too late to enter last week's contest. Not only is there incredible joy in deciphering the answer, but the winner gets a TOTN t-shirt!
Podcast. There is also a new episode of our weekly podcast, "It's All Politics," every Thursday. It's hosted by my partner-in-crime, Ron Elving, and me. Latest episode: Mitt Romney (remember him?) may be the new GOP frontrunner, though his numbers have remained pretty constant. The meaning of Herman Cain's surprise in Orlando and the clamoring for Chris Christie. You can listen to it below.
The New Christie Minstrels
Claude Kirk. Claude Kirk, the first Republican governor of Florida since Reconstruction, died Sept. 27 at the age of 85. Kirk was one of the more colorful and flamboyant characters of his day, often keeping his personal life in the news, with much focus on his dating habits and three marriages. A split Democratic party helped lead to Kirk's election in 1966. He clearly was angling to make it on the GOP national ticket in 1968, but nominee Richard Nixon picked another governor as his running mate that year, Spiro Agnew. After four years of battling legislators from both parties, Kirk needed a runoff to win his own party's nomination and went down to defeat in November against Democrat Reubin Askew. He was also the GOP nominee for the Senate in 1964, getting trounced by Democratic incumbent Spessard Holland. After he left the governorship, he became a Democrat. Twice he toyed with running for president, and in 1988, he sought the Dem nomination for the Senate, finishing fifth in a field of five.
ON THE CALENDAR:
Oct. 4 — Special West Virginia gubernatorial election: acting Gov. Earl Ray Tomblin (D) vs. businessman Bill Maloney (R).
Oct. 5 -- The Political Junkie segment on Talk of the Nation comes to you this week from Columbus, Ohio.
Oct. 8 — Values Voter Summit straw poll, Washington, DC.
Oct. 11 — GOP presidential debate at Dartmouth College in Hanover, N.H., 8 pm ET (hosted by Washington Post/Bloomberg).
Oct. 18 — GOP presidential debate in Las Vegas (CNN).
Mailing list. To receive a weekly email alert about the new column and ScuttleButton puzzle, contact me at politicaljunkie@npr.org.
******* Don't Forget: If you are sending in a question to be used in this column, please include your city and state. *********
This day in campaign history: Edwin Edwards, a Louisiana state senator considered a racial moderate, wins the Democratic nomination over a segregationist opponent in a special election for the House seat of T. Ashton Thompson (D), who died in July. The lack of a Republican opponent assures Edwards will be sent to Congress, where he will serve until May 1972, when he will be sworn in for the first of his four terms as governor (Oct. 3, 1965).
Got a question? Ask Ken Rudin: politicaljunkie@npr.org