Jindal Wins Smashing Re-Election In Louisiana; Nevada Blinks On Caucus Date
The only noteworthy thing about Louisiana Gov. Bobby Jindal's re-election victory on Saturday was the margin. With nine opponents on the ballot (none well funded or even heard of), Jindal got 66% of the vote, the biggest total anyone has received since the state initiated its so-called "jungle primary" (where all candidates run on the same ballot regardless of party) in 1975.
His closest challenger, Tara Hollis, a Democrat and schoolteacher, received almost 18%; no other candidate was in double digits.
The election showed how far the state's Democratic Party has fallen. For the first time in memory, if not history, the party failed to attract a gubernatorial candidate of any significance. Part of the Dems' problem is the post-Katrina change in demographics. Another is Jindal's high approval ratings and anti-corruption image. He also raised $15 million for the race.
Now, with re-election out of the way, there is lots of guesswork about Jindal's political future, be it as the GOP ticket-mate next year or a Cabinet post in a Republican administration, although he insists he will serve out his term. (There is also speculation about a potential challenge to Sen. Mary Landrieu (D) in 2014 or a presidential bid of his own in 2016.) His national image took a hit back in 2009 when he gave an ill-received and widely-mocked response to President Obama's address to Congress. But he seems to have overcome that blip and got some success in taking on the state's budget woes.
Given the expectation that Jindal will leave the governorship before completing his term, much attention was placed on the Republican primary for lt. governor. Incumbent Jay Dardenne, who won a special election last year after Mitch Landrieu (D) left to become mayor of New Orleans, held on to defeat Plaquemines Parish President Billy Nungesser, 53-47%.
It was even closer in the battle for secretary of state, as incumbent Tom Schedler has a 9,000-vote lead over state House Speaker Jim Tucker. Democrats failed to field candidates in either contest.
The Dating Game. Now that the Nevada GOP has bowed to the pressure and moved its caucuses into February, it looks like the 2012 presidential primary and caucus calendar is now just about set. Iowa opens up the contests on Jan. 3. New Hampshire, which threatened to move its primary date into December because Nevada had scheduled its caucuses on Jan. 14 — too close to where N.H. was planning and in violation of Granite State law — is expected to announce within days that its primary will come on Jan. 10. Then comes South Carolina on Jan. 21, followed by Florida on Jan. 31. The new date for the Nevada caucuses is Feb. 4.
(See the Oct. 17 Political Junkie, "The State of the GOP Field," for more on the dispute.)
The state really had little choice. You can't mess with N.H.'s sacrosanct calendar and expect no consequences. Nevada learned that when several Republican candidates announced they would boycott its caucuses as a sign of solidarity with N.H. One candidate, Jon Huntsman, even skipped the Oct. 18 debate in Las Vegas in protest.
This act of defiance had two purposes: it told N.H. voters that they were sticking with them. And they also stuck it to Mitt Romney, who is considered a big favorite in Nevada and whose campaign was behind the decision to move up Nevada's date to begin with to give him an early victory. If everyone else pulled out of Nevada, then a Romney win would be seen as empty. Romney, who also leads in the N.H. polls, was thus given the Hobson's choice of having to pick between the two states. Nevada's move to Feb. 4 — which came with the blessing of the Romney campaign — saves him from that uncomfortable position.
And, despite its succumbing to pressure, Nevada remains the first contest in the West, which it wanted all along. And state Republicans are clearly relieved that the controversy has been resolved. Amy Tarkanian, the Nevada GOP chair, was quoted in the Las Vegas Review Journal as saying, "Our focus should be on defeating (Barack) Obama. ... It's time to move forward. We will be the good guys in the end. We don't need to be New Hampshire's piñata."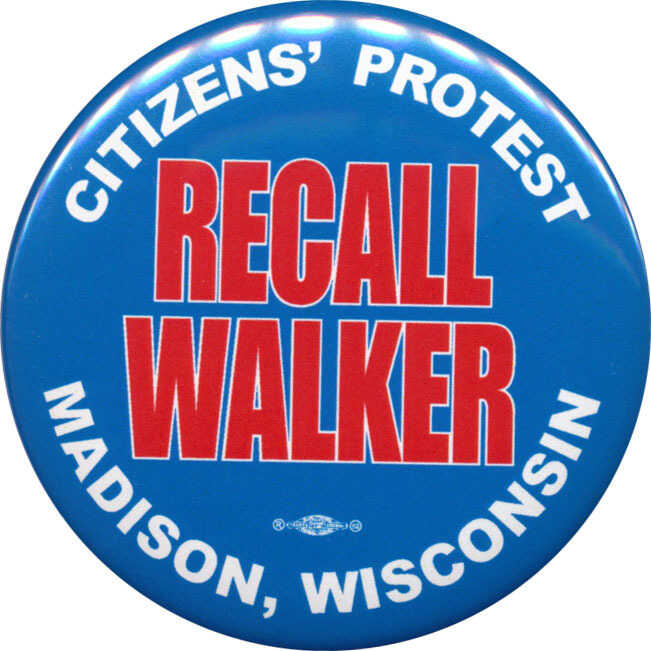 Recall This. The effort to recall Wisconsin Gov. Scott Walker begins in earnest on Nov. 15. Opponents of the governor need to gather 540,208 signatures in a 60-day window to force a recall election on the ballot, which could take place next May. Wisconsin Public Radio's Mike Simonson reports that former Rep. Dave Obey (D), who retired in January after 42 years in Congress, has not ruled out taking on Walker if there is a recall election. Obey is quoted as saying his preferences would be retiring Sen. Herb Kohl or Milwaukee Mayor Tom Barrett (who lost to Walker in 2010), but that if neither ran he would seriously consider it.
Required reading. I've always been a fan of "lists," and there are some good ones in the Nov. 3 issue of The New Republic, such as Washington's Most Powerful/Least Famous People, Overrated Thinkers, Shameless Sell-Outs, etc. No, I'm not in any of them. Also, there was a question in the Oct. 3 Political Junkie about Herman Cain's 2004 bid for the Senate in Georgia. Well, Molly Ball has a far more detailed piece on that campaign in The Atlantic.
Candidates 2012. Two senators up for re-election have new primary challengers. Thomas Bleming, a former soldier of fortune, announced he will take on Wyoming Sen. John Barrasso in next year's GOP primary. Wyoming Public Radio reports that Bleming, who won a Silver Star in Vietnam and who later found himself as a mercenary in Asia, Africa and Latin America, "said he plans to campaign with an AK-47 to show his support for gun rights." More about Bleming:
He supports universal health care run by the government and wants to abolish the Federal Reserve system. Bleming says he also wants to withdraw U.S. troops from Afghanistan and Iraq.
Barrasso was appointed to the Senate in 2007 following the death of GOP incumbent Craig Thomas. He won a special election the following year with 73% of the vote.
In Pennsylvania, Brian Kelly has received Tea Party backing in his Democratic primary challenge to Sen. Bob Casey. Kelly took on then-Rep. Paul Kanjorski in the 2010 Dem primary and received about 17% of the vote; he then endorsed the Republican candidate, Lou Barletta, who defeated Kanjorski on his third try. The Independence Hall Tea Party PAC has endorsed Kelly, calling Casey an "Obama clone." Not exactly sure how many Tea Party folks vote in the Democratic primary, however.
Political Updates. I will post periodic political updates during the week on Twitter. You can follow me at @kenrudin.
Time for two questions from the mailbag:
Q: Would you know where I could obtain copies of the news magazines of the losing candidates for president that were produced just in case they won? For example, when I was a sophomore at Hillsboro High School in Nashville I remember reading that Time magazine had prepared a Barry Goldwater cover in the event he defeated President Johnson in the 1964 election. Thanks in advance for any assistance you could give me on this matter. — Paul Carlisle, Murfreesboro, Tenn.
A: I don't but I'm running your question in case anyone out there can help you. I remember my boss at ABC News, Hal Bruno, had three "just in case" covers of Newsweek (where he once worked) from the 1968 election framed on his wall: Richard Nixon, Hubert Humphrey and George Wallace. But I've never seen such covers anywhere else.
Q: I am doing a school report on Charles Curtis, who was the vice president under Herbert Hoover. My research shows that Curtis was a Catholic. Is this correct? — Mary B., Lexington, Mo.
A: Nope. Curtis, who was of Native-American heritage, was a Protestant. Joe Biden is the first Catholic vice president. (Check out the April 28, 2005 Political Junkie column for another question about Curtis — as well as a great, old campaign button for him.)
Political Junkie segment on Talk of the Nation. Each Wednesday at 2 p.m. ET, the Political Junkie segment appears on Talk of the Nation (NPR's call-in program), hosted by Neal Conan with me adding color commentary, where you can, sometimes, hear interesting conversation, useless trivia questions, and sparkling jokes. This week's show reviewed the Las Vegas debate and the changing presidential primary and caucus calendar. Special guest: GOP strategist Mike Murphy. You can listen to the entire segment right here: missed last week's show, an omission that will not be repeated this week.
And Don't Forget ScuttleButton. ScuttleButton, America's favorite waste-of-time button puzzle, can be found in this spot every Wednesday. A randomly-selected winner will be announced each week during the Political Junkie segment on NPR's Talk of the Nation. It's not too late to enter last week's contest. Not only is there incredible joy in deciphering the answer, but the winner gets a TOTN t-shirt! DON'T FORGET TO CHECK BACK HERE ON WEDNESDAY FOR THE NEW PUZZLE.
Podcast. There's also a new episode of our weekly podcast, "It's All Politics," every Thursday. It's hosted by my partner-in-crime, Ron Elving, and me. This week Ron was off, out chasing escaped wild animals in Ohio; that wacky Mara Liasson subbed for him. You can listen to it here:
Jindal Wins Smashing Re-Election In Louisiana; Nevada Blinks On Caucus Date
ON THE CALENDAR:
Nov. 8 -- Election Day. Top races include gubernatorial contests in Kentucky (Steve Beshear, D, seeking 2nd term) and Mississippi (Haley Barbour, R, term limited). Also: primaries in Oregon's 1st CD (to succeed David Wu, D).
Nov. 9 — GOP presidential debate in Rochester, Mich., 8 pm ET (CNBC).
Nov. 10 — GOP debate, Exeter, N.H.
Nov. 15 — Advocates of recall of Wis. Gov. Scott Walker (R) begin signature petition; must reach 540,000 within 60 days.
Nov. 19 — GOP candidate forum, Des Moines. Also: Iowa Democratic Party Jefferson-Jackson Day Dinner, Des Moines.
Dec. 7 — Virginia Senate debate, Univ/VA at Charlottesville.
Dec. 10 — GOP debate, Des Moines (ABC News).
Mailing list. To receive a weekly email alert about the new column and ScuttleButton puzzle, contact me at politicaljunkie@npr.org.
******* Don't Forget: If you are sending in a question to be used in this column, please include your city and state. *********
This day in political history: Three-term Gov. Edwin Edwards finishes behind Rep. Buddy Roemer, his fellow Democrat, in the open Louisiana gubernatorial primary. Reps. Bob Livingston (R) and Billy Tauzin (D), who finish third and fourth respectively, both endorse Roemer (Oct. 24, 1987). With the ABE vote — Anybody But Edwards — solidly against him, Edwards decides the next day to drop out of the November runoff, assuring Roemer's election. Four years later, Edwards will come out of retirement and win the governorship once more, defeating Roemer, who by then has become a Republican.
Got a question? Ask Ken Rudin: politicaljunkie@npr.org