Kucinich-Kaptur One Of Many House Primaries Between Incumbents In 2012 : Political Junkie This year a dozen House races will pit one incumbent against another — a consequence of the once-every-decade event known as redistricting. Some well known members, such as Dennis Kucinich, are in serious jeopardy.
Kucinich-Kaptur One Of Many House Primaries Between Incumbents In 2012
Kucinich-Kaptur One Of Many House Primaries Between Incumbents In 2012
The battle for the Republican presidential nomination is hardly the only instance this year of members of the same party eating their own. The decennial redistricting process is upon us, with many instances involving incumbent vs. incumbents battles — Democrats vs. Democrats and Republicans vs. Republicans — in the primaries.
Some of these contests came about because of partisan politics; a party controlling the state legislature and the governorship will more often than not try to make life difficult for the minority party by redrawing district lines and forcing incumbents into the same CD. But this is not only due to political mischief; several states, such as California, have nonpartisan methods of redistricting as well, and incumbents have been made uncomfortable by forcing them to run against erstwhile allies.
Here's a look at those contests for 2012, listed chronologically according to primary date:
March 6 — Ohio 09 (Dem: Marcy Kaptur vs. Dennis Kucinich)
Both are 65-year old veteran pro-labor liberals. And until this year, they were longtime allies. Now their debates are personal and heated. Kucinich, who back in the day was mayor of Cleveland, is the darling of the anti-war left who has made two bids for president. Kaptur, from Toledo, is the senior woman in the House, having served since 1983. One big issue separating them is abortion; about nine years ago, Kucinich came around to favoring abortion rights after years of opposition; Kaptur remains anti-abortion except in instances of rape, incest or if the life of the mother is at risk. Kaptur represents more of the district than Kucinich, who may be suffering some fallout over his reported mulling a run for Congress in Washington State when it was not clear what the Ohio district lines would look like.
March 20 — Illinois 16 (GOP: Adam Kinzinger vs. Don Manzullo)
In a race between two conservatives, it may come down to style. Kinzinger, first elected in 2010 over freshman Rep. Debbie Halvorson (D), is 34 years younger than Manzullo, in the House since 1993. Geography favors Manzullo; the new 16th is more familiar to him, but he hasn't had to deal with a tough race since his first one. This is one of the few states where Democrats had the upper hand in redrawing district lines.
April 24 — Pennsylvania 12 (Dem: Jason Altmire vs. Mark Critz)
Most of the inhabitants of the combined district come from Altmire's old CD. Both are relatively new to Congress; Altmire unseated GOP incumbent Melissa Hart in 2006; Critz won the seat of the late John Murtha (D) in a May 2010 special election. Ideologically, Altmire is seen as much more of a centrist, and Critz is getting more of the labor endorsements. The latest wrinkle is that Critz is claiming Altmire failed to turn in enough valid signatures to get on the primary ballot.
June 5 — California 30 (Dem: Howard Berman vs. Brad Sherman)
Turnover is not a word often associated with the California congressional delegation; Richard Pombo (R), in 2006, was the last incumbent to be defeated. But the independent commission that drew up the new California lines has caused headaches for House members from both parties. The two vote similarly but have never been close; now the contest is tearing up old alliances, and it could become the most expensive primary in the nation. Berman has been cleaning up with endorsements. Because of California's new election system, where all candidates run on the same ballot regardless of party, these two could be at it again in November if neither tops 50 percent in June.

June 5 — California 44 (Dem: Janice Hahn vs. Laura Richardson)
Not long after Hahn won the special election last May to succeed Rep. Jane Harman (D), who resigned her seat, she got the news that her district was chopped up and dismantled. She decided to run against Richardson, who has been in some hot water over reports about her personal finances; she is also being investigated by the House ethics committee over claims that her staff was doing campaign work. Hahn was recently endorsed by Los Angeles Mayor Antonio Villaraigosa.
June 5 — New Jersey 09 (Dem: Bill Pascrell vs. Steve Rothman)
Rothman's longtime design on a Senate seat hit a serious roadblock when an independent commission moved his home into the district of Rep. Scott Garrett (R). Rather than challenge Garrett in what is a clearly GOP-leaning seat — which many Democrats pleaded with him to do — Rothman decided to run against Pascrell in a district where most of his constituents reside. The race has turned especially bitter and personal between two former friends. Pascrell is seen as more of a street fighting and folksy campaigner, Rothman more cerebral.
Aug. 7 — Michigan 14 (Dem: Hansen Clarke vs. Gary Peters)
Both Clarke and Peters are running against each other after they decided against waging other more difficult primary challenges. Peters' district was nearly completely dismantled and he found himself facing a primary contest with veteran Democrat Sandy Levin. Similarly, Clarke, who toppled embattled Rep. Carolyn Cheeks Kilpatrick in the 2010 Dem primary, opted out of a challenge with entrenched incumbent John Conyers in Detroit.
Aug. 7 — Missouri 01 (Dem: Russ Carnahan vs. Bill Lacy Clay)?
Carnahan has not said for sure where he will run. The GOP legislature eliminated Carnahan's district and put his home into the majority-black St. Louis CD of Clay. He could challenge Clay or could instead run in the new suburban 2nd CD, which was drawn to elect a Republican.
Aug. 28 — Arizona 06 (GOP: Ben Quayle vs. David Schweikert)
As with many races between incumbents of the same party, this one is more about style than ideology. Both are freshman Republicans and both are conservative. Schweikert, who knocked off Rep. Harry Mitchell (D) in 2010, is a brash Tea Party favorite who has been running for Congress since 1994. Quayle, son of former Vice President Dan Quayle, replaced retiring Rep. John Shadegg (R) two years ago. Though he essentially grew up in Washington, D.C., he is seen as more the choice of the party establishment; retiring Sen. Jon Kyl recently endorsed him.
Nov. 6 — Louisiana 03 (GOP: Charles Boustany vs. Jeff Landry)?
Louisiana is losing one CD, and with the seat of Cedric Richmond, the only Democrat in the House delegation, protected by the Voting Rights Act, Republican mapmakers didn't have much choice. Boustany has more money and endorsements. Landry, a freshman, has not said he will challenge Boustany but that may be his only option.
GENERAL ELECTION — Iowa 03: Leonard Boswell (D) vs. Tom Latham (R)
Latham, who was thrown into the same district with fellow Republican Steve King, decided to challenge Boswell.
GENERAL ELECTION — Ohio 16: Jim Renacci (R) vs. Betty Sutton (D)
The district was drawn by Republican mapmakers to give Renacci the edge.

This list could have been considerably larger had some incumbents decided to retire instead. Rep. Dennis Cardoza (D-CA), for example, announced his retirement rather than take on fellow Democrat Jim Costa in the June primary. Other House members who decided to call it quits instead of running against fellow incumbents from their own party include Elton Gallegly (R-CA), Brad Miller (D-NC) and Steve Austria (R-Ohio).
The list is still potentially in flux. New York, for example, which is losing two seats and has yet to draw its new congressional lines, could see some member vs. member primaries. And everyone is still awaiting a decision by Rep. David Dreier (R-CA), the chairman of the House Rules Committee, who seems to be the odd man out in the state's redistricting wars. Many are anticipating a retirement announcement.
Roemer Leaves the GOP. In what may have been the political equivalent of a tree falling in the forest, former Louisiana Gov. Buddy Roemer announced on Thursday he would leave the Republican race for president but continue his pursuit of the White House by running as an independent ... specifically, hoping to be picked up by the Americans Elect movement that is searching for a third alternative on the November ballot.
Roemer's polling numbers were so dismal that he wasn't included in any of the 20 GOP debates. And with little national media attention to speak of — despite a heralded visit to the Political Junkie segment on TOTN back in March of 2011 — Roemer found it impossible to gain traction.
Running as an independent, Roemer is hoping that the ever growing amount of money in campaigns will catch on as an issue in November. He has said he would limit campaign contributions to $100 and eschew any political action committee money. And with President Obama now joining Republicans in the Super PAC business, Roemer could theoretically hit a nerve. But it remains to be seen if he ultimately becomes the choice of Americans Elect ... or, for that matter, if anyone pays attention to Americans Elect.
Political Updates. I post periodic political updates during the week on Twitter. You can follow me at @kenrudin. I'm already missing those presidential debates. Anyway, time for one question that arrived in the e-mail box:
Q: How does Rick Santorum's landslide loss in 2006, by nearly 18 points to Bob Casey Jr., rate in the history books? Was this the worst defeat of an incumbent senator? — Dan Barrile, Ft. Myers, Fla.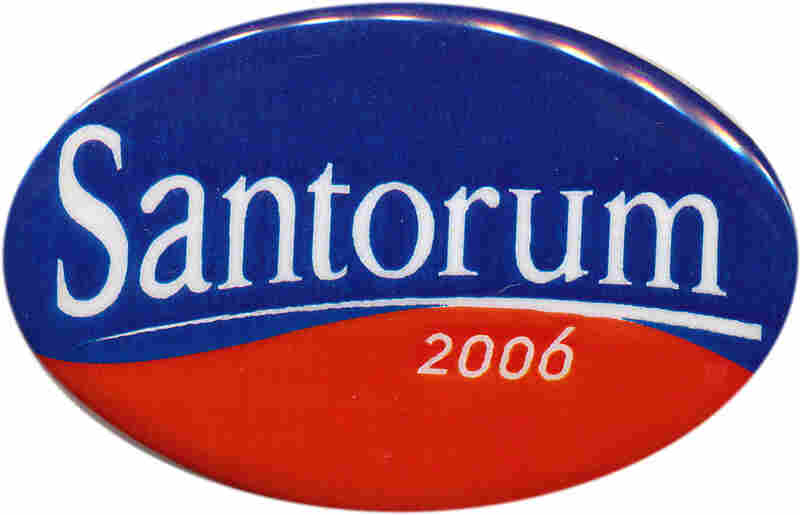 A: It was the most lopsided defeat of an elected senator in a general election (not including incumbents running as an independent) since 1980, when Democratic incumbent George McGovern lost by 18.8 points to James Abdnor in South Dakota. (Thanks to Nikoli Orr for this.) In 1978, two incumbent Democrats also went down to defeat by greater margins: Floyd Haskell lost by 18.4 points to Bill Armstrong in Colorado and William Hathaway lost by 22.7 points to Bill Cohen in Maine.
Santorum's loss to Casey in 2006 was by 17.4 points. That dubious showing was eclipsed in 2010 by another incumbent, Democrat Blanche Lincoln of Arkansas. She was trounced by GOP Rep. John Boozman by 21 points. The last Pennsylvania incumbent senator to lose by an even larger margin than Santorum was Sen. Joe Guffey (D) in 1946, who was ousted by GOP Gov. Edward Martin by nearly 20 points.
Political Junkie segment on Talk of the Nation. Each Wednesday at 2 p.m. ET, the Political Junkie segment appears on Talk of the Nation (NPR's call-in program), hosted by Neal Conan with me adding color commentary, where you can, sometimes, hear interesting conversation, useless trivia questions, and sparkling jokes. Last week's show focused on the Romney-Santorum battle going on in Michigan, and it included a live report from the Wolverine State by NPR's Don Gonyea.
You can listen to the segment here.
And Don't Forget ScuttleButton. ScuttleButton, America's favorite waste-of-time button puzzle, can be found in this spot every Monday. A randomly-selected winner will be announced every Wednesday during the Political Junkie segment on NPR's Talk of the Nation. It's not too late to enter last week's contest, which you can see here. Not only is there incredible joy in deciphering the answer, but the winner gets a TOTN t-shirt!
Previous winner: Russ Wyllie of Mountain View, Calif.
Podcast. There's also a new episode of our weekly podcast, "It's All Politics," up every Thursday. It's hosted by my partner-in-crime, Ron Elving, and me. You can listen to the latest episode here:
ON THE CALENDAR:
Feb. 28 — Primaries in Arizona and Michigan.
March 3 — Washington caucuses.
March 6 — SUPER TUESDAY. Primaries in Georgia, Massachusetts, Ohio, Oklahoma, Tennessee, Vermont and Virginia. Caucuses in Alaska, Idaho, North Dakota and Wyoming. Congressional primaries in Ohio.
March 10 — Kansas caucuses.
March 13 — Primaries in Alabama and Mississippi. Caucuses in Hawaii.
March 17 — Missouri caucuses.
March 20 — Illinois presidential and congressional primaries.
March 24 — Louisiana primary.
Mailing list. To receive a weekly email alert about the new column and ScuttleButton puzzle, contact me at politicaljunkie@npr.org.
******* Don't Forget: If you are sending in a question to be used in this column, please include your city and state. *********
This day in campaign history: Chicago Mayor Richard M. Daley wins his sixth term, trouncing two challengers: Dorothy Brown, the Cook County Circuit Court clerk, and Dock Walls, a former aide to the late Mayor Harold Washington. All candidates are Democrats in the nonpartisan election. Despite an ongoing corruption investigation into his administration, Daley wins 71 percent of the vote, to Brown's 20 percent and Walls' nine percent (Feb. 27, 2007). In December 2010, Daley will break the record held by his late father, Richard J. Daley (1955-76), becoming the longest serving mayor in Chicago history.
Got a question? Ask Ken Rudin: politicaljunkie@npr.org