Santorum's Win In Louisiana Puts Off Discussion About Uniting Behind Romney
On May 20, 1980, George H.W. Bush won the Michigan Republican presidential primary by a nearly two-to-one margin over Ronald Reagan. It was an impressive, dominating victory over the GOP frontrunner, as Bush took 77 of the state's 83 counties, carrying union members, Catholics and wealthy suburbanites.
Six days later, Bush was out of the race, deciding that Reagan's delegate lead was too vast to overcome. He said he would ask his delegates to support Reagan at the national convention.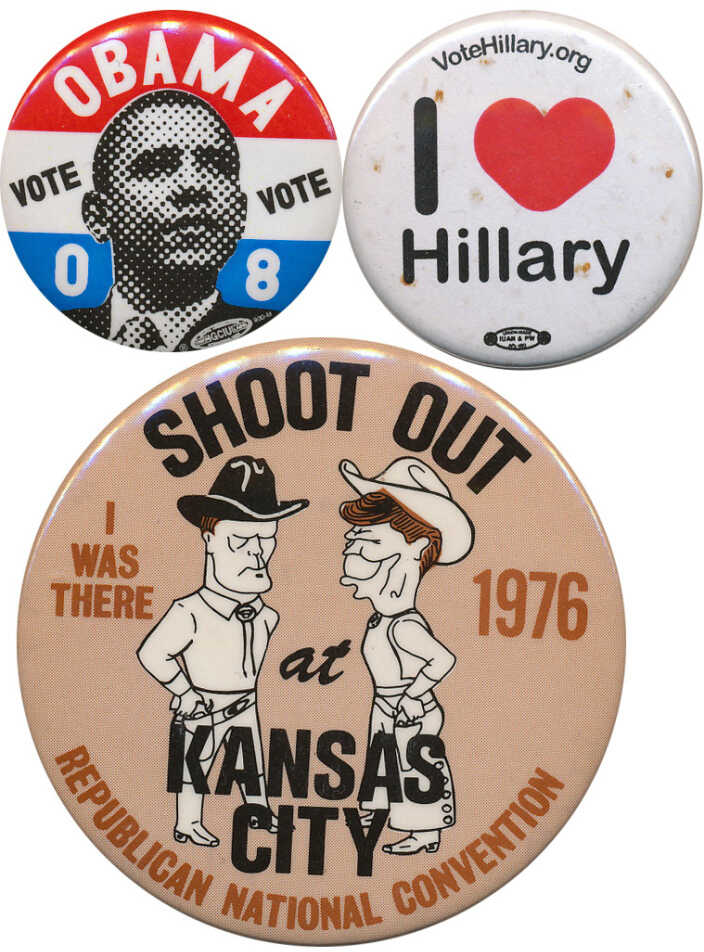 When we think of parallels to 2012, there are two messages that emerge from this. One is that Bush read the writing on the wall, saw that he was not going to stop Reagan, and decided to quit. The other is that even though the battle went well into May, the party was united in plenty of time before the general election, when Reagan easily defeated President Jimmy Carter.
Of course, drawing comparisons with 2012 don't exactly work. Yes, the party came together back in 1980, with its antipathy towards the Democratic president overriding any doubts that may have existed about Reagan's staying power. This year, there seems to be as much disdain for Mitt Romney among some in the party as there is for President Obama.
Another difference is that it seems clear Obama and the Democrats might be loving every minute of the bitter Republican battle. Back in 1980, Carter had his own worries in a protracted battle for renomination with Ted Kennedy.
But April and May are virgin territory for the Republicans, with recent nomination battles ending shortly after Super Tuesday. Think John McCain in 2008, George W. Bush in 2000 and Bob Dole in 1996. Each time Rick Santorum wins another state to extend the contest even further — his victory Saturday in Louisiana being the latest example — another member of the party leadership comes out bemoaning the situation. That was the real message in Jeb Bush's endorsement of Romney last week. Enough is enough. We've had our fun. Now it's time to rally behind our nominee.
But as long as Santorum's disdain for Romney continues, as long as he keeps on winning states, and as long as there continues to be doubts about Romney's core principles — the "Etch a Sketch" comment by his top aide didn't help — there's no sign this will end any time soon. No matter how much joy the Democrats are getting out of this.
Here's a look at the three most recent Republican nomination battles and when the other candidates dropped out.
2008 — John McCain, nominee
dropouts: Jim Gilmore (7/14/07), Tommy Thompson (8/12/07), Sam Brownback (10/19/07), Tom Tancredo (12/20/07), Duncan Hunter (1/19/08), Fred Thompson (1/22/08), Rudy Giuliani (1/30/08), Mitt Romney (2/7/08), Mike Huckabee (3/4/08), Ron Paul (6/13/08).
2000 — George W. Bush, nominee
dropouts: Robert Smith (7/13/99), John Kasich (7/14/99), Lamar Alexander (8/16/99), Dan Quayle (9/27/99), Elizabeth Dole (10/20/99), Orrin Hatch (1/26/00), Gary Bauer (2/4/00), Steve Forbes (2/9/00), John McCain (3/9/00), Alan Keyes (7/26/00).
1996 — Bob Dole, nominee
dropouts: Pete Wilson (9/29/95), Arlen Specter (11/22/95), Phil Gramm (2/14/96), Lamar Alexander (3/6/96), Dick Lugar (3/6/96), Steve Forbes (3/14/96), Pat Buchanan (4/17/96).
The 2012 story so far:
Mitt Romney (21 contests won): New Hampshire (1/10), Florida (1/31), Nevada (2/4), Maine (2/4-11), Arizona (2/28), Michigan (2/28), Washington (3/3), Alaska (3/6), Idaho (3/6), Massachusetts (3/6), Ohio (3/6), Vermont (3/6), Virginia (3/6), Wyoming (3/6-10), Guam (3/10), Northern Mariana Islands (3/10), Virgin Islands (3/10), American Samoa (3/13), Hawaii (3/13), Puerto Rico (3/18), Illinois (3/20) = 568 delegates.
Rick Santorum (10): Iowa (1/3), Minnesota (2/7), Colorado (2/7), North Dakota (3/6), Oklahoma (3/6), Tennessee (3/6), Kansas (3/10), Alabama (3/13), Mississippi (3/13), Louisiana (3/24) = 273 delegates.
Newt Gingrich (2): South Carolina (1/31), Georgia (3/6) = 135 delegates.
Ron Paul (0) = 50 delegates.
Delegate total as of March 24 according to Associated Press. A total of 1,144 delegates are needed to win the nomination. Because many caucus states don't officially award delegates until later in the year, NPR's delegate totals for Romney and Santorum are smaller than the AP's.
Illinois House primary results. The one to watch was in the newly-drawn 16th CD, in the Chicago suburbs, where Democratic redistricting efforts led to two Republican incumbents running in the same district: freshman Adam Kinzinger and veteran Don Manzullo. Kinzinger, with the surprise backing of many in the House GOP leadership, such as Majority Leader Eric Cantor, defeated Manzullo by a 54-46 percent margin.
In the 2nd CD, centered mostly in Chicago, Rep. Jesse Jackson Jr. walloped former House member Debbie Halvorson in the Democratic primary. Halvorson, who was ousted by Kinzinger after just one term in 2010, thought Jackson would be vulnerable because of ethics questions pertaining to his attempt to get then-Gov. Rod Blagojevich to appoint him to the Senate seat vacated by Barack Obama. But Jackson crushed her with more than 70 percent of the vote.
Other results: Tammy Duckworth, the disabled Iraq War vet who had run for the House in another district back in 2006, won the Democratic primary in the new 3rd CD and has a good chance at ousting freshman GOP Rep. Joe Walsh in the fall. And Bill Foster, who lost his House seat to Randy Hultgren (R) in a nearby district in 2010, is the Democratic nominee in the new 11th CD and will face Rep. Judy Biggert (R) in November.
Mikulski breaks the record. Last week Barbara Mikulski, the senator from Maryland, became the longest serving woman in the history of Congress. After 12,858 days in office, she surpassed the record of Rep. Edith Norse Rogers (R-Mass.), who served from 1925-60. In January 2011, Mikulski broke Margaret Chase Smith's (R-Maine) Senate record. Mikulski was first elected to the House in 1976, winning the seat vacated by Paul Sarbanes, who elevated to the Senate. Ten years later she won her first Senate race, succeeding the retiring Republican Charles "Mac" Mathias.
Political Updates. I post periodic political updates during the week on Twitter. You can follow me at @kenrudin. Meanwhile, time for some readers' questions:
Q: If you add Santorum's and Gingrich's votes together you get a voting block that is much bigger than Romney's. So the question is, is Romney really "winning?" Isn't this relevant? — Hernan Espinoza, San Francisco, Calif.
A: Several responses to that:
(1) The path to the Republican nomination is reaching 1,144 delegates first. Romney is far closer to that total than anyone else. In fact, I don't see how anyone other than Romney has a shot at reaching it. It's not who has the most votes. But even if it were,
(2) Romney is still getting more votes than anyone else, perhaps a million more thus far.
(3) Would I call Romney's vote totals impressive? Not necessarily. But Jimmy Carter got only 39 percent of the total Democratic primary vote in 1976 and no one questioned his standing as the leader of his party.
(4) It may not even be a fair exercise to combine Santorum and Gingrich's votes. Exit polls out of several states showed that more Gingrich voters preferred Romney to Santorum as their second choice.
(5) I know Gingrich himself has talked over and over about if you combine his votes with Santorum's, it shows that Romney is weak. I think it is a little disingenuous for Gingrich to link his numbers with Santorum's. If you combine the home runs of Andy Pettitte and Hank Aaron, you get 756. A pretty impressive number, without question. But 755 of them are Aaron's.
Q: The brewing question here in the office pertains to Puerto Rico's participation in the delegate selection process for the presidential nomination, though the people can not vote in the general election for President. Please explain. — Lorena Gautschi-Scott, Boise, Idaho
A: Voting for president in the general election is a Constitutional issue. It is limited to the 50 states and, with the passage of the 23rd Amendment, the District of Columbia. Congress granted U.S. citizenship to the people of Puerto Rico in 1917, but they may not vote in the general election, nor do they have congressional representation. But the decision as to who votes in the primaries is decided by the parties. In the Republican contest, for example, Puerto Rico may participate, along with four other U.S. territories: American Samoa, Guam, the Northern Mariana Islands, and the U.S. Virgin Islands.
Q: A follow-up question on Santorum [who lost his bid for a third Senate term in 2006]: Has there ever been a major-party presidential nominee who just prior was defeated for reelection from his previous office? Michael Dukakis and Bill Clinton were each ousted as governor but then they returned to office, so that doesn't count. Neither does Richard Nixon, who lost for governor of California in '62, since he wasn't running for re-election. — Harvey Hudson, Eden Prairie, Minn.
A: Walter Mondale, the 1984 Democratic presidential nominee, was defeated in 1980 for a second term as vice president, but I'm assuming you're referring to re-election back home. In that case, the answer is Horatio Seymour, the Democratic nominee for president in 1868. Four years prior, he narrowly lost his bid for a second term as governor of New York.
Q: I watched the PBS "American Experience" documentary on President Clinton. Was he ever on the inevitable "short-list" of vice-presidential candidates in either 1984 or '88? This then made me think if there have been other presidents who may have been considered as potential running mates, though ultimately not named to the ticket, prior to being elected president. Possible examples that I wonder and maybe you could shed some light on would be: Reagan in '64, '68 or '72, Carter in '72, Bush 43 in '96. — James McKinstra, Freeport, Ill.
A: I can't recall any discussion of Bill Clinton as a potential running mate prior to 1992, though he himself had pondered running for president in 1988. Of those you listed, Reagan was on the list of possible VPs in 1968, before Richard Nixon chose Maryland Gov. Spiro Agnew. And in 1972, when there was talk about dumping Agnew from the ticket, Reagan's name again was mentioned. John F. Kennedy, of course, actively campaigned for the vice presidential nomination in 1956, when Adlai Stevenson threw open the choice for VP to the convention delegates. The convention instead chose Sen. Estes Kefauver (D-Tenn.), and Kennedy came back to win the presidency four years later.
Q: George Romney ran for President in 1968. George Romney was also born in Mexico. Why was this not a problem? — Samantha Stoddard, Manchester, N.H.
A: Article II of the Constitution plainly states that "no person except a natural born Citizen... shall be eligible to the Office of President." However, it's never been completely clear what that means. The same issue came up during the first presidential run of Sen. John McCain, who was born in the Panama Canal Zone. Here's how I addressed this question in a July 9, 1998 Political Junkie column, back when it was running at washingtonpost.com:
Some might define the term "natural-born citizen" as one who was born on United States soil. But the First Congress, on March 26, 1790, approved an act that declared, "The children of citizens of the United States that may be born beyond sea, or outside the limits of the United States, shall be considered as natural-born citizens of the United States." That would seem to include McCain, whose parents were both citizens and whose father was a Navy officer stationed at the U.S. naval base in Panama at the time of John's birth in 1936. ...

The citizenship question has come up in past presidential campaigns. George Romney, the late Michigan governor and a leading aspirant for the 1968 Republican presidential nomination, was born in Chihuahua, Mexico. ... During the period when he was still being touted as the only Republican who could defeat President Lyndon Johnson, Romney's opponents often raised the issue of his eligibility. William Loeb, the late publisher of the Manchester Union Leader who made his conservative views well known to New Hampshire primary voters, simply dismissed Romney as "Chihuahua George." But Romney was eligible. Romney's grandfather emigrated to Mexico in 1886 with his three wives and children after Congress outlawed polygamy. Romney and his parents, who retained their U.S. citizenship, returned to the United States in 1912, the year Mexico erupted into revolution.
Speaking of Romney's family, there has been a slew of articles lately about Romney's mother, the late Lenore Romney, and her doomed candidacy in 1970 for the Senate against Democratic incumbent Phil Hart. Back then, Michigan Republicans were eager to defeat Hart, a strong liberal. But their first choice, George Romney — who had left the governorship in 1969 to join the Nixon Cabinet — decided he didn't want to run and instead pushed his wife. Lenore Romney lost in a landslide, 67-33 percent. But I thought I would show this button from her campaign ... and a slogan that certainly illustrated how female candidates were perceived back in 1970.
Political Junkie segment on Talk of the Nation. Each Wednesday at 2 p.m. ET, the Political Junkie segment appears on Talk of the Nation (NPR's call-in program), hosted by Neal Conan with me adding color commentary, where you can, sometimes, hear interesting conversation, useless trivia questions, and sparkling jokes. Last week's show focused on Romney's victory in Illinois and it featured Mike Duncan, the former chair of the RNC, as our special guest.
That segment was followed by an interview we did with Brian Lamb, the founder and CEO of C-Span, who announced this week he is stepping down from many of his duties on April 1st. I'm sure it's not a coincidence that he announced his decision one day after I appeared on C-Span's Washington Journal program. The interview with Brian is definitely worth a listen.
Not sure about my appearance on C-Span, however.
And Don't Forget ScuttleButton. ScuttleButton, America's favorite waste-of-time button puzzle, can be found in this spot every Monday. A randomly-selected winner will be announced every Wednesday during the Political Junkie segment on NPR's Talk of the Nation. It's not too late to enter last week's contest, which you can see here. Not only is there incredible joy in deciphering the answer, but the winner gets a TOTN t-shirt!
Previous winner: Cindy Mussavage of New Bern, N.C.
Podcast. There's also a new episode of our weekly podcast, "It's All Politics," up every Thursday. It's hosted by my partner-in-crime, Ron Elving, and me. Last week we said goodbye to our producer, Kimberly Adams (who moved to Egypt) and welcomed her successor, Brakkton Booker.
Click here to listen to last week's podcast
Speaking of the podcast, there were lots of nice comments in response to last week's tribute to the late Peter Bergman of Firesign Theater.
Eric Pardee of University Heights, Ohio, wrote, "I especially appreciated your commemoration of Peter's life. I too spent many a night dissecting their albums and made many of my friends nuts as I randomly quoted their work (only at the most appropriate times.)"

Ann Russell of Seattle, Wash., wrote, "I just finished listening to the 3/15 podcast and had to comment about Firesign Theater. I met my husband in San Francisco in 1970 and I found him to be so funny — then I realized he had memorized most of the Firesign Theater albums. When our son was 11 (in 1992), he discovered all of the old albums and he and his buddies memorized and performed them as my husband had many years before. My husband and I still speak "Firesign." Good to hear others still do too. From the far-flung Islets of Langerhans, thanks for the memories.

J. McCrackan sent me this note on Twitter: "Just listened to this week's podcast. Thanks for the Peter Bergman tribute — I laughed and got choked up at the same time. Good job."

Charlie Miller of South Vienna, Ohio: "I hope thousands of folks search them out and become fans. A remarkable group of guys. I have been a fan since the early/mid 70's when i bought [the album] Don't Crush That Dwarf blind. Cover looked cool, never heard of them, took a chance and was instantly hooked. Next time you're coming to Columbus, Cincinnati or Dayton, let me know and let's do some Firesign banter!"

And David Talley of Raleigh, N.C., reminded me of this note he first sent me in July of 2009: "Just when I thought that the podcast couldn't get any better — obscure political references, sophomoric puns and gratuitous snark — you have started making Firesign Theater references! I was dismayed last week when I heard none, but you came on again this week as strong as a hot kiss at the end of a wet fist. I am flashing back to my days as an student at Berkeley in the late 60s-70s...as best as I can remember. So, get on it and do it every morning! Keep those references coming! Climb back on your sanitary pedestals and inflate your shoes...For Industry!"
ON THE CALENDAR:
April 3 — Primaries in D.C., Maryland and Wisconsin. Congressional primaries in Maryland.
April 24 — Primaries in Connecticut, Delaware, New York, Pennsylvania and Rhode Island. Congressional primaries in Pennsylvania.
May 8 — Presidential and congressional primaries in Indiana, North Carolina and West Virginia. Also: Wisconsin recall election.
May 15 — Presidential and congressional primaries in Idaho, Nebraska and Oregon.
May 22 — Presidential and congressional primaries in Arkansas and Kentucky.
Mailing list. To receive a weekly email alert about the new column and ScuttleButton puzzle, contact me at politicaljunkie@npr.org.
******* Don't Forget: If you are sending in a question to be used in this column, please include your city and state. *********
This day in political history: The U.S. Supreme Court, in Baker v. Carr, rules that lower courts may hear challenges to a state's redistricting procedure. The 6-2 ruling becomes widely known as implementing a "one man (person), one vote" standard regarding reapportionment, saying the challenges were judicial in nature, not political. Background: Tennessee's Constitution said that the state should undergo redistricting every ten years, but in fact the state hadn't redrawn district lines in 60 years. So even though Tennessee's population was shifting from rural areas to cities and suburbs, the existing lines kept rural lawmakers in power. The Court's decision changes that. Baker was Charles Baker, a Republican from Shelby County who argued that cities like Memphis had far more people than nearby rural areas but a fraction of the representation. Carr was Joe Carr, the Tennessee Secretary of State who defended the state's drawing of districts (March 26, 1962).
Got a question? Ask Ken Rudin: politicaljunkie@npr.org