It's ScuttleButton Time!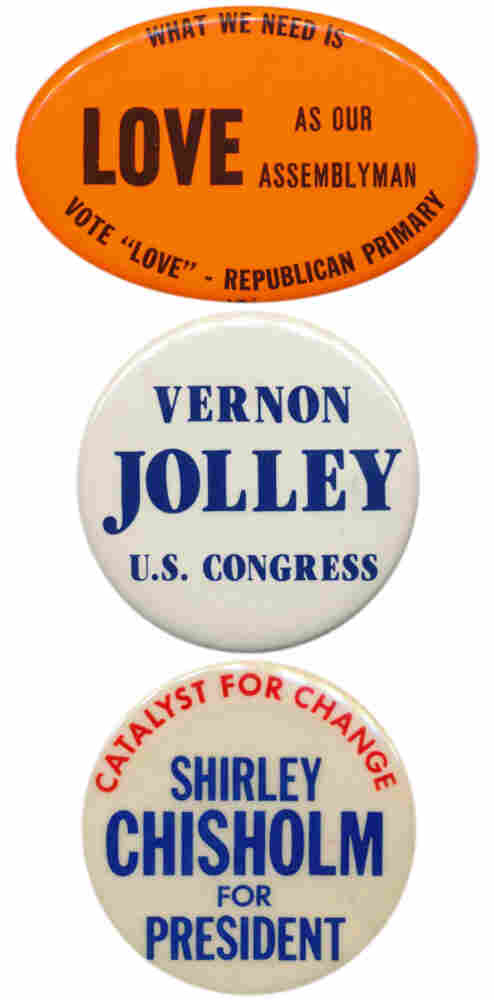 I'm sure you're aware of what's going on right now. Kids between the ages of 12 to 18, from all 12 Districts, are being thrown into the elements in which only one person can attain the ultimate goal: solving this week's ScuttleButton puzzle.
It can get pretty ugly. And that's why you need to know the rules.
ScuttleButton, as you know, is the once a week waste of time exercise in which each Monday (or, as some people call today, "Tuesday") I put up a vertical display of buttons on this site. Your job is to simply take one word (or concept) per button, add 'em up, and, hopefully, you will arrive at a famous name or a familiar expression. (And seriously, by familiar, I mean it's something that more than one person on Earth would recognize.)
For years, a correct answer chosen at random would get his or her name posted in this column, an incredible honor in itself. Now the stakes are even higher. Thanks to the efforts of the folks at Talk of the Nation, that person also hears their name mentioned on the Wednesday show (by me) and receives a Political Junkie t-shirt in the bargain. Is this a great country or what?
You can't use the comments box at the bottom of the page for your answer. Send submission (plus your name and city/state — you won't win without that) to politicaljunkie@npr.org.
And, by adding your name to the Political Junkie mailing list, you will be among the first on your block to receive notice about the column and the puzzle. Sign up at politicaljunkie@npr.org. Or you can make sure to get an automatic RSS feed whenever a new Junkie post goes up by clicking here.
Good luck!
By the way, I announce the winner on Wednesday's Junkie segment on TOTN. But with a new puzzle up every Monday afternoon, you should get your answer in as soon as possible.
Here are the buttons used and the answer to last week's puzzle:
Bush Tax Plan/You're Gonna Pay — 1992 Democratic campaign button criticizing President George H.W. Bush's economic policy.
picture button of the Tin Man — from the 1939 movie, The Wizard of Oz.
"ING" on a green button — Boy, does this one come in handy for ScuttleButton puzzles. This 1968 button is for Alaska Sen. Ernest Gruening (pronounced "Green-ing"), who was defeated for renomination in that year's Democratic primary by Mike Gravel.
So, when you combine Pay + Tin Man + Ing, you just very well may get ...
Peyton Manning. The outstanding NFL quarterback who, because of a severe neck injury that caused him to miss the entire 2011 season, was recently released by the Indianapolis Colts and later signed by the Denver Broncos.

This week's ScuttleButton winner, chosen completely at random, is ... J. Ann Selzer of West Des Moines, Iowa. Ann is the pollster for the Des Moines Register, and I'm guessing everyone is thinking the same thing: can't we do without talking about Iowa for another four years? I mean, really. Well, whatever. Ann gets a TOTN t-shirt.