Republicans Have Run Against The Courts For Years; Will It Be Obama's Turn? : Political Junkie If the Supreme Court decides in June to throw out the healthcare law, will President Obama target the Court during his re-election campaign?
Last week's Junkie segment on TOTN
Republicans Have Run Against The Courts For Years; Will It Be Obama's Turn?
Republicans Have Run Against The Courts For Years; Will It Be Obama's Turn?
In less than three months, we will know the verdict of the U.S. Supreme Court regarding the Patient Protection and Affordable Care Act, President Obama's signature achievement from 2010. There is no way to predict with any certainty what the court will decide, despite what seemed to be pretty skeptical, if not critical, questions from the justices, especially Anthony Kennedy, considered the court's swing vote.
But that hasn't stopped a plethora of "what if" scenarios that have made it into print and on the airwaves in the past week. Much of the conjecture has been on what happens if the Court strikes down the bill, either just the individual mandate part or the entire law. Some defenders of the Obama administration see a rejection of the bill as a net plus for the president, claiming that it will invigorate progressives for the fall campaign; others argue that it would be a huge embarrassment for someone who once was a constitutional law professor.
One thing that many seem to agree on is that if the law is overturned, Obama would not hesitate to base his campaign not only against a "do nothing" Congress, as he's been doing the last few months, but against an ideological Supreme Court. The Court, of course, is always ideological when it rules against your point of view. But the fact is, there seems to be more and more 5-4 decisions lately, reflecting a conservative vs. liberal split, rather than consensus 7-2 or 8-1 rulings. And if the conservatives hold the majority, guess which side is not going to be happy?
Going after the Court would not be something new for Obama. During his 2010 State of the Union address, he lashed out at the Court's Citizens United ruling:
"With all due deference to separation of powers, last week the Supreme Court reversed a century of law that, I believe, will open the floodgates for special interests, including foreign corporations, to spend without limit in our elections."
I'm at pains to remember the last time a president attacked the Supreme Court during a State of the Union speech, especially with members of the Court sitting in the House chamber. The moment was made even more memorable when the cameras caught Justice Samuel Alito shaking his head "no" in response to Obama's comments.
And if Obama decides to run in this fashion, it would be a pretty unusual tactic for a president to embrace, especially for a Democrat. Jason Zengerle, writing in the March 30 issue of New York magazine, notes, "Even FDR didn't go negative on the justices during the 1936 presidential campaign, waiting until after he'd won reelection to reveal his plan to pack the bench with his picks." Zengerle adds that since the Court's 1954 Brown v. Board of Education decision that desegregated schools, "the Court has generally been perceived as more liberal than conservative." And it's "tended to be held in lower regard among Republicans than Democrats. And whether it was Richard Nixon in 1968 lambasting the Court for 'hamstringing the peace forces in our society and strengthening the criminal forces' or George W. Bush in 2000 blasting it for having 'usurped legislatures' with its abortion decisions, Republican presidential candidates have attacked the Supremes to rally their base."
Actually, persuading Democratic voters on this issue may not be hard to do. Conservatives talk endlessly about judicial activism, and we don't have to go back to the 1950s or '60s, when the John Birch Society actively promoted the impeachment of Chief Justice Earl Warren, or to 1970, when then-House Minority Leader Gerald Ford talked about impeaching Associate Justice William O. Douglas. Look no further than this year's GOP primaries and Newt Gingrich's plan to arrest judges to make them justify their controversial rulings. But liberals have come to distrust the Court in recent years as well, especially since the Bush v. Gore ruling in 2000.
And should the Court strike down the healthcare law, their distrust — and anger — will likely increase. But let's wait for a decision before we decide what everyone's reaction will be.
Political Updates. I post periodic political updates during the week on Twitter. You can follow me at @kenrudin. Meanwhile, time for some readers' questions:
Q: Regarding the intro to your Political Junkie segment [on TOTN], can you tell me where each soundbyte comes from? Who and when? — Janine Collinsworth, Hillsboro, Ore.
A: This is what you hear in the opening montage of the Political Junkie segment every Wednesday on NPR:
"There you go again" — Former California Gov. Ronald Reagan, responding to President Jimmy Carter's charges on Social Security and Medicare, their one and only debate, Oct. 28, 1980.
"When I hear your new ideas, I'm reminded of that ad: Where's the beef?" — Former Vice President Walter Mondale, in his Democratic debate with Sen. Gary Hart of Colorado, March 11, 1984.
"Extremism in the defense of liberty is no vice" — Arizona Sen. Barry Goldwater, accepting the Republican presidential nomination, July 16, 1964.
"Senator, you're no Jack Kennedy" — Sen. Lloyd Bentsen (D-Texas) to Sen. Dan Quayle (R-Ind.) during their vice presidential debate, Oct. 5, 1988.
"You don't have Nixon to kick around anymore" — Former Vice President Richard Nixon, lashing out at the media as he was conceding the California gubernatorial election to incumbent Democrat Pat Brown, Nov. 7, 1962.
"Lipstick" — Alaska Gov. Sarah Palin, explaining the difference between a hockey mom and a pit bull, accepting the Republican vice presidential nomination, Sept. 3, 2008.
"Oops" — Texas Gov. Rick Perry, failing to remember the third government agency he would cut, during a Republican presidential candidate debate, Nov. 9, 2011.
"But I'm the decider" — President George W. Bush, saying it's his decision to keep or remove Defense Secretary Donald Rumsfeld and that Rumsfeld is staying, April 18, 2006.
"Yaaaaaah" (not sure of exact spelling) — Former Vermont Gov. Howard Dean, talking about how his campaign will go on despite his defeat in the Iowa Democratic caucuses, Jan. 19, 2004.
Q: In your column, you say that Reagan "easily defeated Carter" in 1980. I believe I'd heard on NPR (possibly from you) that Carter was actually in the lead until Reagan went on television shortly before the election saying essentially, "If you're not doing so well economically, give me a chance." And the polls turned around for him to eventually win. Is that true? I know he won handily, but I thought it wasn't as much of a shoo-in as your column implied. — Nancy Poole, Cambridge, Mass.
A: Everything you say is true. Carter, while trailing Reagan for most of the summer, was rapidly gaining strength in September and October. In fact, the last Gallup Poll taken just prior to their Oct. 28 debate had Carter up 45-42 percent. But their debate basically ended any talk about a second Carter term. Reagan needed to prove he was "presidential" — and not "dangerous" or a "warmonger," as the Carter camp tried to portray him. The view of many was that Reagan did what he needed to do, and did so convincingly. His "there you go again" line was less of a specific rebuttal to Carter's charges and more to show that he was likeable and not scary. But his closing comments — "are you better off than you were four years ago?" — signaled the end of the Carter comeback and the beginning of the Reagan surge. One week later, Reagan beat Carter by more than eight million votes and carried 44 of the 50 states.
Q: In [the March 26 column], you wrote that the last presidential nominee to lose his previous re-election race was [New York Gov.] Horatio Seymour in 1864. You forgot Benjamin Harrison, who was defeated for re-election as U.S. Senator from Indiana in 1886 and was elected president in 1888. — Dewie Gaul, Sioux City, Iowa
A: You are correct, but there's a little asterisk that needs to be added. Back then, U.S. senators were chosen by their state legislatures. The direct election of senators didn't happen until the adoption of the Seventeenth Amendment to the Constitution in 1913. Harrison was elected by the Republican-controlled Indiana legislature in 1880 but was ousted six years later when the Democrats took over the legislature and denied him a second term.
Q: I enjoy your [Talk of the Nation] segment on Wednesday afternoons. I wish it was longer. Anyway, one of the attributes I use in making a decision about who to vote for is military service. If I'm not mistaken, unless Ron Paul gets the Republican nomination, this will be the first time in my voting life that I will not have a choice of a nominee from a major party with military service. I think the last time this happened was 1944 between Franklin D. Roosevelt and Thomas Dewey. — Frank Allen, Tallahassee, Fla.
A: You are right. Of this year's candidates, only Paul and Rick Perry had served in the military. And Paul is not going to be his party's nominee. As for Romney, he missed military service in the 1960s first because of his student deferment and then because of his missionary work. In 1969, when the draft lottery was initiated, he drew number 300; no one above 195 was taken that year.
In 1944, FDR, of course, was crippled by polio. I've not been able to ascertain why Dewey never served.
Dewey, however, was an aberration for the GOP. Democrats, on the other hand, have had their share of presidential nominees without any military experience — think Bill Clinton. But Clinton was nonetheless elected twice, each time against a candidate with considerable combat experience: George H.W. Bush and Bob Dole.
And there's always time for fan mail:
Tilly Gokbudak of Roanoke, Va.: "As a political junkie myself, I love your hindsight. I want to share this story. Yesterday [Wednesday] I thought I had left my wallet at a gas station near Martinsville, Va. I was an hour away when I realized it and had to drive back to the station. As it turned out, my wallet was under my seat belt the whole time. But it gave me the opportunity to hear your entire Junkie segment and as always I really enjoyed it."

Dave Atkinson: "I enjoy your spot on TOTN every Wednesday and make it a point to listen online over here in Baghdad. Regarding your comment on the most recent show about your occasional fear of not being able to come up with a weekly political question, here's one you can keep in your pocket for emergency use. You'll have to formulate the question, but the answer is Lacey Davenport!"

Amy O'Hara of Tampa, Fla.: "I very much enjoyed listening to your skepticism (which I share) about the tactics and aims of that guy from the Campaign for Primary Accountability. If we are all disturbed by the amount of money in politics, the thought of yet another Super PAC, financed by some Texas millionaires, is ridiculous. Thanks for pointing out how ludicrous this group is."

Xander Almeida of Portland, Ore.: "First off... I LOVE POLITICAL JUNKIE. There is only one radio show in the whole world I will never miss an episode of, and it's Talk of the Nation with the Political Junkie."

Todd Harper of Kennesaw, Ga.: "I really enjoy your show and look forward to it every week. You'll be interested to know that last week, Nancy Kassebaum was staying with my parents in Kansas City. (My father was her former state administrative assistant.) I was able to pass along the fact that she had been the answer to the previous week's trivia question."

Christa Foster Crawford of Valencia, Calif.: "I wish that your show was on more often — it's my favorite thing to drive to. If I get home before it's over I sit in my car in the driveway looking like a fool until it finishes. Thanks for keeping me up to date!"

This last one, from H. Jochen Bussmann of Berlin, Germany, is for the most part fan mail: "The capacity of your memory is truly amazing. But your listeners could profit so much more from your immense knowledge and judgment if you would not waste most of your much too scarce radio-time with discussing week after week a question nobody cares to know the answer. I love to listen to you and learn a lot about your country by doing it. ... By the way: NPR is the best possible 'propaganda' for the U.S. I love it and listen to it every day!"
Political Junkie segment on Talk of the Nation. Each Wednesday at 2 p.m. ET, the Political Junkie segment appears on Talk of the Nation (NPR's call-in program), hosted by Neal Conan with me adding color commentary, where you can, sometimes, hear interesting conversation, useless trivia questions, and sparkling jokes. Last week's show asked the question of when is it time for presidential candidates to end their efforts. Special guest: Chip Saltsman, campaign manager for Mike Huckabee in 2008.
Last week's Junkie segment on TOTN
And Don't Forget ScuttleButton. ScuttleButton, America's favorite waste-of-time button puzzle, can be found in this spot every Monday. A randomly-selected winner will be announced every Wednesday during the Political Junkie segment on NPR's Talk of the Nation. It's not too late to enter last week's contest, which you can see here. Not only is there incredible joy in deciphering the answer, but the winner gets a TOTN t-shirt!
Previous winner: Ann Selzer of West Des Moines, Iowa.
Podcast. There's also a new episode of our weekly podcast, "It's All Politics," up every Thursday. It's hosted by my partner-in-crime, Ron Elving, and me. This one focuses on the Supreme Court arguments on health care, political reaction to the Trayvon Martin killing, and Mitt Romney moves closer to the nomination.
ON THE CALENDAR:
April 3 — Primaries in D.C., Maryland and Wisconsin. Congressional primaries in Maryland.
April 21 -- Utah state Republican convention. Sen. Orrin Hatch seeking renomination.
April 24 — Primaries in Connecticut, Delaware, New York, Pennsylvania and Rhode Island. Congressional primaries in Pennsylvania.
May 8 — Presidential and congressional primaries in Indiana, North Carolina and West Virginia. Also: Wisconsin Democratic recall primary.
May 15 — Presidential and congressional primaries in Idaho, Nebraska and Oregon.
May 22 — Presidential and congressional primaries in Arkansas and Kentucky.
Mailing list. To receive a weekly email alert about the new column and ScuttleButton puzzle, contact me at politicaljunkie@npr.org.
******* Don't Forget: If you are sending in a question to be used in this column, please include your city and state. *********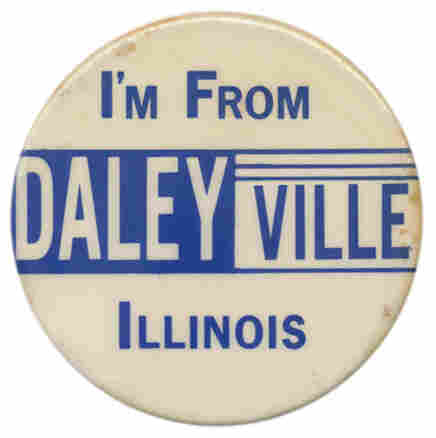 This day in campaign history: Chicago Mayor Richard J. Daley (D) wins a third term, defeating Ben Adamowski, a Republican. But his margin, which was nearly a half a million votes four years ago, is reduced to about 150,000. In another race of note, Birmingham Police Chief Eugene (Bull) Connor (D) fails in his bid to become mayor of that Alabama city (April 2, 1963).
Got a question? Ask Ken Rudin: politicaljunkie@npr.org