Monday Was All About Obama. Now All He Needs Is A Cabinet.
The day had history and symbolism written all over it: the inauguration of President Barack Obama, coming on the very day the nation was honoring the birth of Dr. Martin Luther King Jr.
The pomp, the ceremony, the speech, the festivities, the parade, the emotions, the hugs, the tears. It's all part of America's finest moment, and yesterday was no exception.
But that was yesterday. That "era of good feelings," all one day of it, is about to be replaced by the need to get things done. Improving a stuttering economy. An immigration policy to refine, environmental laws too. And what to do about guns.
And he also has a Cabinet to restock.
That of course is what usually happens to a re-elected president. Historically, many in the administration decide to leave, either to make money or they're just burned out, and replacements need to be found. That is certainly the case with Obama II, and it will be an early priority for the president.
Not everyone is leaving, of course. Attorney General Eric Holder, thought to be at some point considering an early departure, is now likely to stay on. That also goes for Tom Vilsack (Agriculture), Arne Duncan (Education), Kathleen Sebelius (Health and Human Services), Shaun Donovan (Housing and Urban Development), Janet Napolitano (Homeland Security), Eric Shinseki (Veterans Affairs) and Ray LaHood (Transportation). There has been some speculation that, among everyone on this list, LaHood could decide to leave first.
But there are a bunch of announced or anticipated vacancies that need to be filled:
Secretary of State (Hillary Clinton leaving). Obama has plucked John Kerry (D) out of the Senate, and that action will result in Massachusetts having its second special Senate election in recent years. The confirmation of Kerry, who chairs the Foreign Relations Committee, is as much of a sure thing as there can be in Washington. Republicans, in expressing their opposition to Obama's initial choice, Susan Rice, said over and over that Kerry, on the other hand, would sail through to confirmation. There's no reason to think anything has changed.
Secretary of the Treasury (Tim Geithner leaving). Obama has nominated Jack Lew, the White House chief of staff, as his successor. Confirmation is not thought to be in question, but Republicans will be grilling Lew about Obama's economic policies.
Secretary of Labor (Hilda Solis leaving). No new nominee yet.
Secretary of the Interior (Ken Salazar leaving). No new nominee yet. The short list is thought to include former Sen. Byron Dorgan (D-N.D.) and ex-Wyoming Gov. Dave Freudenthal.
Secretary of Commerce (acting Secretary Rebecca Blank). Blank has been holding the fort since John Bryson resigned following a seizure-caused car crash. But she is not thought to be under consideration for getting the job permanently.
Secretary of Energy (Steven Chu, thought to be leaving soon). A sizable list of potential successors.
Secretary of Defense (Leon Panetta leaving). This is thought to be the most contentious of them all. Obama chose Chuck Hagel, the former Nebraska senator, whose comments about Israel, Iran and the Middle East, as well as stuff he said back in 1998 about a Clinton-nominated ambassador who happened to be gay, have made a lot of folks uncomfortable, if not angry (see last week's Political Junkie column). Chuck Schumer, perhaps the leading Jewish Democrat in the Senate, met with Hagel to discuss his views about Israel and said he will vote to confirm him. But Hagel's problems have always been with Republicans, not Schumer, and some will not be mollified no matter what comes out of the hearings. There is bad blood between Hagel and a lot of Republicans, especially John McCain, whom Hagel alienated during the 2008 race against Obama. Still, unless there is a move to block the nomination from a vote, Hagel should survive.
Note that of all the new announced or potential nominees, only one, Kerry, is presently a member of Congress. And that's because there is always a risk of losing the seat of a congressman or senator in a special election.
And Democrats remember the last time there was a special election in Massachusetts. It was January 2010. Back then, Scott Brown, at the time a relatively unknown Republican state senator, took advantage of the unpopularity of Obama and the Democrats (yes, even in Mass.) and the less-than-inspiring candidacy of Democratic opponent Martha Coakley to win the seat of the late Ted Kennedy. Brown remained fairly popular during the nearly three years he served in the Senate. But in his 2012 bid to hold the seat, he dropped his good guy persona and went negative against Elizabeth Warren, his Democratic opponent, in the debates and his favorables fell rapidly; Warren won by eight points.
Brown is the likely GOP nominee in the 2013 special election. The problem for him is that Obama's numbers are much higher than they were back in 2010, and the expected Democratic nominee, Rep. Ed Markey, has most of the party behind him and has a ton of money at his disposal. If I were a betting person, I'd rate Markey the early favorite for this. But first Gov. Deval Patrick (D) must name an interim senator, and then we have to see how good of a campaigner Markey turns out to be; he hasn't had a tough race since 1976, when he won his first term in the House.
Thus, picking someone from Congress to fill an opening is always a dangerous game for a president. But the Democrats came out okay following the 2008 presidential election, even though Obama raided both the House and Senate to stock his administration. He picked Sen. Hillary Clinton (D-N.Y.) for secretary of state; Sen. Ken Salazar (D-Colo.) for secretary of the interior; Rep. Rahm Emanuel (D-Ill.) for White House chief of staff; and Rep. Hilda Solis (D-Calif.) for secretary of labor.
Luckily for the Democrats, they didn't pay a political price in the ensuing special elections. They retained the seats of both Democratic House members, and they picked up another one after Obama plucked John McHugh, an upstate New York Republican, out of the House to make him Secretary of the Army; Democrats won an upset victory.
And there was no problem in keeping the Senate seats of Clinton, Salazar and Vice President Joe Biden, though they did suffer a humiliation of sorts in Illinois, as Gov. Rod Blagojevich, a Democrat, did his best to line his pockets by selling Obama's Senate seat to the highest bidder. It cost Blago his job — he was impeached, removed from office and sent to prison — and Republican Mark Kirk took the seat the first time it came up before the voters, in 2010.
But that track record was much better than Obama's Democratic predecessors. Bill Clinton watched as the Senate seats of his vice president, Al Gore, and his treasury secretary, Lloyd Bentsen, fell to the Republicans in special elections. And while the Dems retained Defense Secretary Les Aspin's Wisconsin House seat in a '93 special, they lost it to the GOP the following year.
Jimmy Carter had his woes as well. Democrats lost Vice President Walter Mondale's Senate seat in Minnesota the next time it was up as well as the House seats of Agriculture Secretary Bob Bergland (Minn.) and Transportation Secretary Brock Adams (Wash.) in special elections.
There has been a lot of talk about diversity in the Obama second term, with people watching to see how many women and minorities will fill open positions. Let's also watch and see if the administration will select members of Congress and once again risk losing their seats in the special elections that follow. But thus far, aside from John Kerry, it doesn't look like it will happen.
Political Updates. I post periodic political updates during the week — some serious, some not — on Twitter. You can follow me at @kenrudin. Some questions from the e-mailbox:
Q: When Obama takes the oath of office on Monday [yesterday], it will be his FOURTH time doing so. Have any other presidents beside FDR taken this office four times? — Barbara Rosen, Fullerton, Calif.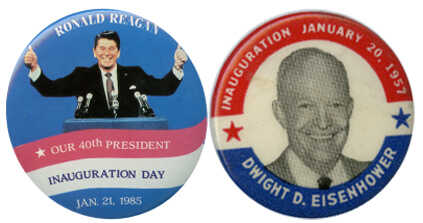 A: You of course are referring to the two times Obama had to do it in 2009 — a second go-around was needed because Chief Justice John Roberts botched the oath the first time — and then the two times this year, because the first one fell on Sunday the 20th, where it was a private ceremony.
Anyway, the answer is no. Roosevelt was elected four times and also took the oath four times. Woodrow Wilson, Dwight Eisenhower and Ronald Reagan were all presidents re-elected who had — in 1917, 1957 and 1985 respectively — a total of three swearings in because each scheduled second term inaugurals fell on a Sunday. They, like Obama, had a private ceremony followed a day later by a public one.
Q: Former Sen. Norm Coleman (R) may challenge Minnesota Gov. Mark Dayton (D), himself a former senator, in 2014. Have two former senators ever faced off for a governorship before? — Harvey Hudson, Eden Prairie, Minn.
A: I can't think of any instance. The closest example that comes to mind is California 1990, when Pete Wilson (R), the incumbent senator, won the governorship, beating Dianne Feinstein (D), a future senator. Does anyone know of two ex-senators running for governor?
Q: In your Jan. 7 column, you mentioned that a reporter asked whether Scott Brown's three Senate campaigns in four years — actually, in just over three years — would constitute a record (assuming that Brown does in fact run). I think it would. The only other person I can think of who came close to it would be John Sherman Cooper (R-Ky.), who won a special election to fill a vacancy in 1946, but lost the regular election for a full term in 1948, won another special after a senator died in office in 1952 and again lost the regular for a full term in the seat in 1954. Two years later, in 1956, he won yet another special election, this one following the death of another senator - his fifth campaign within ten years. — Gary Nielsen, Tampa, Fla.
Political Junkie segment on Talk of the Nation. Each Wednesday at 2 p.m. ET, the Political Junkie segment appears on Talk of the Nation (NPR's call-in program), hosted by Neal Conan with me adding color commentary, where you can, sometimes, hear interesting conversation, useless trivia questions and sparkling jokes. Last week's show focused on memorable (and not so memorable) inaugural addresses with former presidential speechwriters Paul Glastris, who wrote for Bill Clinton, and Peter Robinson, who wrote for Ronald Reagan. You can listen to the segment here:
Thank you! Last Wednesday's Political Junkie Road Show before a live audience was a huge success, with more than 500 people showing up at Washington's Sixth & I historic synagogue for an evening of politics, personalities, puzzles and, well, funny jokes. Neal Conan and I hosted an evening that included political analysis from Ted Koppel, Eric Deggans, Clarence Page and Linda Chavez, as well as NPR stars Don Gonyea, Ari Shapiro and Nina Totenberg. There was also an informative congressional panel with freshman Rep. Kyrsten Sinema (D-Ariz.), old/new Rep. Rick Nolan (D-Minn.) and former Rep. Bob Walker (R-Pa.); and insight from former presidential speechwriters Paul Glastris (Clinton) and Michael Gerson (Bush 43). The event was not aired but I made an audio recording; we'll see what becomes of that. Thanks to everyone for a tremendous night, including the great staff at Sixth & I, and a special thanks to TOTN/Political Junkie producer Laura Lee, who used her magic to somehow make everything work.
Click here for a good summary of the event by Scripps Howard's Jess Miller.
Podcast. There's also a new episode of our weekly podcast, "It's All Politics," up every Thursday. It's hosted by my partner in crime, Ron Elving, and me.
Monday Was All About Obama. Now All He Needs Is A Cabinet.
And Don't Forget ScuttleButton. ScuttleButton, America's favorite waste-of-time button puzzle, can usually be found in this spot every Monday or Tuesday. A randomly selected winner will be announced every Wednesday during the Political Junkie segment on NPR's Talk of the Nation. You still have time to submit your answer to last week's contest, which you can see here. Sure, there's incredible joy in deciphering the answer, but the winner gets not only a Political Junkie T-shirt but also a 3-1/2-inch Official No-Prize Button! Is this a great country or what??
Trivia. An e-mail came in from Debbi Myers of Columbus, Ohio, who says that while she listens to the TOTN Junkie segment each Wednesday, she is at work and sometimes misses the answer to the weekly trivia question. So starting with this week's column, I'll repeat the question in this space (and provide the answer below).
Last week's question: West Virginia Democrat Jay Rockefeller announced he will not seek a sixth term next year. Already, Congresswoman Shelley Moore Capito, a Republican, has announced her candidacy, and she has a good shot at winning the seat. Who was the last female Republican member of the House elected to the Senate? (answer below)
ON THE CALENDAR:
Feb. 12 — Obama State of the Union message.
Feb. 26 — Special election in Illinois' 2nd CD to replace Jesse Jackson Jr. (D), who resigned.
March 19 — Special primary in South Carolina's 1st Congressional District to replace Tim Scott (R), who was appointed to the Senate.
April 2 — Runoff in S.C. 01. (General election: May 7.)
Mailing list. To receive a weekly email alert about the new column and ScuttleButton puzzle, contact me at politicaljunkie@npr.org.
******* Don't Forget: If you are sending in a question to be used in this column, please include your city and state. *********
Trivia answer: Olympia Snowe of Maine, 1994. (And she was only the second in history to do that. The first: Margaret Chase Smith, also of Maine, in 1948.)
This day in political history: Arizona Gov. Evan Mecham (R), under indictment on six charges of perjury and filing a false campaign finance report in connection with a $350,000 campaign loan, pleads not guilty. His trial is slated to begin March 9. He is also facing a recall election and impeachment proceedings in the state House for that and an assortment of other reasons (Jan. 22, 1988). Mecham will be impeached in the House on Feb. 5 and convicted in the Senate on April 4, removing him from office. He will become the first governor removed via impeachment since Oklahoma's Henry Johnston in 1929.
Got a question? Ask Ken Rudin: politicaljunkie@npr.org