Surveying NPR's Coverage Of Climate And The Environment
Katherine Bouton/IraFlatow.com
This office fields listener and reader concerns about a wide range of issues, but, in the seven months I have been on the job, NPR's coverage of the environment and climate change has been among the top topics. It is clear that many in the audience expect NPR to be a leader covering climate news. And NPR should lead; as one of the nation's largest news sources it is only fitting that it devote serious time and attention to one of the most important and controversial issues of our day.
Many of the tens of thousands of comments are thoughtful. Others fit into a meme that has taken hold related to NPR's acceptance of underwriting support from America's Natural Gas Association, or ANGA for short, the trade and lobbying group for natural gas producers. If these listeners or readers have a concern they are quick to relate it to—and blame it on—that underwriting.
I really like @NPR but I can't stand the deceptive ads running for ANGA. They're using NPR's trusted name to spread #fracking lies.

— Marie G (@GreenMarie99) October 13, 2013
I wrote about the underwriting earlier; whatever one thinks of the announcements—and whether NPR should accept underwriting support from ANGA—I determined then and continue to believe that it has had no influence on the amount and content of NPR's reporting on the topic.
Now, I want to take a look at the reporting itself. It's a complex topic, and so I will divide this post into two parts, with the second part to be posted tomorrow.
The task of examining NPR's coverage is not simple, partly because we wanted to look at five years' worth of work, from Jan. 1, 2009 to Dec. 31, 2014—a period when critics charge the amount of coverage has dropped radically. Given that scope we decided to limit our examination to on-air stories, only, and only those from the weekday and weekend Morning Edition and All Things Considered newsmagazines. There are dozens, if not hundreds more online-only articles on the topics at npr.org. (To get a consistent baseline, we also didn't include Here & Now, the canceled Talk of The Nation and other shows and podcasts that often produce relevant stories.)
Research assistant Annie Johnson started by searching NPR.org for all the stories in those programs that were tagged "environment" or "climate change."
When it became clear that that search missed many relevant stories we had the NPR Research, Archives, and Data Strategy team search NPR's content. We also expanded the search to include subjects that were not explicitly labeled "environment" but fell under that umbrella (such as agriculture, pollution, weather, and climate). A separate search using the bylines of the main beat reporters turned up additional pieces that the first two searches had missed. Once we had that database of over 5,000 stories Annie and I manually went through that list to weed out stories that we thought didn't belong. You can see a snapshot of a sample month here.
Here are the results, to the best of our abilities to determine:
Numbers of relevant stories from January 1, 2009 – Dec. 31, 2014 that aired on the newsmagazines: Morning Edition (ME), All Things Considered (ATC), Weekend All Things Considered (WATC), Weekend Edition Saturday (WESAT) and Weekend Edition Sunday (WESUN).

2009: 580 stories, 41:10:55 total time

2010: 972 stories, 65:29:46 total time

2011: 810 stories, 54:48:39 total time

2012: 720 stories, 52:09:51 total time

2013: 792 stories, 56:57:00 total time

2014: 707 stories, 49:20:38 total time
An important footnote: the peak year, 2010, was the year of the BP Deepwater Horizon oil rig accident in the Gulf of Mexico and the Haitian earthquake, coverage of which caused the numbers to jump. But overall the numbers have held fairly steady in the last few years.
The number of stories did drop by 11 percent in 2014, however, (and a bit more-percentagewise when looked at in terms of the length of devoted time). In an article last October, the online publication Inside Climate News suggested this apparent drop-off was due to cutbacks in staffing. While the publication is correct that the amount of coverage was down, their numbers were off because they relied on NPR's own tagging. They also included online coverage, which our search did not.
I asked Anne Gudenkauf, supervising senior editor for science coverage, for her explanation of the 2014 numbers. Gudenkauf's answer was simple: the science and international desks were called on to help cover the major Ebola outbreak in Africa, which temporarily pulled resources from covering the environment to covering global health. Gudenkauf said: "We did what we should have done" in putting attention on a major disaster confronting the world. Given limited newsroom resources, that decision seems acceptable to me. And that impressive work on Ebola garnered honors, including a prestigious Peabody award.
What of the staff cutbacks discussed by Inside Climate News? One reporting slot dedicated to the subject was eliminated as part of the NPR-wide cutbacks to balance its budget. An editor was reassigned from full-time environment coverage to head up NPR's global health and development coverage, which was funded by a grant from the Bill & Melinda Gates Foundation. Another reporter was moved from full-time on the beat to part-time. Concurrently, NPR decided to weave coverage climate and environment stories into other beats even more than it already had been. Gudenkauf and Michael Oreskes, who in March was named NPR's senior vice president of news and editorial director, told me the decision to move the coverage out of a science-desk silo into the broader newsroom (even if the results were delayed by the Ebola coverage) was a deliberate one. "The nature of the story has changed. The scientific issue [on climate change] is settled" and the story is no longer just a science story, Oreskes said. "What we've done made really good journalistic sense," he added.
More on that below.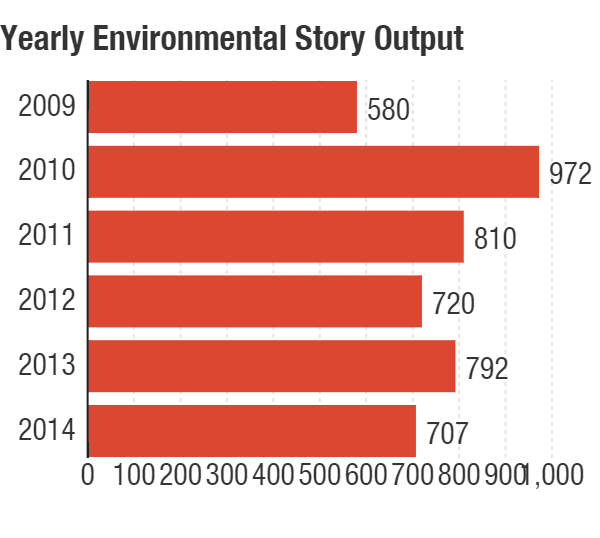 Numbers, of course, tell only a small part of the story, but my office's exercise in trying to track down all the stories revealed a fundamental problem for those who want to get a handle on all of NPR's coverage of the topic. It's just not very easy to find those stories, even on the website.
NPR's home page offers a link to "News" and, from there, a link to "Science." Users can choose "Environment" as a link from that page and get a rolling list of stories from the newsmagazines, NPR blogs and from local stations. But given the fact that our own search of stories tagged "environment" missed many important pieces, it's not guaranteed that all reports will be there.
Furthermore, NPR's web pages are formatted to include the newest reports first. That makes sense because most people are looking for the most recent coverage. But finding any big or groundbreaking story requires patient scrolling through dozens, even hundreds, of items. By contrast, Britain's The Guardian—which has declared its intent to invest considerable resources and make climate change coverage a priority—has a dedicated page, linked to prominently from the home page, that includes the latest news, but also "talking points," "featured series," and highlights of some of its best work.
I've focused on the web search for a reason. How many listeners hear all four hours of the newsmagazines each weekday and the three hours on Saturdays and Sundays? My guess is, very few. The web site and social media are powerful tools for keeping track of stories that might not get heard on the radio, but only those people most interested in a given topic will go to all that trouble, consistently.
Search results aside, numbers don't get at the whole story. What about the quality of the reports?
Stan Cox, a senior scientist at The Land Institute, in Salina, Kansas, which calls itself a "non-profit research, education, and policy organization dedicated to sustainable agriculture," wrote a tough, thoughtful critique of NPR's coverage back in April. Cox analyzed several stories from his vantage point as someone who works full time on these issues.
But I disagree strongly with one of his key paragraphs:
You can also spend a very long time searching Morning Edition's and All Things Considered's archives and not find any reporters, interviewees or commentators mentioning other crucial issues: fracking-related explosions and earthquakes caused by injection of fracking wastewater; the disincentive to invest in new solar and windpower that is created by plentiful, cheap gas; or the industry's planning for massive long-term investments in new gas-fueled power plants that will lock us into dependency on fossil gas and prolong its greenhouse impact for decades to come.
Our search of the NPR archives finds multiple stories on the earthquake/fracking link dating back to 2011 (I just plugged "Oklahoma" and "earthquakes" into the NPR.org search engine), including this piece from 2012. Likewise, our search turns up reports on the other two topics mentioned, some dating back several years and some since Mr. Cox's April report.
I say this not to call out Mr. Cox but merely to emphasize, again, that NPR generates so much content that it's not always easy to find it; you have to know the right combination of words to search at NPR.org. And sometimes it is a matter of timing. NPR carried at least four stories about Oklahoma's fracking-related earthquakes starting just one week after Mr. Cox published his report.
Why that many stories? They followed official news, pegged to the issuance of the U.S. Geological Survey's "first comprehensive assessment of the hazard posed by earthquakes linked to oil and gas drilling" and the first formal acknowledgment of a link by Oklahoma state officials.
That reveals another factor—some would argue, flaw—of NPR's reporting that applies not only to environmental coverage: Space and time are limited. NPR was indeed on top of the earthquake/fracking link but the radio stories popped up here and there. Even attentive listeners might have missed them. That is a drawback of a news organization that is charged with covering a vast news landscape and many competing priorities. Only when the news became "official" was there a concerted push, with multiple stories on multiple shows.
In conversations with Mr. Cox, and others—including academics and journalists with a deep interest in environmental issues and a more-than-passing knowledge of NPR's work—I heard a few similar but occasionally conflicting themes:
The magnitude of the issue demands that NPR—and the rest of the media—cover the topic differently. Episodic coverage, dictated by the news cycle, is inadequate, according to these critics. More than one person argued that NPR should have a regular, dedicated on-air segment devoted to climate, just as it does for Monday's All Tech Considered segments or the Friday morning StoryCorps. As one person said, there is an opportunity for NPR to bring more big picture context to some of these stories.
By contrast, NPR's decision to weave climate and environment coverage into all beats was praised by some who don't want to see the topic walled off and thus more easily ignored by those who aren't interested. One person argued—impractically, I believe—that "every story I read/hear should deal with the impact on the local climate."
Even those I talked with who appreciate NPR's coverage feel that it is often "scattershot" and "reactive," to use one person's words. That is, it's driven by news events, as I've noted above, not by the decision to make it a priority day in and day out.
Mr. Cox made the point that journalists in general, not just NPR, are under-covering the environmental challenges in poorer countries, where people in some cases live meal-to-meal and don't have the capacity to focus on how their personal decisions affect the planet. That, it seems to me, is a mark in favor of NPR's decision to create a focus on global health and development, and Gudenkauf argues that these are some of the issues that the team has been and will be exploring.
In my next post, I'll explain my own view on these questions and discuss why NPR listeners and readers should be optimistic about some major initiatives starting this week.
Editorial researcher Annie Johnson contributed to this report.
Correction
Sept. 8, 2015
This post has been updated to reflect a more accurate bar graph of the yearly comparison of total number of environmental stories produced.