NPR Bloggers Share Their Favorite World Cup Moments : Show Me Your Cleats! - World Cup 2010 Blog Who could forget ESPN announcers shouting Tshabalala! From Landon Donovan's 91 minute goal to Gyan's penalty fudge, NPR bloggers share the moments that made them mad, sad, and oh-so-happy.  What was your top pick?
'Show Me Your Cleats' Bloggers Share Their Favorite World Cup Moments
SPAIN VS. GERMANY
Like I said in my welcome post for "Cleats,"  I'm new to the World Cup and was eager to learn all about it.  So, I started blogging about soccer-subjects in my comfort zone -- fashion on the pitch, how I loved the ESPN announcers shouting the name of South African midfielder Tshabalala (something I still do, even though South Africa has been out for weeks), and the highlight of the Portugal/Brazil draw involving a shirtless Cristiano Ronaldo.  But as the World Cup progressed, I started reading everything I could get my hands on about "footy." I watched all the matches and took copious notes; I started to understand why people all over the world are so obsessed with this sport. And, a few days ago, as I was watching the semifinal match between Germany and Spain, my colleague secretly put a recording device in my cubicle.
This bit of audio captures THE moment that I succumbed to "World Cup Fever" and I will never, ever be the same. Tshabalala! (Shereen Marisol Meraji, "Cleats" blog host and producer for All Things Considered)
---
GOAL!
I have this crackpot theory that Landon Donovan's second-half goal against Slovenia is a microcosm of the future of American soccer. I don't speak as much in literal terms as figurative and aesthetic ideals. Consider that the team, owing to lapses and weaknesses obvious to any observer, put itself in a 2-0 hole at halftime to an inferior team. Then consider how desperately it rallied. Damned if we were going to allow our hard-won pride to be voided by our mind farts; that goal confirmed U.S. fans' rightful belief in our players' hearts, if not their legs.
And, of course, there was the way it was scored. Donovan received the ball in space, instinctually dribbled toward the goal, and unselfishly looked for a teammate to lay it off to. But there was no teammate, and no real estate, and no angle. And so he thought, "Eff it, I'm just going to drill it as hard as I can at your head, and let come what may." And with that little bit of quintessentially American ingenuity, straight out of an action sequence in a shoot-em-up Western, surprise! The ball was in the roof of the net -- that counts, too, right? -- and we were on our way to forcing an inevitable equalizer, and perhaps more. See, we've had our growing pains in American soccer fandom, but we also have our moments, those which stand in for something greater about our spirit. We can't really say, "We shall not be denied," because heretofore, we always have been, eventually. But that day has arrived where we can proudly counter: "We shall not be denied -- without fighting back." (NPR Music's Patrick Jarenwattananon, editor, A Blog Supreme)
Landon Donovan. Do I have to be a fan, now? Because the moment he put the ball in the net against Algeria is what it's all about. Elation! Relief!! Joy!!! For one ecstatic moment, it erased all of the questions, doubts, boredom(!) and bad calls, replacing them with pride and excitement. (Wright Bryan, producer, NPR.org)
For all the spectacular soccer and all the spectacularly stupid officiating, what I love best is watching games with my son. Tragically, he went off to summer camp in the middle of group play. Luckily, he didn't have to have his heart broken in real time by the loss to Ghana. So my favorite moment had to be Clint Dempsey's "Hand of Clod" goal against England.  My son and I both zoomed into very dark and gloomy places when Steven Gerrard picked the American pockets in the fourth minute of the first game. All hope was gone. So the jubilation at Dempsey's equalizer was epic and brought joy to our man/boy cave. (Dick Meyer, executive editor, NPR News)
When I first moved here to America at the end of 1993, only one of my new colleagues knew what I meant by "football." How that has changed in the 16+ years since! Interest in the game, here in the office, has grown for each World Cup. On the morning the U.S. beat Algeria to qualify for the second round, work continued here in the newsroom … sort of. But you could hear the exhortations and groans emanating from desks and offices as the game progressed. When Landon Donovan scored his late winner, cheers abounded. "Football" had arrived at NPR! (David Sweeney, managing editor, NPR News)
---
BEHIND THE SCENES
The 2010 World Cup had many notable moments on the pitch, but two of my favorites occurred in the locker room. First, England's squad got a visit from a random fan who gave them a good talking-to after they struggled to tie Algeria. When he called the players "a disgrace," an odd exchange followed. David Beckham: "Whoa. Who are you?" Random guy: "I'm Pavlos, and I actually need the toilet."  Days later, the U.S. team was visited by a former president. After watching the American side's rousing comeback to beat Algeria, Bill Clinton shocked U.S. players by not only paying a visit -- but also hanging out with them to chat about the tournament. He even popped a cold one -- leading to a nice photo-op with Carlos Bocanegra. (Bill Chappell, producer, NPR.org)
---
GHANA VS. URUGUAY
My favorite moment of World Cup 2010 came during the final moments of Ghana's unfortunate loss to Uruguay. At one point, just before the penalty kicks began, the camera panned to the stands, to a man waving a sign that read, "Go Ghana! Make Africa Proud!" Despite the tension, he cheered excitedly, a huge grin bursting through his red, yellow and green face paint. He couldn't have been onscreen for more than a second or two, but that man and his sign gave me goosebumps, serving as a succinct reminder of just how much this Cup, Africa's first, meant to the continent's frequently disconnected citizens. Though they ultimately lost, all the African teams played valiantly, with heart and beauty. And Africa was proud. (Cord Jefferson, staff writer, The Root)
Gyan's penalty kick at the end of overtime versus Uruguay was, for me, the pinnacle of my World Cup experience.  It was a circumstance so unlikely that it seemed preposterous -- a handball on the goal line at the buzzer to give Africa its first shot at a World Cup semifinal, and on its own turf.  In the stadium, the reverberation of energy was magical.  In my friend's photo (above), you can see the eager anticipation in the bodies of Ghana's #18, #5 and #2 as well as the fans in the background who all seem to be standing on their toes.  I could already envision the ball firing into the goal and stretching out the back netting.  But in the blink of an eye, we went from pure elation to stunned disbelief.  All of us rooting for Ghana filed out of the stadium that night struggling with the implications of that moment and the searing pain of a dream deferred.  Even though it was an outcome I wished with all of my heart I could turn around, there was something beautiful about this night and I felt so lucky to be there. (Taku Noguchi, former soccer player attending his first World Cup)
Watching the inconsolable Asamoah Gyan double over on the field, sobbing, after Ghana's loss to Uruguay. We were supposed to be working, but suddenly there we were — every member of my department -- huddled together in front of a small screen, trying not to cry for a team we hadn't known we cared about a month earlier. (Heather Murphy, multimedia producer, NPR.org)
The sparkling, collegial, colorful, flag-fluttering, vuvuzela-filled ambiance, plus the joyous welcome from the people of South Africa -- that's what I will remember.  Halala South Africa Halala! My worst moment?  That devastating volleyball movement by Luis Suarez, which put Ghana's Black Stars out of World Cup 2010. (Ofeibea Quist-Arcton, NPR's Africa correspondent)
When Luis Suarez volleyed that ball out of the goal, I was immediately spellbound. It was so blatantly wrong, it was so gutsy and thought-out, yet at the same time visceral, that it truly encapsulates the beauty of the sport. Maybe beauty is the wrong word: The play left me dizzy; the drama and the human conflict -- Would Ghana go home? Was Suarez a cheater? -- that play made me a fan for life. (Eyder Peralta, associate producer, NPR.org)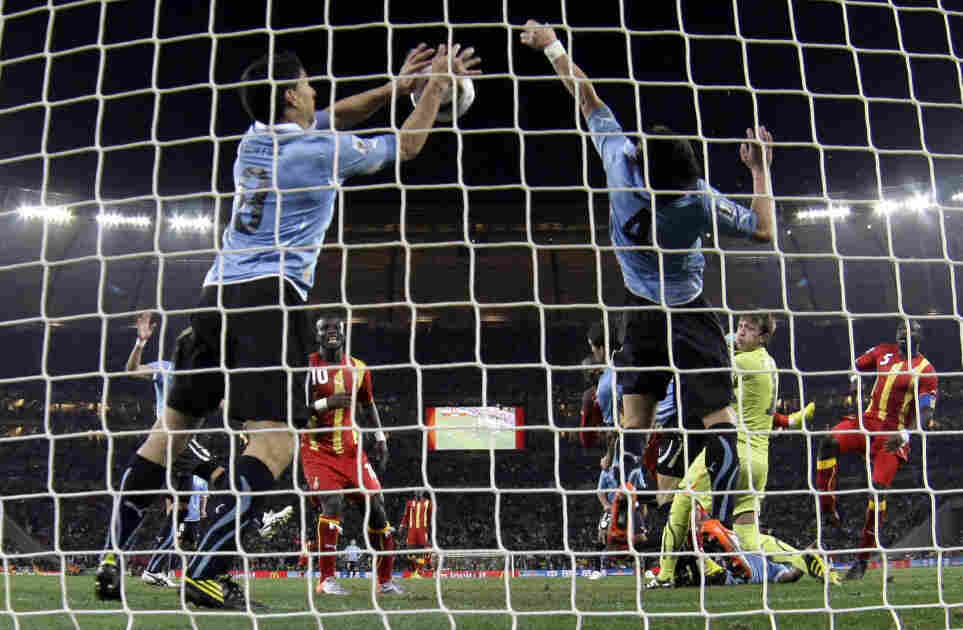 ---
ORANJE!
Oh me of little faith! How fully and pessimistically I had braced myself for the possibility that the Dutch would choke in the quarterfinals. How wrong I was! And it's hard to choose a favorite moment: Was it the sheer exhilarating glory of defeating Brazil? The pleasure of watching the exceptionally talented and determined Wesley Sneijder throughout the competition?  Giovanni van Bronckhorst's absolute stunner of a goal in the semifinal against Uruguay? I can't decide. Setting aside the question of style -- it's been addressed here, there, everywhere -- one Dutch victory after another delighted me. But my other major source of pleasure throughout this strange and surprising World Cup? The camaraderie and -- regardless of our individual favorite teams-- we're-in-it-together-ness I've enjoyed with old and new friends at the Black Horse. All these tears of joy, tears of sorrow, hugs, high fives, 60+ matches, countless sausage rolls and pints of beer later, it still feels like one big footy family. (Rosie Schaap, writer and Cleats' Oranje-enthusiast)
---
SOUTH AFRICA
The imprint for this World Cup was the novelty of the African setting, creating enormous contrasts of pomp and poverty. Navigating the quirks and contradictions of language while working in a linguistic confluence of English, Zulu, Xhosa and Afrikaans (and more) is a treat. Yes, Villa and Van Bronckhorst's goals will be replayed, Suarez's hand ball, Gyan's miss and the French and Italian shame will linger online. But I have imprinted the huge smiles and quirky pronunciation of the South Africans, who speak English with hard consonants and soft vowels. (Keyvan Heydari, a sportswriter who has covered every World Cup since 1986)
The sound: of South Africa was the vuvuzela.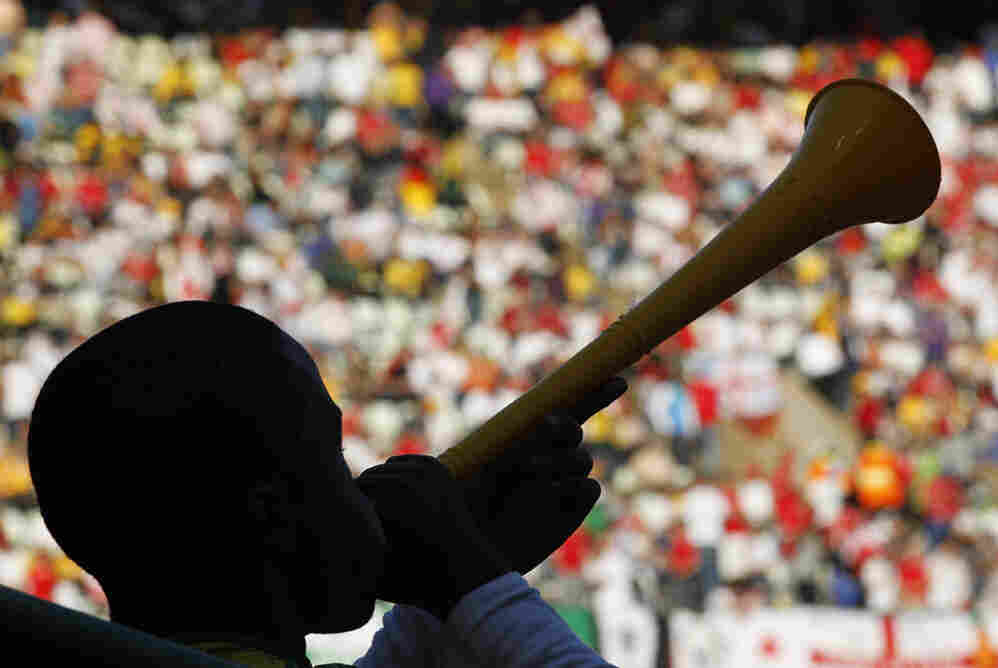 The sight: was a yellow Bafana Bafana jersey; an ocean of 35,000 of them at the FIFA fan fest in Soweto when the South African national team played.
The smell: was auto exhaust, stuck in traffic for two hours before the U.S. vs. Slovenia game held in Ellis Park. The directions to which train stations serviced the stadiums were inaccurate. The cops were helpful, but wrong about the locations of park and ride facilities. The guys on the street wearing reflective vests were clearly freelancers who were happy to park you in a spot that turned dicey after dark. Enter the new sound of South Africa -- the radio broadcast of the game you were trying to get to.
The taste: of South Africa was Nando's chicken – yum!  The other taste was Biltong, South African beef jerky, but with more vinegar, made with stranger animals -- not as yum.
The feel: was joyous, communal, dramatic, proud, at times transcending sport; at other, equally important times, anchored by sports, like when dozens of South Africans or Americans donned the colors of North Korea before their match with Portugal. When questioned about supporting a member of the Axis of Evil, they answered, "This is sport, mate, it's beyond politics."
The final sound of South Africa was that inescapable Shakira song, about 500 Americans and Ghanaians learning to do "the Waka Waka," not quite getting the steps, but when that one lyric came on -- the entire crowd stopping and screaming:
"This time for Africa!"
(NPR sports correspondent Mike Pesca covered World Cup 2010 from South Africa)
Please share your favorite moment from World Cup 2010 in the comments section, below.