Liane's Day In The Field With Ranger Roy
Liane Hansen, Host Weekend Edition Sunday
We spent Thursday with Ranger Roy, a forest ecologist who seems to know every tree, flower, bush and shrub in the Park. A walking Wiki of information, and a really nice guy. He shared his homemade elk jerky and dried apples from his orchard. Elk jerky tastes like licorice. And Roy's favorite words are "neat" and "cool."
We put a lot of miles on his government-issued van riding around - from "Roaring Mountain", a volcanic formation, to the highest peak, Mount Washburn. He showed us burn patterns from the 1988 fires to fires that took place a century ago.
This place is a geological and botantical mosaic. Canyons give way to meadows which lead to ancient lava flows.
We met him at Park HQ in Mammoth Hot Springs. The building is called - I'm not kidding - "The Puzzle Palace." I thought it was because I got lost in the maze of corridors on my way to the bathroom. The actual reason is that this is the place where any puzzle with regard to the Park is solved. Traffic questions, wildlife questions, etc.
Ranger Rick thought it would be cute to give me a quiz. We stood before some trees, an ash colored one with no leaves or branches and a black one with no leaves or branches. He asked which one was killed in the 1988 fire. I knew the answer - the ash colored one - because the black one was already dead when the fires burned.
By the way, today was the first day I noticed the high altitude - we're some 7,000 feet above sea level. Quite a change, since the day before I arrived I had been at sea level in Delaware.
Today was also a good day to spot animals. A bison caused a traffic jam when it decided to walk on the road. We saw many elk - a male with a six-point rack, several does and a baby. Aww. A coyote crossed the road.
And a young grizzly was spotted just a few steps from the road. Ranger Roy knew its mother, a tagged bear that used to live in the meadows and forests nearby. She had moved on to another part of the Park. Her yearling still foraged where it was raised.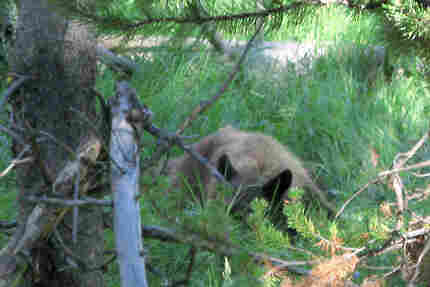 We also met some Harley enthusiasts at Mount Washburn. One of the women approached Ranger Roy to ask if there were any moose. Roy said they are rarely spotted because there are so few of them now. Their population had a hard time after the '88 fires. He suggested she go to Jackson, Wyoming. The woman explained that seeing a moose was on her "bucket list."
Today, we're off to the Old Faithful Inn, and the famous geyser. I'm still in search of a beaded belt.