Music & Technology : Soapbox Ned Wharton, Senior Producer
Music & Technology

Ned Wharton, Senior Producer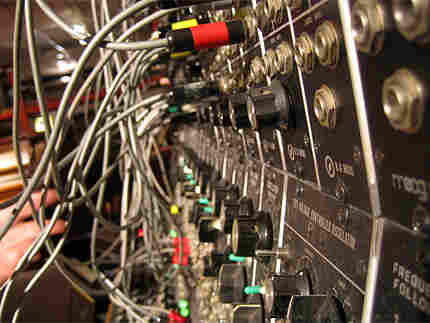 Growing up, I was a lucky kid with a cool dad. He taught electronic music at the University of North Dakota in Grand Forks back in the 1970's, and when I was about 15 years old, he gave me a key to the electronic music lab. I would goof around in there late into the night, where I'd create nests of tangled patch cords as I experimented with one of of those big old modular Moog synthesizers. I felt like a mad scientist!
A few years later, as a student at UND, I worked at KFJM, the college radio station, and inspired by the audio logos I'd hear on PBS, I used the Moog to create a logo for University of North Dakota Public Radio. You can click on the link above to hear that quaint and terribly obscure piece of radio history.
That 10-second piece of audio took ages to create back then on the Moog, patching oscillators through filters and voltage controllers and dubbing and overdubbing audio to create simple chords.
Today, of course, you can make sounds like these (even conjure up vintage Moog sounds) with the click of a mouse with programs such as Apple's "GarageBand." Anyone can make music and string together beats — I even pieced together a song using a rhythm loop I recorded from my dishwasher that became a cult favorite when it was broadcast on NPR a while back.
The recent impact of technology on music has been revolutionary, and for the month of November we're broadcasting a series of reports that survey a wide landscape of the changing scene: from a recording school in New York to a musical research lab in Paris to a violin-maker's shop in Brooklyn where high-tech acoustic study is applied to an old craft. We'll experiment with software that allows for real-time collaboration across the internet and look at how technology has changed the business of music.
Are you a musician or a music lover? We'd like to here from you — Tell us a story of how technology has rocked your musical world!