What's Your Favorite Letter?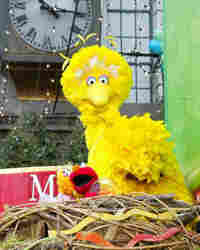 There is always a special electricity when a big star is about to be interviewed. And this week on Weekend Edition Saturday, we have one of the biggest. The Chairman of the Board of children's entertainment. The avian that put the sizzle into Sesame Street. Ol' Bug Eyes Himself—Big Bird.
Mr. Bird appears to publicize a new CD from Putumayo music, "Sesame Street Playground," which features songs from Sesame Streets around the world. He is joined by another stuffed performer named Zikwe, from the South African Sesame Street.
Our New York Bureau personnel had read widely on his personal likes and dislikes, and were prepared to accommodate Mr. Bird. A venti half-caff, no-foam latte was waiting in the studio, next to a bowl of green M and M candies. He walked in wearing sunglasses, and a St. Louis Cardinals cap (of course!) pulled low over his forehead, the better to blend in with the crowds in mid-town Manhattan. Still, shouts of "Bird! Bird!" rose through the windows from the streets below.
Big Bird was charming and informative when he talked about Sesame Street's musical influences around the world. And he seemed to enjoy a special bond with Zikwe.
To try to keep the interview pointed and professional, I declined to ask Big Bird about his private life. Nothing about his rumored relationship with Salma Hayek. Nothing about his days as Big Bachelor Bird, running around town with Charlie Sheen and Rob Lowe. A bird is entitled to his private life, just like any other star.
It's astonishing to reflect that Big Bird has been a major presence in American culture for almost forty years. I asked, "What's next, Mr. Bird? Would you like to play Hamlet?" Mr. Bird paused a moment to reflect, then said, "I think I'd like a ham omelet . . ."
Of course, Bird Bird consuming an omelet could be construed as cannibalism. His response was an example of the warm, self-effacing sense of humor that has made him so popular among children and their parents.
When he left, Big Bird stopped to sign autographs, graciously posed for pictures, and stooped to pick up a few stray yellow feathers that had fallen to the floor. What they say about celebrities is true: the bigger they are, the nicer they are, and no one is bigger than Mr. Bird.
And by the way, Big Bird told us that his favorite letter is "B"... What's yours?
PS — Those kids talking to Big Bird on the radio? Annie and Veda are WeSat producer's, Justine Kenin's, daughters. And their favorite letters? A and V — of course!