Your Barbie Photos
We asked for Barbie photos, and you provided. You've tagged over 1,000 photos on Flickr, and our staff looked at them all. We've picked 20 or so and made them into a slide show. Check it out:

Produced by Kathryn Dalrymple/NPR Weekend Edition

For full screen, click on the four-cornered arrow icon in the viewer's bottom right.
Peter Breslow, Senior Producer
My nine-year-old daughters Eden and Danielle have gone through many rounds of doll love—Groovy Girls, Polly Pockets and Winx. But their one everlasting affection is for their Barbies. Okay, there was about a year-and-a-half when the whole collection disappeared into the closet. But now Barbie has re-emerged and is back in force— ready to be dressed up and sometimes just a little bit mutilated. As a matter of fact, just this week their mom took them to a thrift store where they rescued a couple of second hand Barbies to add to the team.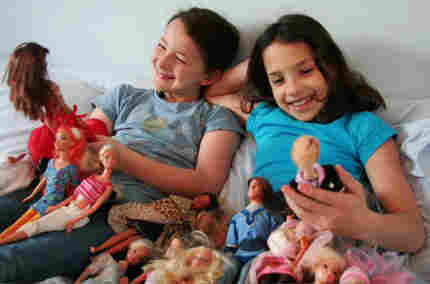 Davar Ardalan, Senior Producer
Barbie has inspired other dolls around the world. These "Persian" barbies were gifts from my mother. I use them as deocrations each year when we celebrate Norouz or Persian New Year! I'll have them out on display again on March 20th. Here they are posing in front of NPR microphones for David Gilkey. Tell us about your "Barbie inspired" dolls!