Remembering Three Mile Island
On March 28, 1979, residents in and around Harrisburg, Pennsylvania awoke to warnings of an emergency at the Three Mile Island nuclear power facility. The plant's cooling system had failed. The uranium fuel core in Unit 2 overheated, and there was a partial meltdown. The threat of a massive radiation leak loomed. As nuclear experts raced to fix the problem over the next few days, Pennsylvania Governor Richard Thornburgh advised pregnant women and young children to evacuate the area.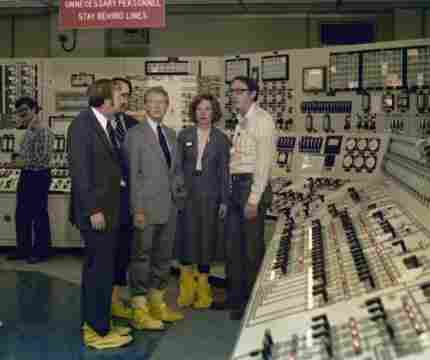 Five days later, President Jimmy Carter -- a former nuclear engineer -- visited the site to demonstrate to the American people that it was safe. While the visit temporarily calmed fears, it did not assuage larger concerns about nuclear power. In fact, no new nuclear plants have been built in the United States in the 30 years since the accident.
Weekend Edition will mark the 30th anniversary of the Three Mile Island accident next Saturday with a discussion about the safety of nuclear power and its prospects for the future.
But first, we'd like to hear your recollections of the Three Mile Island. Did you know someone there? Or maybe you were there? Are you living near Three Mile Island today? Share your stories and your memories.