Feed Us Your Grilled Desserts, Part 2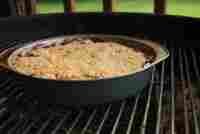 We've been asking for your grilled dessert recipes, and we've seen some pretty interesting ones so far: fruit kebabs, chocolate pizzas, bacon-wrapped bananas, and even an orange chocolate cake prepared entirely on the grill. Impressive.
You've got one more week to submit your own recipe. You can send an email or you can just leave a comment below.
All submissions will be reviewed by a pastry chef. And then our panel of chefs and food critics will taste the top three and pick a winner.
Happy grilling!