Solar Cities And Enviornmentalism In Egypt: An Update
I recently visited the Zabaleen neighborhood of Minsheyet Nasr in Cairo, Egypt, and met with Hana Fathy. Weekend Edition Sunday host Liane Hansen, senior supervising producer Davar Ardalan, and senior producer Ned Wharton met Hana when they visited Cairo last year. The reporting trip was part of an NPR series, in collaboration with National Geographic, called "Climate Connections."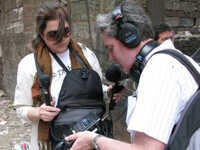 You can hear those stories here:
-In Cairo Slum, the Poor Spark Environmental Change
-Slow but Sure Environmental Progress in Cairo
-Rising Sea Levels Threaten Egypt's Ancient Cities
When I met Hana, he was in a tough situation. The USAID grant money, which the group Solar Cities was using to build and maintain solar water heaters in the impoverished community, had run out. Hana had only received a handful of private orders for the units. With his first baby on the way, he had returned to the family business of sorting plastics.
But since I visited in August, things have turned around for Solar Cities. The group has become a nongovernmental organization, which makes them eligible to receive new sources of funding. Solar Cities founder T.H. Culhane -- along with environmentalist Katey Walter Anthony of the University of Alaska, Fairbanks -- also won the 2009 Blackstone Ranch Institute Innovation Challenge Grant. The grant, given in partnership with National Geographic, will provide $50,000 toward research on biogas digesters, such as the one on Hana Fathy's roof.
Additionally, a variety of private funding has flowed to the organization from schools and private individuals. Meanwhile, Hana was recently hired to work for the Sekem farm in Egypt, as their chief renewable energy expert. And, according to T.H. Culhane, Solar Cities has "secured funding to bring Hanna to Tanzania to train people in the building of solar and biogas alternatives (instead of) deforesting for cooking and water heating fuel."