Weekend Edition Social Media Report
Thanks to the 7,200+ listeners who participated in our social media survey. Your feedback and suggestions have been extremely helpful. The results give us solid evidence that engaging more directly with our loyal audience is important and that it is possible to combine different communication platforms and build new relationships with you - our audience.
We live in times when the architecture of news is shattering. For the past year, we have been experimenting and tearing down traditional barriers and building new virtual platforms. We have enjoyed having a more personalized experience with you. Although we have always believed that radio is an intimate medium, we now know that radio alone is not enough - we need to continue fostering the new media paradigm.
Here is what some of you said:
"I always enjoy getting somewhat behind-the-scenes glimpses of hosts... and both Scott and Liane come across as very enjoyable and "real people" on Twitter — which matches my feelings about their on-air personalities." — Male, age 25
"I'm consistently impressed by what it takes to produce Weekend Edition, but with the addition of Facebook feed, it makes the work of the work of staff in addition to Ms. Hansen and Mr. Simon all the more visible. I like that." — Female, age 58
"It's nice to have a Facebook newsfeed in case I miss a story that would interest me." — Female, Age 37
"Following Scott on Twitter makes me feel more involved in real time. Scott actually responded to one of my tweets!" - Female, age 40
"Because Weekend Edition integrates Facebook, email, the web and other social media into the program, it makes me have more respect for it and makes me feel like Weekend Edition is more forward looking that conventional network media and I feel more connected to the hosts and people behind the scenes." - Male, age 54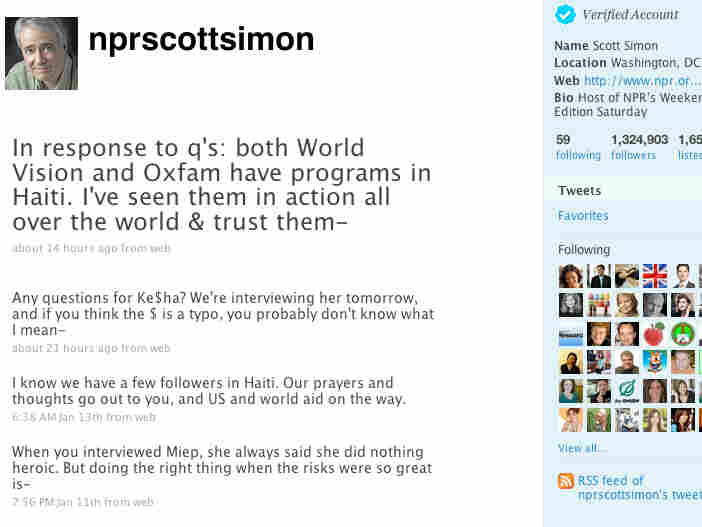 The survey revealed that following Weekend Edition through social media is a relatively new experience for most of the 7,000 respondents, but one they engage in frequently. Listeners say that initially they became Weekend Edition followers because they wanted to receive updates and additional information. But they've continued to be followers because it has been a way for them to get to know the hosts as and interact with them.
And we learned that over time, the longer listeners follow Weekend Edition on Facebook and/or Twitter, the more positive their opinions of the show (Weekend Saturday and Sunday) and NPR become and they listen more.
The listeners who responded to this survey came from a mix of sources: the NPR Listens national online listener panel, on-air call outs during Weekend Edition on December 19th & 20th, Facebook postings from Weekend Edition, as well as tweets from Liane Hansen, Scott Simon, myself and other Weekend Edition staff.