Farewell, NPR Family
It is hard to believe I have been in public broadcasting for twenty years. I began in public radio as a reporter at KUNM in Albuquerque, New Mexico in 1991 and began working at NPR News in 1993, after attending a diversity initiative funded by the Corporation for Public Broadcasting in Washington D.C. At the time, NPR Producer Doug Mitchell was on the Advisory Board and had seen my application. Doug insisted I be given a chance.
I took a risk and moved to Washington from Albuquerque in June of 1993 with the assurance of two weeks' worth of temp work on Weekend Edition Saturday. The following year, Robert Malesky of Weekend Edition Sunday hired me as a Production Assistant.
For the next few years, I roamed the NPR Headquarters, like a novice naqqal (Persian storyteller) in awe of everyone around me. Watching Producers Cindy Carpien, Walter Ray Watson, Ned Wharton and Fred Wasser in action reminded me of the carpet weavers I had seen in Iran designing an intricate Persian carpet. The way the producers listened for sound, the way they made edit marks on analog tape, rocking the tape back and forth ever so conscious of the rhythm and narrative of the story they were editing, was simply a marvel to listen to and captivating to watch.
Over time, I mastered the rhythm of sound in the essence of the stories I produced. I learned from my architect father that images along with SOUND activate the sublime. He would say Stravinsky does it but so does a shepherd with his reed flute by the power of breathing life or his soul into his instrument. I loved the idea of sculpting sound images and fortifying the sense of birth and rebirth through sound.
It was at NPR that the creative conscience within me actualized. Working with Liane Hansen, Scott Simon, Jacki Lyden, Daniel Zwerdling, Steve Inskeep and Renee Montagne, I spent countless days and nights logging tape, listening back to interviews, editing sound files, being a skeptic, testing, experimenting, failing sometimes and getting right back up and trying again. From them I have learned to be a tenacious journalist and to listen for the mystery of a story. Eventually, no story for me was simple, it had to have an arch, a reason for being, a narrative, a sound portrait of that slice of life.
I leave the edit booths of NPR at a time of great transition in journalism, but I will not go far. I plan to stay in citizen journalism and social media, with an emphasis on innovation and diversity. The secret to great radio conversations has been to close your eyes and pretend you are talking to one person -- social media shatters that image -- instead you actively engage and seek out hundreds of listeners. You work to build a relationship with them - ask for their ideas and feedback - you get them on the program and make them a part of what you are creating. As public broadcasting reboots, those of us in the field who have a proven record in integrating new media platforms with traditional forms of journalism have an added responsibility to empower a new generation of journalists and to broaden our reach to a more inclusive and diverse audience.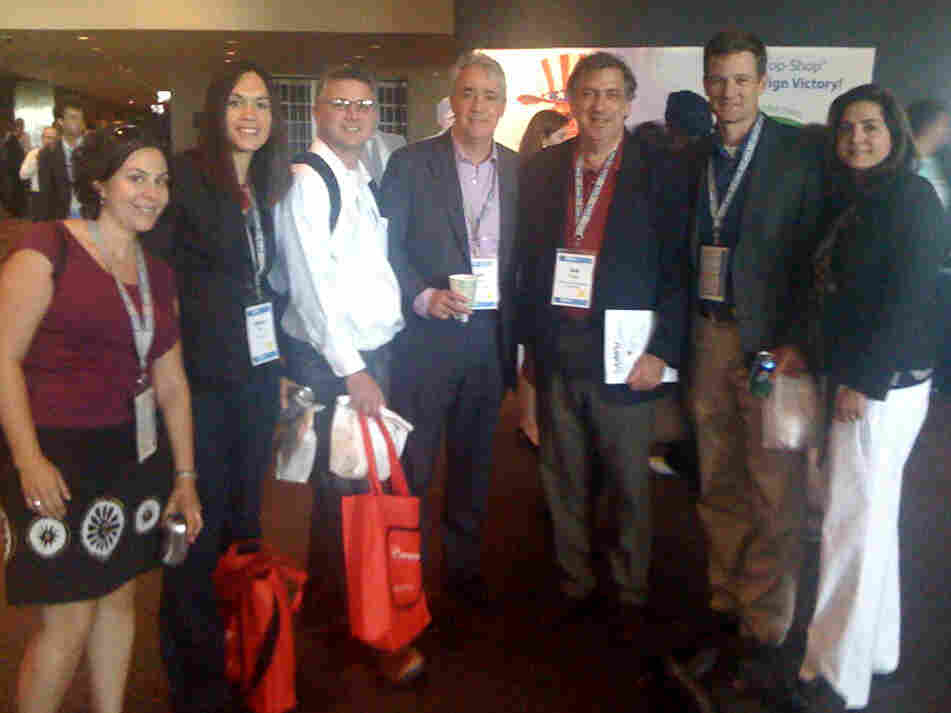 Like my mother and her mother before her, I am a romantic idealist. My mother, ever the Sufi says, "One can always succeed if only one has the will to do so. For when the will dies, the soul dies, and without a soul to appreciate the beauties of life, it is not worth being alive. The secret is to live and let live."
Having worked for seventeen years on the weekends or the overnight shift, I will also have more time to spend with my family. My partner of seven years, John Oliver Smith, will support me as I test the digital landscape outside of NPR. John is an inspiration. One of his favorite sayings is from Teddy Roosevelt: "Far better it is to dare mighty things, to win glorious triumphs, even though checkered by failure, than to take rank with those poor spirits who neither enjoy much nor suffer much, because they live in the gray twilight that knows not victory or defeat."
My oldest son Saied is an entrepreneur who often reminds me of Steve Jobs and his fortitude. "Mom," Saied says, "stay hungry, stay foolish," that's a phrase Jobs used in a Stanford commencement address. My daughter Samira has always been so supportive, she says, "You will have NPR withdrawal symptoms!" My son Aman is excited but anxious that I won't be able to "provide." My son Amir is gleaming as his mother will be working from home for awhile.
So farewell to you NPR listeners and NPR and Weekend Edition colleagues and friends. To the Staff of Weekend Edition you are one of the best teams in broadcasting and it has been an honor navigating you these past few years. I look forward to streaming WYPR Live on my iPhone while sipping my morning coffee sitting at home on the edge of the Severn River just outside Annapolis, Maryland. Send me a tweet @idavar.