Emmy, Oscar, Nobel (?!) : Blog Of The Nation Do you think Former Vice President Al Gore deserves the Nobel Peace Prize?
Emmy, Oscar, Nobel (?!)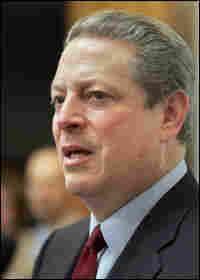 If you take a look at the long list of Nobel Peace Prize laureates, you'll find an impressive array of presidents and secretaries of state. In 1906, Theodore Roosevelt, a president and "collaborator of various peace treaties," won the award. Thirteen years later, the Norwegian Nobel Committee bestowed the honor on Woodrow Wilson. George Marshall is on there, as are Martin Luther King Jr., Henry Kissinger, and Jimmy Carter. Last week, the Committee added another name to the roster: Al Gore, who will share this year's Prize with the Intergovernmental Panel on Climate Change, "for their efforts to build up and disseminate greater knowledge about man-made climate change, and to lay the foundations for the measures that are needed to counteract such change." To some people, including Jan Oberg, who directs the Transnational Foundation for Peace and Future Research, Gore's name stands out. According to Alfred Nobel's will, the Peace Prize is for "the person who shall have done the most or the best work for fraternity between nations, for the abolition or reduction of standing armies and for the holding and promotion of peace congresses." The former vice president didn't negotiate a major treaty, broker a peace deal, or head a humanitarian organization. What do you think? Does he deserve the award?