$188 Laptop : Blog Of The Nation An inexpensive laptop, finally, but few buyers....
$188 Laptop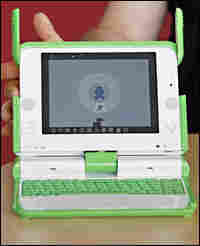 In 2005, Nicholas Negroponte, who founded the groundbreaking MIT Media Lab, announced that he and several colleagues aimed to design, manufacture, and distribute laptops that would cost, at most, $100 each. The so-called "$100 Laptop," Negroponte said, would help millions of poor children cross the growing digital divide.
Now, more than two years later, Negroponte's nonprofit, One Laptop per Child, has begun to sell computers to the developing world. But they're not taking off like he'd hoped. According to reporter Steve Stecklow, of The Wall Street Journal, education ministers in several countries have decided that they won't buy the inexpensive laptops after all. (You can read his article here). Some wonder why the computers don't use ubiquitous Windows software.... Others ask why the laptops cost more than $100 (They sell for $188, plus shipping). And several companies, including Microsoft and Intel, have introduced competing products.
What do you think of Negroponte's idea, to put a laptop -- with a long battery, high-resolution screen, and open-source software -- in the hands of every poor child on the planet? And why don't you think the project has taken off? Steve Stecklow and Nicholas Negroponte will be here, to answer your questions, in the second hour.