Pakistan's Nuclear Question : Blog Of The Nation With Pakistan's state of emergency now more than two weeks old, one of the big questions is: How secure are Pakistan's nuclear weapons?
Pakistan's Nuclear Question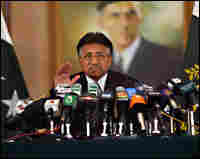 "This is nothing new..." pretty well sums up the political face-off between between Pakistan and the U.S. That's a quote from a spokesman for President General Pervez Musharraf, after Deputy Secretary of State John Negroponte pushed Musharraf over the weekend to end the state of emergency. It's been two weeks, and Washington is reportedly growing impatient with their ally in the war on terror. One big question right now: Pakistan's nuclear weapons. A.Q. Khan is one indication that Islamabad's stockpiles might not be the most secure. And with the government in crisis, who's watching the nukes? We'll talk with David Sanger, from the New York Times, today. He's been covering this story, and also told us over the weekend that the U.S. has spent almost $100 million over six years on a secret program to secure Pakistan's nuclear materials. We'll also talk with Zia Mian, a physicist and Director of the Project on Peace and Security in South Asia at Princeton University. Are you worried about the situation in Pakistan... specifically their nuclear weapons? And how does having "the bomb" affect U.S. policy there?