Reading Has Fallen on Hard Times : Blog Of The Nation A National Endowment for the Arts report shows that reading is on the decline in America.
Reading Has Fallen on Hard Times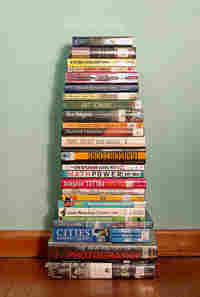 My days are usually filled to the brim with "have-to's": work, errands, gym (when I'm being "good"), networking (not MySpace, the other kind), eating, and -- my all-time favorite -- sleep. If there's any time left in the day for leisure activities (a foreign concept to a lot of us), I'll either spend it watching new episodes (or reruns, as is now the case) of The Office, combing through celebrity gossip magazines, or uploading more pictures of myself on Facebook. (Hey, we all need silly ways to decompress). But I only occasionally pick up a book for fun. And when I do, I can only read in small doses -- an hour here, forty minutes there -- before I get distracted or lose interest. I am literally in the middle of seven different books right now (and let me tell you, it's a joyride trying to keep all the plot facts straight). Apparently, I'm not alone in these habits. According to a new report from the National Endowment for the Arts entitled "To Read or Not to Read," Americans are reading less and less, and less well. And, not surprisingly, the declines in reading have negative civic, social, and economic implications. The report raises interesting questions about the role reading has in our increasingly digital world; and what, if anything, can be done to get people to start reading more. So tell us, have you experienced a waning interest in books and reading? What has taken its place? How much leisure time do you spend reading, on average? And do you feel like something's lost?