Steeped In Cash : Blog Of The Nation At a one-day, virtual "tea party," Rep. Ron Paul raises $6 million.
Steeped In Cash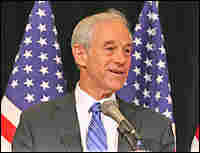 Last Sunday, Rep. Ron Paul hosted an online "tea party." His supporters dumped nearly $6 million into the congressman's campaign coffers. (That is the largest sum a candidate for president has raised in a single day). Chris Cillizza, of washingtonpost.com, tried to figure out what Rep. Paul will do with all that money. And he wondered why the campaign can cultivate donations, but few new supporters. Bret Hayworth, of the Globe Gazette, in Mason City, Iowa, asked the same question.
In the first hour, our "Political Junkie," Ken Rudin, joins us again, as he does every Wednesday, to talk about politics and the campaign for president. As usual, [almost] anything goes! Leave us your questions. Send us your comments. We're going to talk about Rep. Ron Paul, then we'll turn our attention to Iowa. David Yepsen, of The Des Moines Register, will join us. If you live in "the Hawkeye State," are you excited about the caucus? (If you can't wait for the political season to be over with, tell us why).