Liminal Living : Blog Of The Nation A one-time candidate for student body prez empathizes with Barack Obama.
Liminal Living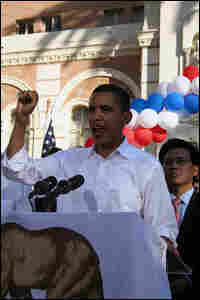 This primary season's double-whammy on the Democratic side, which has many voters debating which to endorse first — the first woman president, or the first black president — has gotten more contentious with each passing day. I imagine it has both Clinton and Obama feeling a bit lonesome, sometimes... figureheads perched on the prows of ships on rocky seas. Joseph Williams of The Boston Globe got a taste of the contradictions and trials Obama now faces when he ran for student body president in the 70's at Ooltewah High School in Tennessee. For him, it boiled down to one essential conflict: how do you appeal to the wider white population without losing your authenticity among your black peers? Especially when, as he says,
I watched "Soul Train" most Saturdays, pleaded with my sisters to perm my nappy hair into an Afro, and was a member in good standing at Ooltewah High's "black table," where the small group of African-American students ate lunch in the cafeteria. But I had much in common with Ooltewah's white kids, too - a suburban upbringing, a taste for Space Invaders, Monty Python, SCTV, and the Who. And when I talked, I sounded a lot like them.
What do you think? Of course, no one can please everyone all the time, but is it possible to be cross-racially fluent without compromising the self? I'd especially like to hear about successful resolutions of this particular internal conflict, and how seeing Sen. Obama negotiate the divide on the most public of stages has affected your thinking.