McGovern on Bush, Nixon : Blog Of The Nation George McGovern steps out in from of those calling for impeachment.
McGovern on Bush, Nixon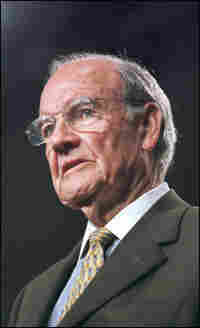 Those of you perusing the Sunday Washington Post this past weekend, may have spilled your coffee at the sight of these words on the cover of the Outlook section.
As we enter the eighth year of the Bush-Cheney administration, I have belatedly and painfully concluded that the only honorable course for me is to urge the impeachment of the president and the vice president.
Impeachment is a strong word — and when it's bandied about in relation to the President of the United States, it's even stronger. Rarely are officials actually impeached, but calls for impeachment seem to represent a flash point for frustration — it can sometimes be less of a legal term, than an emotional one. Former Senator George McGovern's op-ed, calling for the impeachment of both the President and the Vice President, treads between very specific legal definitions and deep emotion. McGovern conceded the 1972 presidential election to Richard Nixon, who resigned in 1974 in the midst of the Watergate scandal — and McGovern claims that the case for impeachment of Bush is much stronger then it was for Nixon. McGovern will be in 3A with Neal today, and we'll grill him on his claims. If you didn't see the article, you can read it here.