Is Sharia Law "Inevitable"? : Blog Of The Nation Can sharia Islamic law operate within the US legal system?
Is Sharia Law "Inevitable"?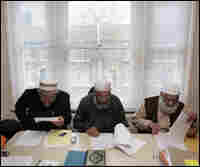 We've heard debate over Sharia, or, Islamic law before, but the head of the Church of England, Archbishop Rowan Williams roused a bit of controversy with one word: "inevitable." As in some combination of Sharia and British law is likely unavoidable. He's gone on to clarify his remarks several times, and back off that assertion. But, more people are now talking about what Sharia Islamic law means, and how it works. In some countries, Sharia law is incredibly strict, and is sometimes used to justify brutal physical punishments. Can you have a religious-based legal system like Sharia law within the broader legal system? Surprisingly, the US already does in many cases. Christian, Jewish, Islamic, and other faith-based tribunals operate legally in several states. We'll find out how they operate, and their limits, and the controversy around them.