Keeping Up on the Action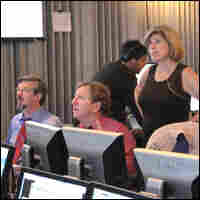 I don't know about you, but I'm having a blast with these primaries and caucuses. They're super fascinating and fun to monitor. Last night was particularly enjoyable. I oscillated between Wolf Blitzer, Chris Matthews, C-SPAN, and the live blogs. At around 9 p.m. (EST), I popped into NPR to watch our live coverage in action.* And as the night wore on, I started calling my friends in California to get a sense of which way they thought the state would go. My favorite part, tough, was digesting the exit polls at 2 a.m. It was a busy night, and thankfully I had a mini Matchbox pizza to keep my stamina up. Tell us, how did you monitor Super Tuesday? What were the high points for you? And the low points?
* Surprisingly tame. I was impressed by how they were able to remain calm, cool and collected under the pressure. Total pros.