RIP: William F. Buckley Jr. : Blog Of The Nation The father of modern conservatism has passed away.
RIP: William F. Buckley Jr.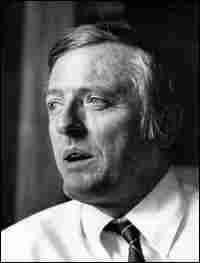 We got word today that William F. Buckley Jr., the father of modern conservatism, passed away this morning, at his home in Connecticut. In my estimation, The New York Times obituary puts it best:
William F. Buckley Jr., who marshaled polysyllabic exuberance, famously arched eyebrows and a refined, perspicacious mind to elevate conservatism to the center of American political discourse, died Wednesday at his home in Stamford, Conn.
Douglas Martin continues...
Mr. Buckley's winningly capricious personality, replete with ten-dollar words and a darting tongue writers loved to compare with an anteater's, hosted one of television's longest-running programs, Firing Line, and founded and shepherded the influential conservative magazine, National Review.
After our regular conversation with the Political Junkie, we'll talk to William Kristol, of The Weekly Standard and The New York Times, about Buckley's legacy. Did his writing or philosophy influence or change your politics?