Sadness -- Huh, Yeah -- What is It Good For? : Blog Of The Nation There's a big push to be happy all the time, but some researchers say there's value in sadness.
Sadness — Huh, Yeah — What is It Good For?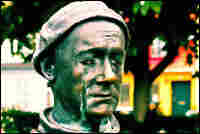 Are you sad? Do you cry? Do you ever feel upset over the loss of a loved one, or a fight with a close friend? Well, wipe away those tears, and turn off the melancholy odes — it's time to get happy!
In this age of self-help mania, there seems to be no shortage of get-happy-now remedies — quick fixes for the blues. There's a near-trend in our midst: an intense push to run from feelings of sadness and embrace the happy side of life. But a recent article in Newsweek describes a different camp of voices that says sadness isn't all bad, and it can actually serve a healthy purpose in our lives. And it's even been the motivating force behind some of the world's greatest literary, musical and artistic masterpieces. We're not talking about clinical depression, or chronic sadness. We're talking about the occasional glumness we feel in response to life's traumatic events.
Have you ever felt pressure to "get happy" when you were feeling sad? How did you deal with it? And what value do you see in the occasional experience of sadness?