What Happens Next? : Blog Of The Nation On the day after Super Tuesday, we ask, "What's next?"
What Happens Next?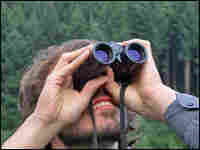 Now that Super Tuesday is over, we're looking forward. You've read about the returns, heard from the pundits and pollsters, and counted the delegates. Good. Now help us figure out what's next.
In the second hour, we'll check in with advisers, campaign chairmen, and strategists. Is Sen. John McCain, R-Ariz., unstoppable? How will former Arkansas Gov. Mike Huckabee appeal to voters outside of the Bible Belt? Can former Massachusetts Gov. Mitt Romney recover? And will the cordial competition between Sens. Barack Obama, D-Ill., and Hillary Clinton, D-N.Y., continue?
What would you like to see your candidate do from here on out? Do you have questions about campaign strategy? What issues would you like to see highlighted or debated? Who doesn't stand a chance?