March Madness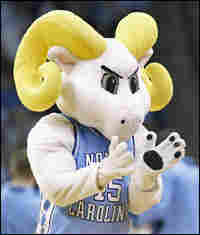 I could've caught March Madness here, in Washington, D.C. Three local universities were in the big dance, and one of them was expected to make it to Ford Field, maybe to the Alamodome. At the Verizon Center, just three blocks away, Duke narrowly beat Belmont, then lost to West Virginia; Georgia, Sarah's alma mater, fell to Xavier; and the Boilermakers burned Baylor. (Barrie, who is equal parts fan and clairvoyant, boasts the best bracket among us.)
But I went home instead, to North Carolina, where I first caught basketball fever.
On Friday night, Chapel Hill bars and restaurants were full of fans, eager to see the Tar Heels take down Mount St. Mary's. (They did. Handily.) On Saturday afternoon, I happened to be in the UNC Student Stores for the final minutes of the Duke v. West Virginia game. (The crowd, gathered around a modest flat-screen display there, rejoiced when the Blue Devils were felled.) Later that day, over dinner in Durham, my dad pointed out how solemn everyone seemed to be. (For their beloved DeMarcus Nelson, it was all over. A championship title had eluded Greg Paulus, Martynas Pocius, and Jon Scheyer again.)
For my part, I promise to be productive 'til Thursday, when North Carolina plays Washington St. And I'll try to resist the urge to barrel down I-95, back to Chapel Hill.