The Last Days of Heath Ledger... Sort of.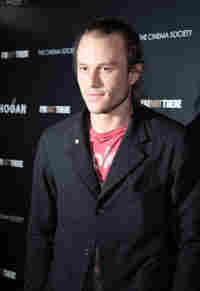 So, the other day I read Heath Ledger's personal "diary", the entries he wrote after his death. After his death. Whaaat? Yes, you read that correctly, but here's the catch, of course: It was written by a reporter for Esquire, Lisa Taddeo. Esquire's calling it reported fiction -- Taddeo researched Ledger, then wrote a fictional account of his last days -- and it's sort of rough. Jack Nicholson and Mary Kate Olsen make cameos, and those parts are entertaining. Their media personas are practically caricatures as it is, so I just found those parts vaguely scintillating. When Taddeo gets into Ledger's relationship with his daughter, Matilda, and ex-girlfriend, Michelle Williams, however, my stomach churned...
I walk to Mulberry. I get the steak and eggs and a coffee for breakfast at the only place in Little Italy that's open early enough for me. I'm catching up on my e-mails. There's one from Michelle, with an attachment. It's Matilda in a little Swedish milkmaid outfit. I sit there for a while trying to think of the right thing to respond.
On Prince there is a beetle-faced Asian woman half my length with a little stand of children's T-shirts. There is a white one, Matilda-sized, that reads, "Somebody in New York Loves Me." I think, This is appropriate, because after all she isn't in New York, she's in Sweden with her mother, and wouldn't it be cool if I FedEx'ed it over? (Ignoble intentions: It wouldn't be for Matilda but for her mother.)
To me, there's something about those relationships that just seems sacred, and (here I go speculating, when speculation is what's got my hackles up now) it seems as though Ledger felt the same way. He never appeared in anything akin to a People spread with Michelle and Matilda a'la Joel Madden, Nicole Richie, and baby Harlow. There's more to it than my own squeamishness, though... As Edward Wasserman, Knight professor of journalism at Washington and Lee University said,
The biggest problem I see is you are sacrificing the biggest strengths from each of the genres. You are losing the veracity of journalism, and you are losing the imaginative license of fiction. You run the risk of ending up with something that is neither true nor interesting.
An astute observation, to be sure. What do you think? Is it in poor taste, or a good idea published too soon, or just an inevitable blurring of the line between fiction and reality that happens all the time on television?