Chris Rock: No Apologies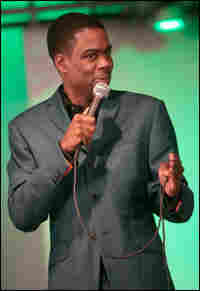 Disclaimer: the following is an exercise in unabashed braggadocio. Sorry, no apologies.
I've seen Chris Rock perform twice in the past four days. He made a stop at DC's Constitution Hall as part of his current No Apologies tour, and I eagerly signed up for the fun. On Friday night, our seats were fifth row, center. FIFTH ROW, CENTER!!! Chris made eye contact with me several times. It was un. be. lievable. His set included treatments of inter-racial dating; the PC outcry surrounding Imus and Isaiah Washington's gaffes; and, of course, McCain, Clinton and Obama as presidential hopefuls. He also managed to slip in a few amusing jabs about Bush, OJ, Anna Nicole, and Flava Flav. I could not stop laughing for the entire 110 minutes he was on stage. I had to massage my face afterward, it hurt so much. I'm still laughing. Laughter may be the best medicine, but I never thought I'd need additional medicine to recuperate.
Then last night, my friend called me with an extra ticket, and I selfishly accepted the invitation to see him again. This time the seats weren't quite as glamorous, and the jokes weren't as funny 'cause I knew what was coming, but I did learn something about the mechanics of stand-up comedy. Although the core of his routine was largely the same, there were some noticeable differences between his last and first night performances. The second time around, he was much more laid back, a little loopy even, and he riffed and took risks more freely. At one point, he seemed to forget where he was going with a joke. I almost yelled the punchline from the audience to help him out. One more Long Island, and I would've. I realized that in situations like that, a comedian needs to be able to think on his feet in order to come up with creative, seemingly spontaneous ways to get back to the scripted routine. And think on his feet he did -- he even discovered a few new gems in the process. I also noticed that some of his jokes were predicated on a particular response from the audience -- a nuanced reaction or a hesitant pause -- and if we didn't give it to him at first, he'd wait for it or skillfully drag it out of us before he continued. Final consensus? His routine's not HBO-ready yet, but it's close.
When have you been able to look behind the curtain of a comedy routine? What did you discover, and what surprised you the most? And who's your favorite comedian you've seen perform live?