Adnan Pachachi : Blog Of The Nation What questions do you have for Adnan Pachachi, president of Iraq's governing council?
Adnan Pachachi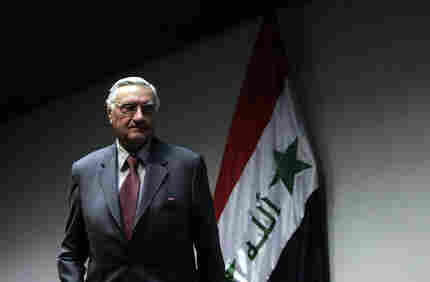 Before Saddam Hussein came to power, Adnan Pachachi served as Iraq's foreign minister and ambassador to the United Nations. Now, after many decades in exile, he is president of Iraq's governing council.
In 2004, documentarian Martin Smith asked Pachachi if he thought there was enough nationalism in Iraq to hold the country together. Pachachi's reply was optimistic:
I think there is. Not only nationalism, but also I think the majority of Iraq is secular in outlook. We must not forget that the religious parties are political parties using religion as a means of acquiring power. But I think the majority of Iraqis are secular in outlook. They do not belong [to] or support necessarily any of the religious parties, whether Sunni, or Shia, for that matter.
In that same interview, he downplayed the role Moqtada al-Sadr might play in Iraq: "He can stir up trouble in some areas," Pachachi said. " But I don't think he has any national appeal all over the country."
Pachachi -- a liberal, secular Sunni -- will join us at the end of our second hour, to take your questions. What would you like to ask the most-senior member of Iraq's parliament?