Sellin' McClellan : Blog Of The Nation Scott McClellan's memoir is required reading for Beltway types...
Sellin' McClellan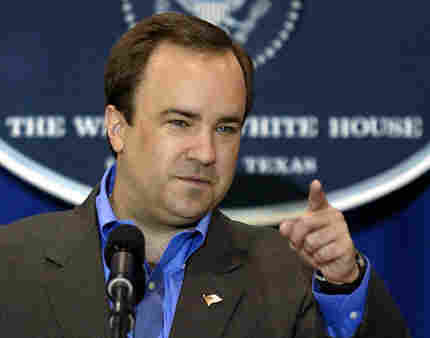 You have to love a tell-all; it gets everyone's papers in a twist. Today's apologia du jour is Scott McClellan's. He spent three years as the White House press secretary, speaking for the Bush Administration, and now he's speaking for himself. And he has got A Lot To Say. Looking for the juicy bits in his memoir What Happened: Inside the Bush White House and Washington's Culture of Deception, is a bit like looking for the dirty bits in one of Judith Krantz's novels -- you gotta flip a bit, but there's a lot to be found, so settle in.
A couple of outlets have reporters that have burned the midnight oil reading the book -- today we'll talk to The Wall Street Journal -- and let you in on McClellan's secrets. Of note -- revelations about Valerie Plame (or more accurately, revelations about the revelations), Hurricane Katrina, and the run-up to the Iraq war. We'll tell you what's between the pages.
ALSO, look for a chance, in the next couple of weeks, to talk to McClellan yourself. We'll have him on soon!