Heath Rocks the Screen : Blog Of The Nation Should Heath Ledger get a posthumous Oscar nod?
Heath Rocks the Screen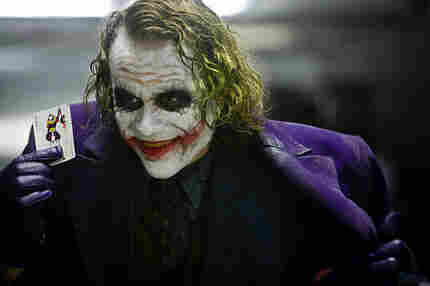 I stood in line with my cousins for 3 hours this weekend to get perfect seats for The Dark Knight. I almost didn't go to see it -- I found myself tearing up every time I saw Heath's face in one of the trailers, so I didn't think I'd be able to get through all 150 minutes without completely loosing it to a waterfall of snot and tears -- his untimely death still gets to me. But I'm glad I decided to brave it in the end. His performance as the Joker was INCREDIBLE. That doesn't even do it justice. Let me put it another way -- it was UN. BE. LIV. ABLE. Utterly A. MA. ZING. Downright PHE. NOM... well, you get the idea. He was a total scene stealer -- Christian Bale, who, wha? Even the special effects took a back seat to Heath's chaotic antics, eerie smirk, and spine-shivering (am I inventing adjectives?) laugh. There's passionate debate among my friends over whether Heath deserves an Oscar nomination, and what his chances are of winning posthumously. I think he absolutely deserves a nod for Best Supporting Actor. The physical manifestations of his character -- the precision with which he cultivated those disjointed, almost burlesque mannerisms -- should be studied in acting classes. He had a rhythmic, sway-like walk, and I've never seen anyone lick their lips to such great effect. His representation of the Joker will, in my humble opinion, go down as one of the most iconic villains ever to grace (or terrorize, in this case) the screen -- much like Johnny's iconic hero, Jack Sparrow. At the very least, we'll see a lot of Heath-as-Jokers this Halloween.
Today, we talk to Washington Post writer Hank Steuver, who says the Joker is more interesting than the Dark Knight himself. I completely agree. So, what, if anything, do you find appealing about the Joker character in general, and this Joker in particular? And do you think Heath's performance deserves an Oscar?