Heavy Metal Rocks in the Muslim World : Blog Of The Nation Mark LeVine joins us to talk about heavy metal in the Muslim world.
Heavy Metal Rocks in the Muslim World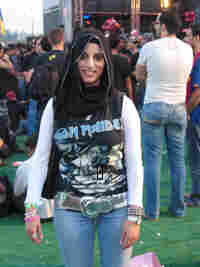 Musician and college professor Mark LeVine spent the past six years jammin' with musicians, and interviewing fans and performers alike at heavy metal concerts all around the Middle East and North Africa. He found kids in Morocco morockin' (ha) with goth make-up and kilts; twentysomethings in Iran with metal shirts and long hair; and Saudi women in hijabs head-banging to their favorite songs. For many of them, playing and listening to heavy metal represents a sort of autonomy, a way of being free, in countries that put limits on artistic expression. Others are weary of defining the music as a subversive, political statement, and simply enjoy the sounds and lyrics of bands like Iron Maiden.
He wrote about the experiences in a book called Heavy Metal Islam. Heavy metal, and Islam -- huh? That's what I thought, too. Well, try this one: the most popular heavy metal band in the Muslim world, Orphaned Land, is Israeli -- wha?! Again, I'm with you. But, in the world Mark presents, music has the power to unite.
If you're Muslim and a heavy metal fan, what does the music mean to you? And who's your favorite band?